The FFA program at Patagonia Union High School had a big year under first-year agriculture education instructor and FFA advisor Tonya St. John, winning numerous accolades and prizes at regional and state competitions.
"Those kids want to be there," St. John said when asked what impresses her about her PUHS students.
She noted that at other schools, agriculture programs can sometimes be a "dumping ground" for students who struggle in other classes.
"Whereas at Patagonia, those kids want to be there, and they want to learn, they have that passion and that drive to want to understand more about the industry," she said.
In addition to their general interest in agriculture, the PUHS students also have keen interest in specific areas of the field, such as horses, livestock or flowers, St. John said.
"There's a part where we can hone in on what they're interested in, and it keeps them involved and it keeps them passionate and it keeps them motivated, because they're doing something that they like versus something that they're forced to learn."
There were 23 students in the intra-curricular program this year, which involves taking agricultural classes as well as participating in FFA contests. That's roughly a third of the entire student body at PUHS.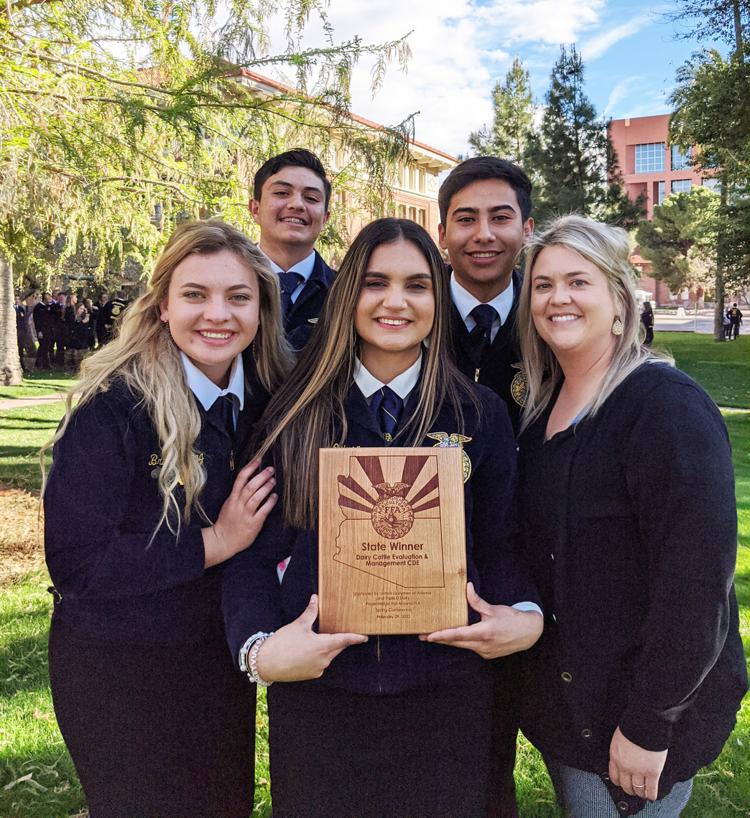 A four-member team of students – Brianna Young, Carolina Quiroz, Julian Vasquez and Sebastian Vasquez – came in first in Dairy Evaluation at the FFA Spring State Conference, qualifying for the national competition in the process.
St. John noted that achievement as an example of her students' willingness to take advice and confront a new challenge.
"None of them really wanted to judge dairy cows, but I saw that they had that potential and they had the ability to make it far in that contest and that area of the ag industry," she said, adding: "I'm proud of those kids who stepped out of their comfort zone and took that advice to make them more successful."
Arizona Agriculture Teachers Association (AATA) recognitions
Nominated for AATA Single Teacher Program of the Year
Tonya St. John nominated for AATA Outstanding Early Career Teacher
Arizona State FFA Association awards
Brianna Young: Sheep Production, gold rating
Karina Norton: Poultry Production, silver rating
Arriana Ochoa: Environmental Science and Natural Resources Management, silver rating
Sebastian Vasquez: Beef Production, silver rating
Reyna Ochoa Tovar: Vegetable Production, bronze rating
Lauren Fletcher: Equine Science Production, bronze rating
FFA Spring State Conference
First place, team (qualified for nationals)
First place, individual: Brianna Young (also had top state test score)
Third place, individual: Julian Vasquez
Fifth place, individual: Carolina Quiroz
Sixth place, individual: Sebastian Vasquez
Top test score: Dylan Jacob
Top 10, individual: Karina Norton
Seventh place, team
Top 10, individual: Arriana Ochoa Tovar
Fifth place, team
Top 10, individual: Lauren Fletcher
Fifth place: Hannah Young
Fourth place, team
Top test score: Stephania Tejada
Top three, individual: Arriana Ochoa Tovar
South Central District Career Development Field Day
First place, Nursery: Arriana Ochoa-Tovar, Reyna Ochoa-Tovar, Stephania Tejada, Madison Vines
First place, Dairy: Julian Vasquez, Brianna Young, Carol Quiroz, Sebastian Vasquez, Sergio Carranza
First place, Floriculture: Arriana Ochoa-Tovar, Reyna Ochoa-Tovar, Hannah Woodard, Hannah Young
Second place, Job interview: Hannah Young
Second place, Livestock: Brianna Young, Julian Vasquez, Sebastian Vasquez, Carol Quiroz
Third place, Horse Evaluation: Lauren Fletcher, Ivan Carranza, Olivia Barton
Fourth place, Meats: Lauren Fletcher, Tavania Padilla