Paulette Pineda spread out her latest project on a big table at one of the Bowman Senior Residences conference rooms, showing her progress on a personally sewn quilt that she plans on giving away at an upcoming raffle.
The quilt, as well as the different-sized shopping and yoga mat bags hanging from the cabinets at the back of the room, are products she has finished while teaching crafts classes for her fellow Bowman residents.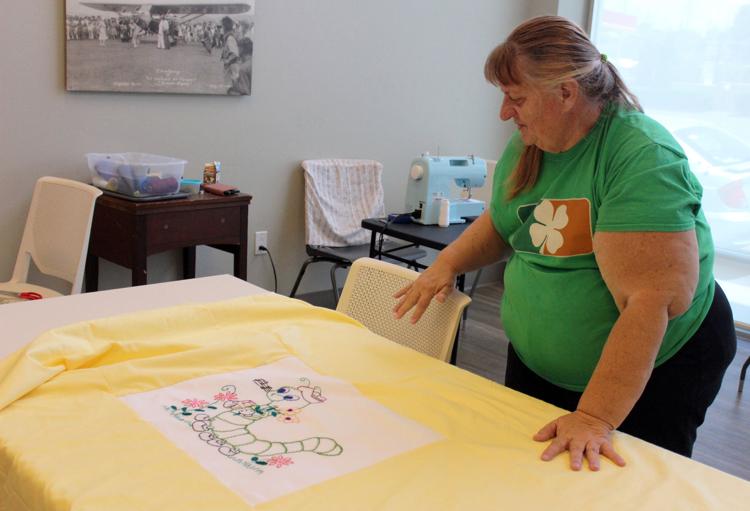 Although Pineda has been hosting the classes for over two years now, she said the sewing component is a new addition after the Nogales Community Development donated two sewing machines for the class.
"A lot of people here already know how to sew, they just didn't have the machines or the room," Pineda said, adding that she piqued the interest of several residents when she took her own pair of sewing machines to the common areas to share with the others about two months ago.
When Pineda initially began teaching crafts to the other residents, she said, only about four people joined her in the activities. Now with crochet and embroidery kits, several rolls of cloth and four sewing machines on hand, Pineda said she has about 14 individuals attending her classes, though not on a daily basis.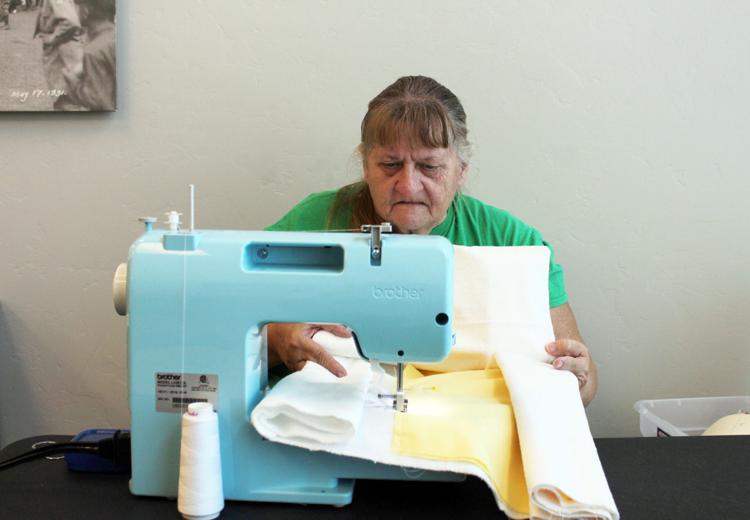 "The interest comes and goes, it all depends on what we're doing," the 68-year-old said. "I try to think of things that could pick up the interest because I want community in here. I don't always want to be the only one."
Last Thursday afternoon, Pineda only enjoyed the company of others in the morning, leaving the rest of the afternoon open for herself. Some of the residents have shown a deeper interest than others, she said, but doctor appointments and other responsibilities still keep them from attending class on a regular basis.
Still, she said, she sets up her workshop everyday from 8 a.m. to 3 p.m., leaving the door wide open for anyone interested in learning or requesting her seamstress services.
In addition to converting her love of crafts into an opportunity to engage more with the other residents, Pineda said she found it was also a way to earn a little extra money.
While some residents didn't share the same interest in learning to sew or crochet themselves, they ask Pineda to make certain items for them, such as bags and aprons.
"I can't keep up with the aprons. I have probably sold about 20 bags, but the aprons, I wouldn't be able to tell you," she said.
After people at Nogales Community Development heard of the latest business strategies of the Bowman residents, they moved to support the project and encourage more residents, NCD program manager Santos Yescas said.
"We're very fond of all the residents, plus we saw that it's an opportunity for them to participate in healthy activities and receive an extra income," Yescas said. "It's a very positive thing because the residents are staying active, they're receiving a small income and we can also help the environment if we use their sewn shopping bags instead of the plastic ones."
The different bags hanging from the cabinets in Pineda's workshop last Thursday afternoon ranged from $2 to $8, with prices depending on the cost of the material used to make them.
"I'm not trying to get rich. I've just always been a person who can't sit and do nothing," Pineda said.
Bowman Senior Residences is located at 229 N. Grand Ave. in downtown Nogales.