Seven members of Boy Scout Troop 555 were awarded the rank of Eagle Scout during a court-of-honor ceremony on July 28 at the VFW Hall in Nogales.
Scoutmaster Steve Mayer told the attendees that the local troop has now seen 65 members achieve Eagle Scout rank in its history.
"Hopefully by October, we'll have another eight Eagle Scouts in Troop 555," he added.
Eagle Scout is the highest rank attainable in the Boy Scouts. To earn the distinction, a scout must complete requirements in the areas of leadership, service and outdoor skills. They must earn at least 21 merit badges, and plan and lead their fellow scouts in a community service project.
Mayer called the seven new honorees from Troop 555 "exceptional leaders."
"They are experts at scouting skills, including knots, map and compass, and they're accomplished outdoorsmen. Most of all, they are friends to every other scout in our troop and any other troop," he said.
The seven, who are all now in college, completed their Eagle Scout requirements last year. However, due to the pandemic, they were unable to be recognized at the time with an Eagle Court of Honor.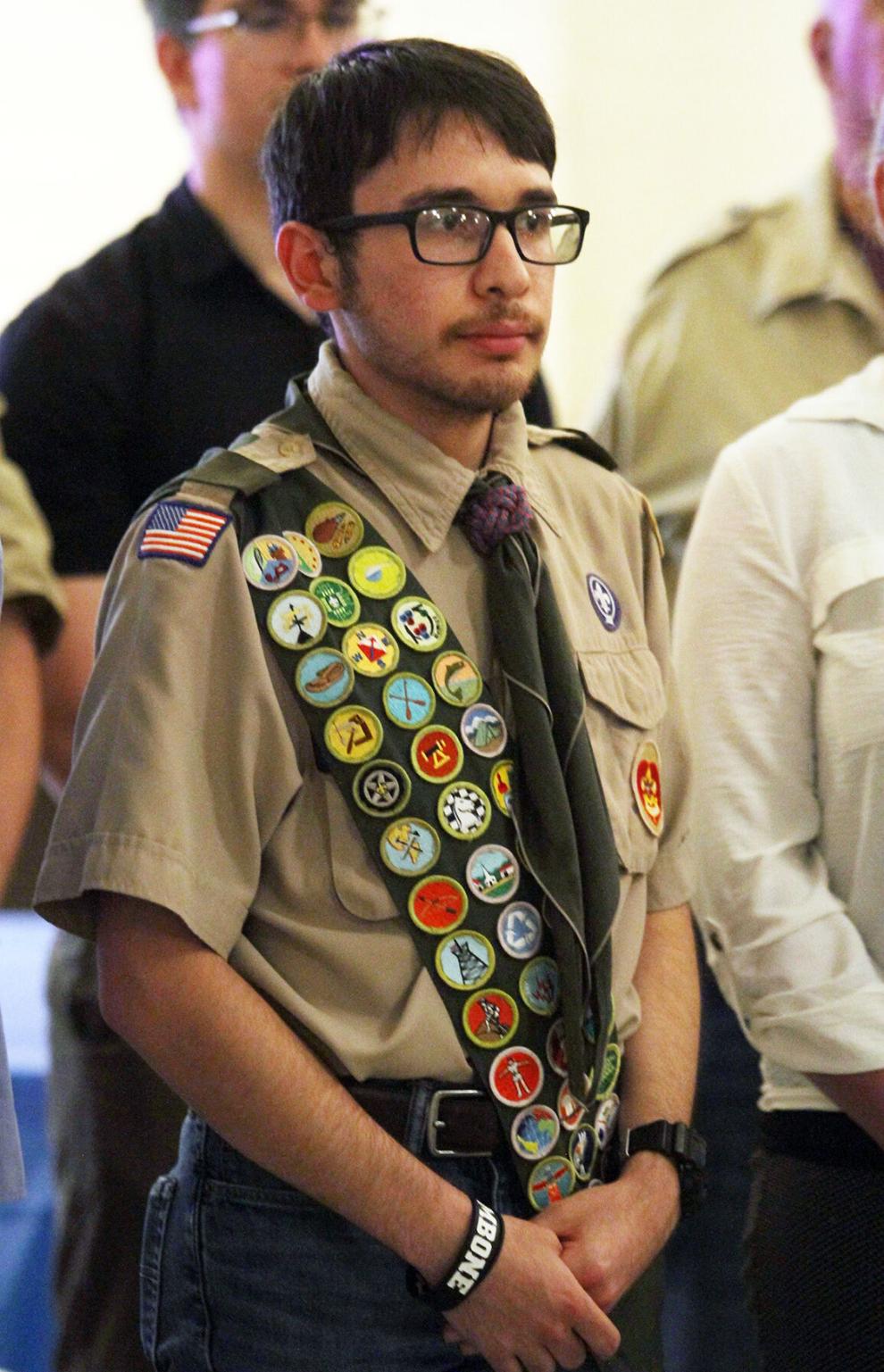 For his Eagle Scout project, Eduardo Acuña-Arizmendi, a 2020 graduate of Rio Rico High School, led the construction of wooden benches for indoor and outdoor use at the Boys & Girls Club of Santa Cruz County.
"It's something simple to do, and it's a nice thing to give," he said.
Acuña-Arizmendi had some familiarity with the club, since his aunt works there. And the project gave him a chance to update his craftsmanship. "I hadn't done much woodworking in a long time," he said.
It also gave him an opportunity to gain confidence by seeing a team of scouts working under his guidance cooperate and achieve a goal.
"Before this project, it didn't matter what the project was, I was nervous about it," he recalled. "But I saw it as an opportunity to show the best of myself and leadership – whether it's a small or large project."
Acuña-Arizmendi is now a college sophomore, studying at the University of Arizona.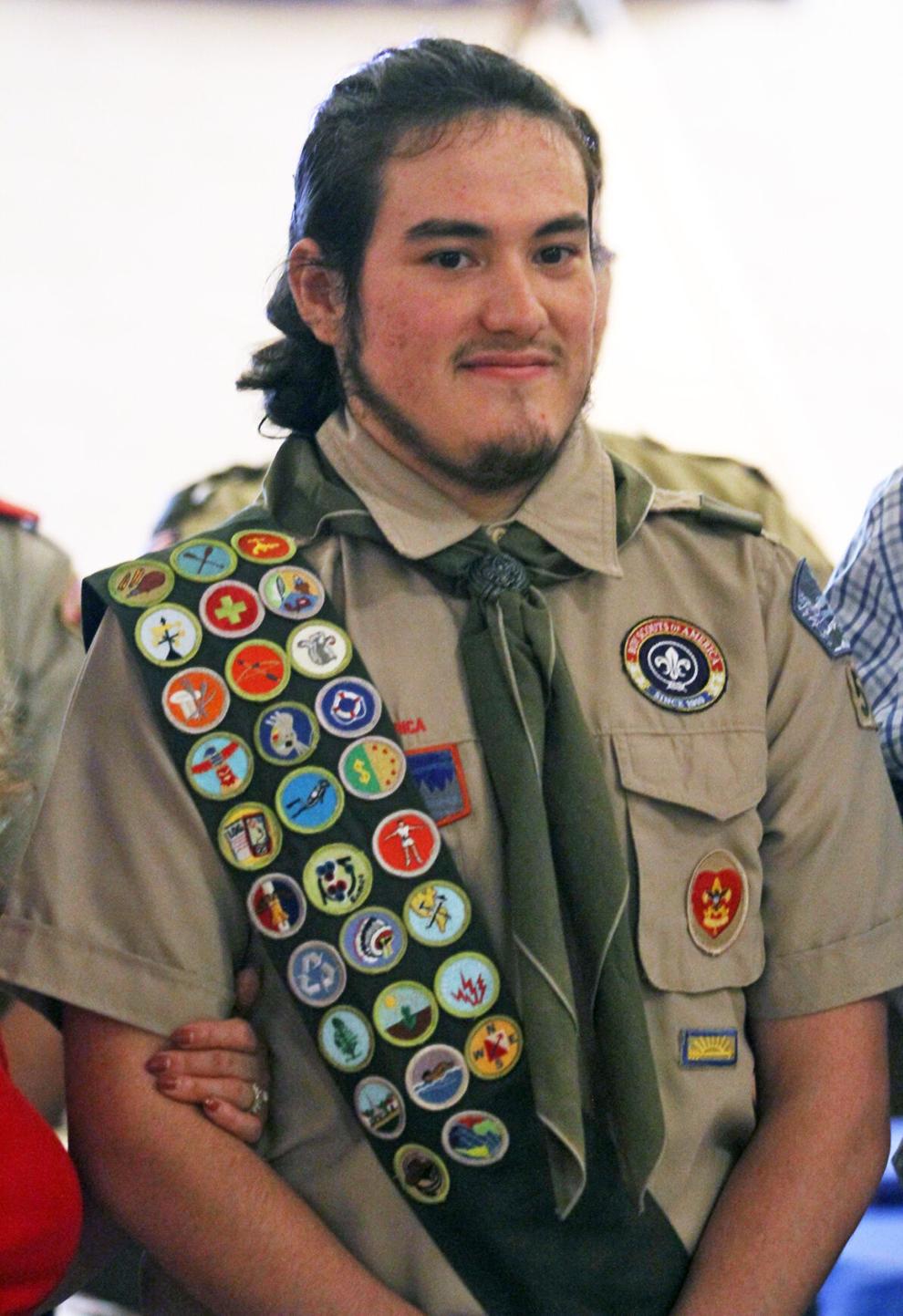 Marcel Aguirre recalled that when he first came into the Boy Scouts, the troop had a ceremony at Santa Fe Ranch, a facility just east of Nogales that serves as an educational resource for the community.
Later on, when one of his friends restored a barn there, he noticed the adobe barn next to it. He got in touch with the ranch owner, who told him it was 100 years old and that its lime plaster had been chipping. That was the start of his Eagle Scout project.
"I decided I would take out all the old plaster and re-plaster everything, so that way the barn has a stable foundation so that it can remain for more years to come, for other people to see," he said.
The project involved learning a new skill – plastering – and Aguirre said it was an especially meaningful endeavor, knowing the special significance the ranch has for him and others in the community. "I figured I could give back to that place, because it was a sentimental place," he said.
Aguirre, who graduated from Nogales High School in 2020, is now a sophomore at the UA.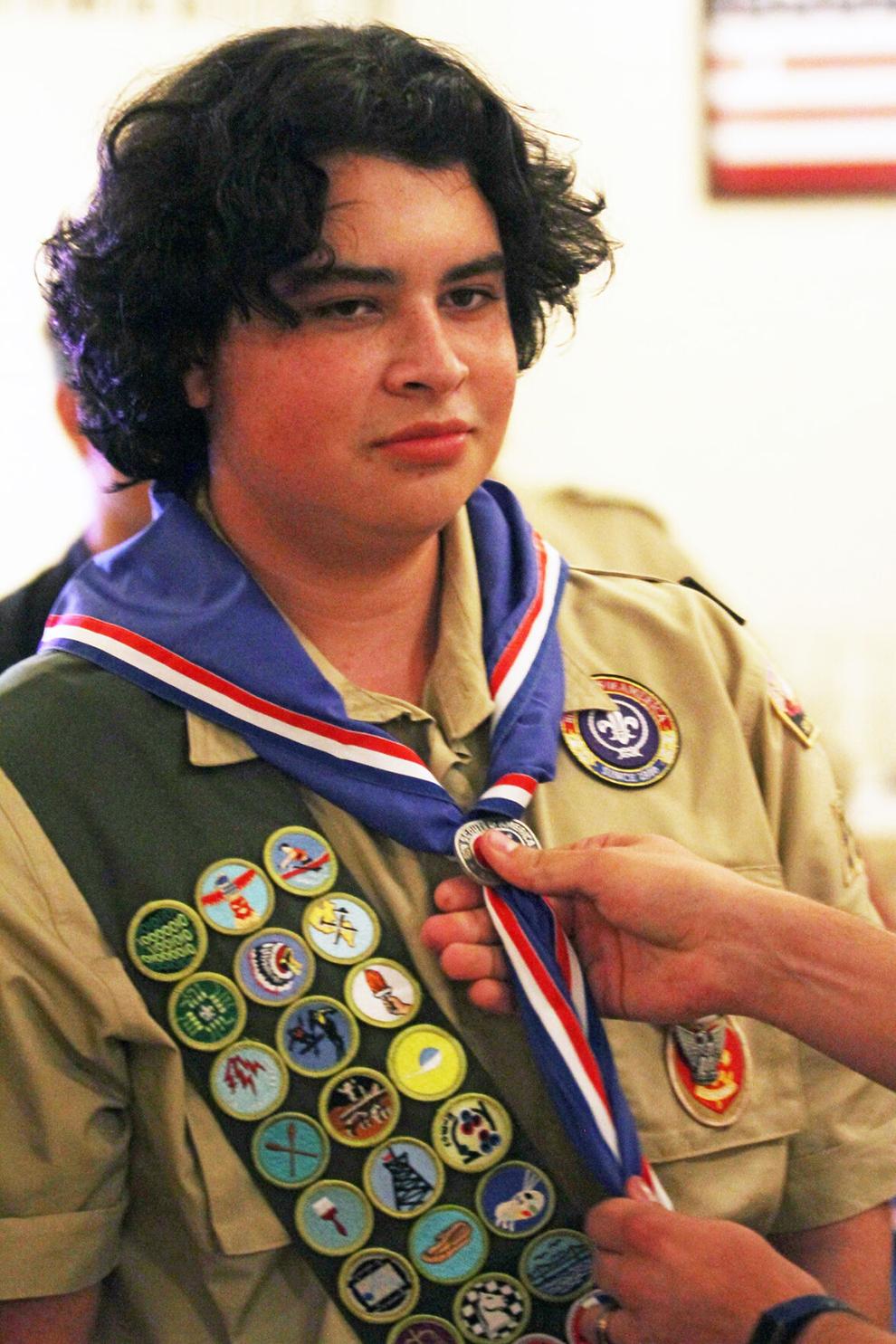 The long-neglected Peck Canyon Cemetery in Rio Rico looked like "just a pile of rocks" when David Duarte launched his Eagle Scout project to restore it.
He and his fellow Boy Scouts worked on the project on weekends for approximately two months, cleaning and trimming trees, adding a new fence and door, and restoring the approximately 20 graves – only one of which bears the name of the person buried there. They also put up a sign with the name of the cemetery, which they estimated dates back to the 1800s.
"It feels nice, because I was able to restore something that people probably didn't know was there," said Duarte, a member of the Class of 2020 at NHS and a current sophomore at Arizona State University.
The Rio Rico Historical Society was so impressed with Duarte's work, they awarded him a scholarship and created space in their museum for a photographic exhibit and documentation of the project.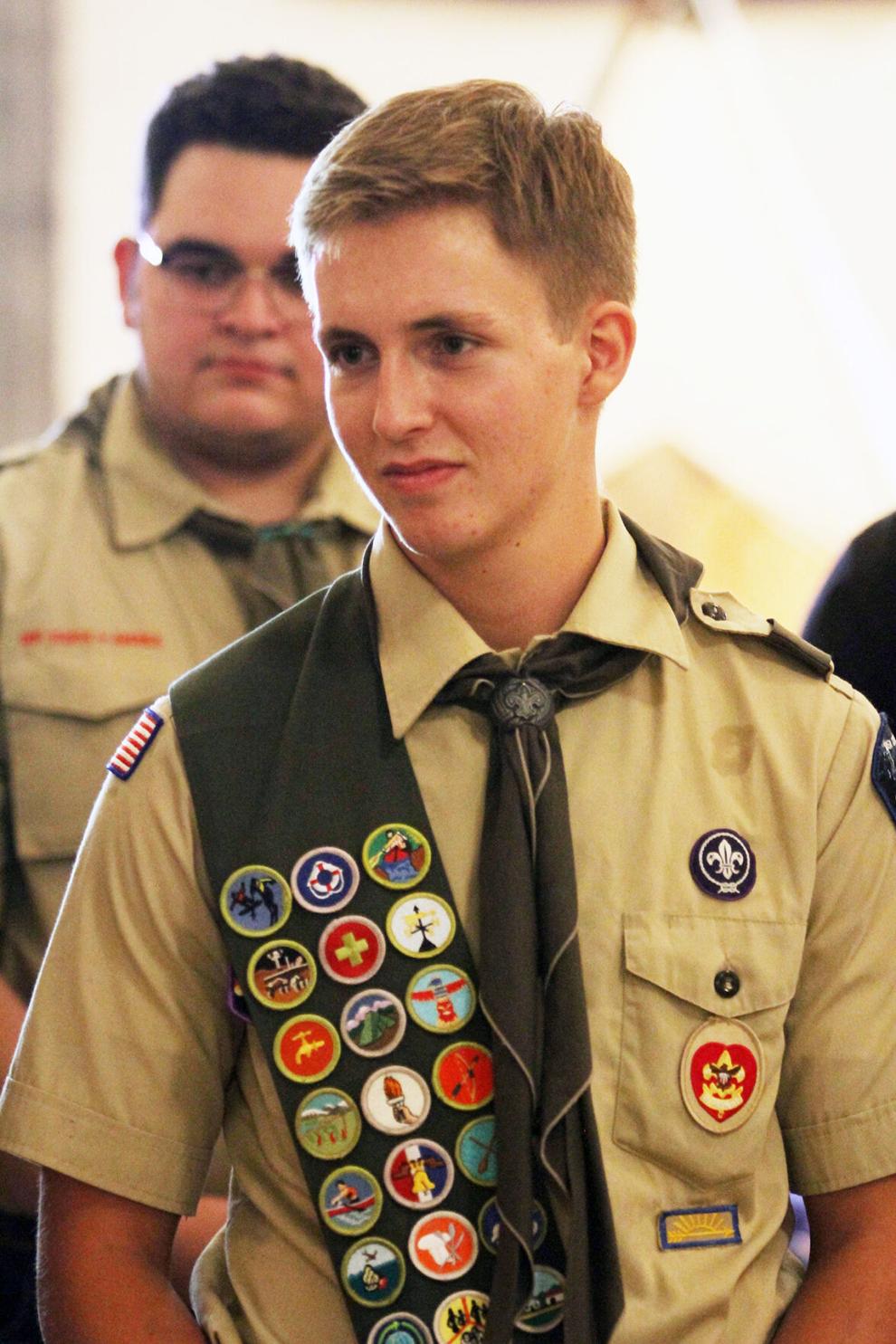 Another member of the NHS Class of 2020, Noah Hilbig installed 30 flag posts in front of City Hall and the Nogales Fire Department Station No. 1 starting in October 2019.
The idea of this Eagle Scout project was that on patriotic holidays – Memorial Day, Veterans Day and Fourth of July – troop members can come and post U.S. flags there for everyone passing by on Grand Avenue to see. And that's what's been happening.
"I kind of wanted to start a tradition, so that was my goal," said Hilbig, who is now a sophomore at the University of Michigan.
He said the idea came to him after seeing something similar in Tucson.
"I put my own twist on it and I thought it would be a cool idea," he said.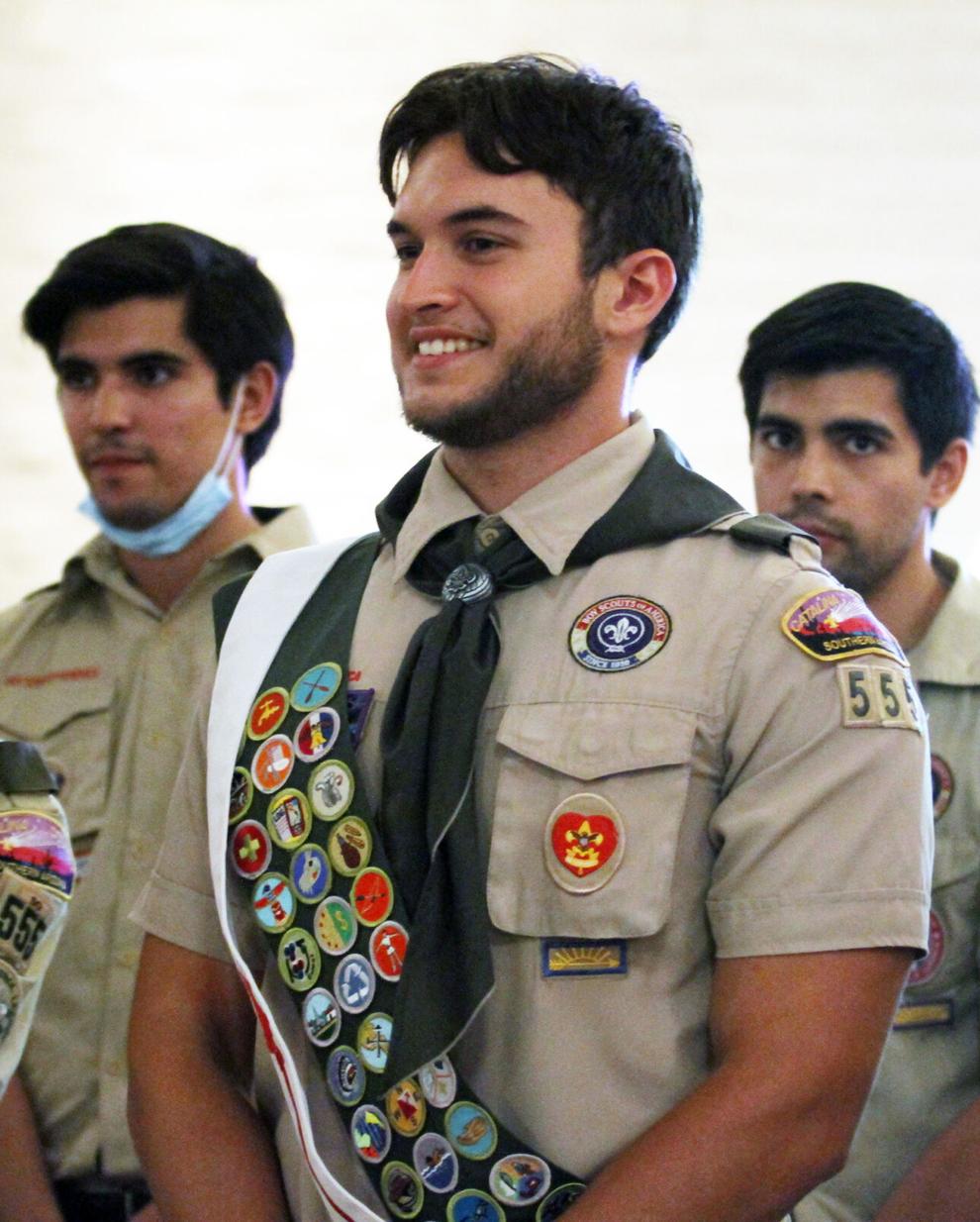 Troop 555 holds its meetings at the VFW Hall in Nogales, the site of community functions that range from social events to Election Day voting. David Moore, a member of the NHS Class of 2020, decided he wanted to do something for the facility and the people who use it.
While loading materials in and out of the hall through a side door on the building's east-facing side, Moore realized the need for a ramp there. And he noticed that the strip of land between the hall and parking lot could use some landscaping as well.
"It was looking a little run-down and I wanted to help it out a little bit," he recalled.
So for his Eagle Scout project, Moore led troop members in the construction of a ramp, and in laying down new gravel along the side of the building.
"Gravel is more sustainable than the grass that was there," he explained.
"This is the part that everybody sees. Everybody comes here for quinceañeras, the cotillion, things like that, so I figured I'd help it out a little," said Moore, now a sophomore at ASU.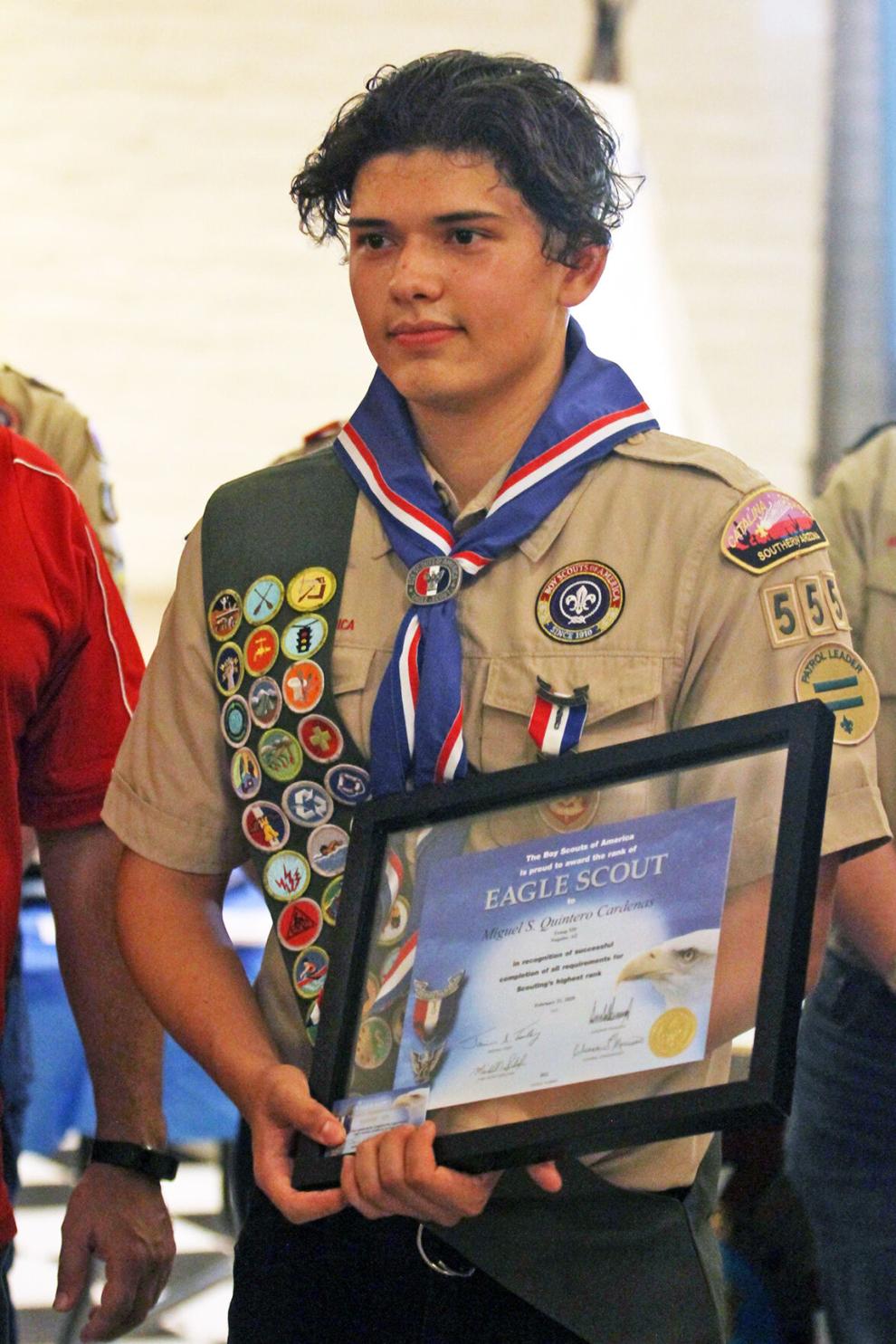 Like his troopmate Acuña, Miguel Quintero made benches for the Boys & Girls Club as part of his Eagle Scout project, though his are meant just for the outdoors.
"They opened up to me and were like, 'Sure, you can make a project here,'" the RRHS Class of 2019 member said, adding: "We put in two nice little benches and then painted them really nice."
And while he had worked with cement before, Quintero said this project required an extra level of skill.
"It was really fun," the current UA junior recalled. "Having those leadership skills, being able to guide and tell people to help you out making something for the community – it was a good experience."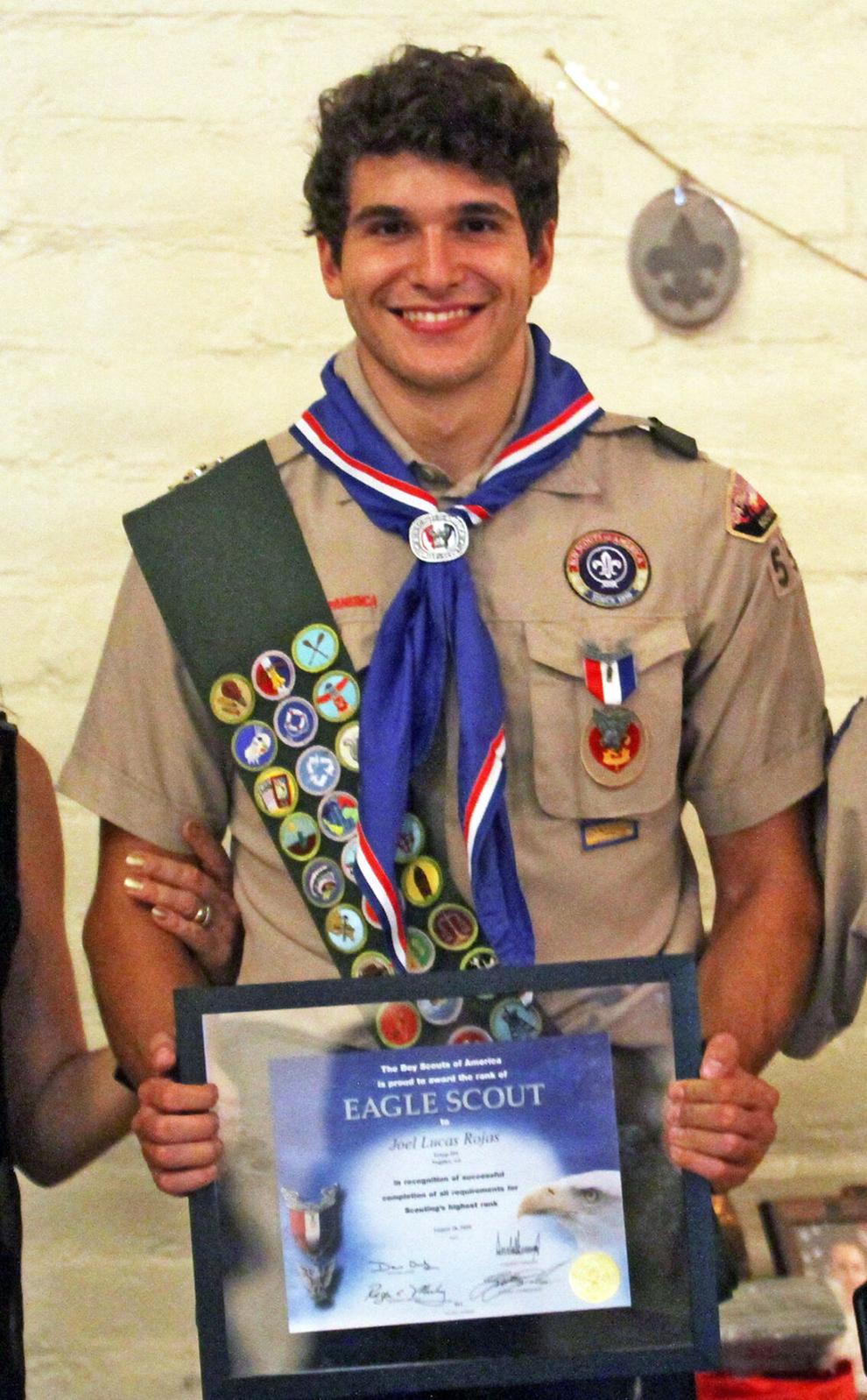 "I pretty much grew up at the Catholic church," said Joel Rojas, in reference to Sacred Heart Catholic Church in Nogales. "I went to church my whole life there."
Rojas, another member of the NHS Class of 2020, said that when he saw people standing and waiting outside the church, he wanted to give them a place to sit. He decided that his Eagle Scout project would be to build benches in the patio near the church's entryway.
"This was a huge accomplishment to me because not only was it a big milestone – because it meant I was finally going to become an Eagle Scout – but it also meant that I could help the church out, to help all the people who helped me grow up and who remembered me from when I was a little kid," he said.
Asked how it felt to see people using the benches, Rojas, now a sophomore at the UA, said: "It feels really good."