SCVUSD launching a Hall of Fame
The Santa Cruz Valley Unified School District is seeking nominations for its new Hall of Fame.
According to the district, the SCV35 Distinguished Hall of Fame will honor outstanding alumni, faculty, support staff and community members who have brought honor to the school district and their communities through their contributions to the arts, business, education, athletics, government, humanities, philanthropy and science.
"Our district has had some incredible individuals/teams, and this is a wonderful way to acknowledge and celebrate their many achievements," said John Fanning, chair of the SCV35 Distinguished Hall of Fame Committee. "I will actively and earnestly work to ensure that the people who should be honored because of their hard work and effort receive the acclaim that is deserved."
Committee member Karla Sosa, a district employee and 1998 graduate of RRHS, cited the "tremendous growth we have achieved as a district" and said the hall of fame would mark "a true milestone."
Nominations will be accepted from Monday, April 20 until Tuesday, June 30. Nominations are open to the public and community members are encouraged to participate. Learn more about the criteria and process at www.scv35.org/index.cfm?pID=16139, or contact Fanning at jfanning@scv35.org or (520) 375-8762, or Shannon Enciso at senciso@scv35.org or (520) 375-8285.
Superintendent's Office to lend laptops, mobile hotspots to students
The Santa Cruz County School Superintendent's Office said it will offer laptops and mobile hotspot devices for local students to check out next week.
Beginning on Monday, April 20, students will be able to check out the equipment at the County Complex at 2150 N. Congress Drive in Nogales, and at the county's former Public Works Office at 275 Rio Rico Drive in Rio Rico. The operating hours will be Monday to Thursday from 8:30 a.m. to 1 p.m.
In a news release issued Wednesday, the Superintendent's Office mentioned the following guidelines for borrowing the equipment:
• Must submit a government issued ID
• Students under 16 must be accompanied by an adult
"Santa Cruz County staff will follow all safety guidelines and deliver/pick-up laptops at your vehicle," the news release stated.
For more information, call the superintendent's office at (520) 375-7940.
Local organizations benefit from community foundation grants
The Community Foundation for Southern Arizona is awarding grants to organizations that provide community relief during the coronavirus crisis, including several based in Santa Cruz County.
Last week, CFSA announced that it had granted a total of $120,000 from its COVID-19 Response Fund to 12 organizations, including the Boys and Girls Club of Santa Cruz County and the Patagonia Youth Enrichment Center.
In a news release, the foundation said the funds for the PYEC would help the center provide healthy, take-home dinners to the youth who typically rely on the meals provided by the center's after-school programming. 
"Currently, the youth center is closed, but the need for meals is increasing as time passes," PYEC Director Anna Coleman said, adding: "We have been preparing and serving over 400 to-go meals per week in our small rural community."
In addition, the CFSA awarded 30 organizations a total of $720,000 in general operating funds through its 2020 CORE Grants program.
Local organizations that received a share of those funds included the Border Youth Tennis Exchange, the Borderlands Restoration Network and Construyendo Circulos de Paz/Constructing Circles of Peace
The CFSA said grants from its COVID-19 Response Funds will continue to be released on a rolling basis as fundraising continues throughout the outbreak and recovery phases of the pandemic.
City donates protective gear to health services provider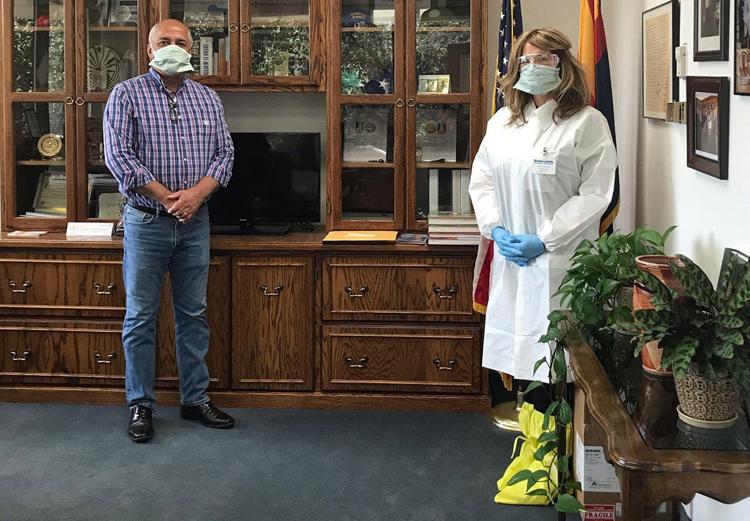 Dependable Health Services recently received a donation of 35 N95 masks, gowns, gloves and shoe covers from the City of Nogales.
Mayor Arturo Garino delivered the so-called protective personal equipment (PPE) to Dependable Health Services clinic manager Elisa Silva, office manager Elga Ibarra and registered nurse Patti Zarate on April 3 after receiving a large donation of PPE from the local manufacturer Alpha Pro Tech.
"We are so thankful for this most valuable donation that will help our nurses and caregivers be able to do their job safely with this Protective Personal Equipment, thanks to Mayor Garino," Dependable Health Services said in a news release.
"Our staff is trained in COVID-19 responsiveness, and have taken measures to ensure the wellbeing and safety of all of our patients," the news release said.