The Nogales Public Library will be closed for renovations from Oct. 1-18.
The other libraries operated by the Nogales-Santa Cruz Public Library system in Rio Rico, Tubac and Sonoita will remain open during the closure.
People who need to return materials to the Nogales branch during the closure can renew the materials by calling (520) 285-5717, then return them once the library reopens.
Cobalt Galleries to hold season-opening event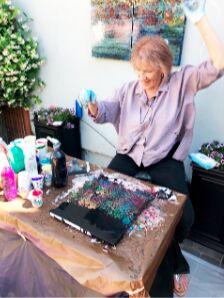 Cobalt Fine Art Galleries in Tubac will launch its first major exhibit of the year with a season-opening event featuring three Southwest artists.
Colorado-based Cynthia Duff and Mary Coleman, along with California artist Kate McCavitt, will be showcased during Tubac's Fall Arts Festival on Nov. 26-28.
During the festival, McCavitt will demonstrate her luminous acrylic pouring techniques using torches, gesso and golf leaf applications.
"This demonstrates the many unseen layers and techniques behind the works, which really builds appreciation for the artist's talents," Mesia Hachadorian, owner and director of Cobalt Galleries, said in a news release.
Sheriff's Office launches toy/clothing drive
The Santa Cruz County Sheriff's Office is teaming up with the Kiwanis Club on a Christmas clothing and toy drive.
The collection of unwrapped new toys and clothing has already begun, and will continue until Dec. 6.
Donations can be dropped off at the Sheriff's Office, 2170 N. Congress Dr.