More than a dozen brown paper bags rested on a food cart last Wednesday afternoon at the Boys and Girls Club in Nogales.
The bags contained a Coco Puffs bar for breakfast and sweet-and-sour chicken broccoli for lunch. Baskets placed nearby were filled with apples, oranges and bananas for families to grab on their way out of the club – one of 23 distribution locations across Nogales operated by the Nogales Unified School District and Sodexo as part of NUSD's summer meals program. 
Similar services are ongoing in Rio Rico, Patagonia and Sonoita as well, as local school districts continue to offer USDA-funded summertime meals under extended eligibility rules created in response to the COVID-19 pandemic. Since last summer, meals are provided to all students 18 and younger, free of cost and regardless of where they attend school. In addition, meals are offered to adults at reduced rates. 
And as pandemic restrictions begin to loosen, the county's two largest districts have chosen to keep it safe by reducing summer meal distributions to three days a week – Mondays, Wednesdays and Fridays – and eliminating sit-down dining in favor of grab-and-go service.
"We are continuing to serve many locations throughout the city, it is just the days and the inclusion of the weekend meals that is different than it was pre-pandemic where we served meals each day Monday through Friday," said NUSD Assistant Superintendent Angelina Canto. 
The district is ensuring that meals for the whole week are accounted for within the three days of service, Canto said. For example, breakfast and lunch for both Monday and Tuesday are delivered on Monday, and so on. 
NUSD served 102,178 meals in May and expects to serve another 100,000 in June.
"Parents are sure their kids are going to have their meals while they're at work," NUSD food service specialist Sandy Alcantara said of the summer meals program.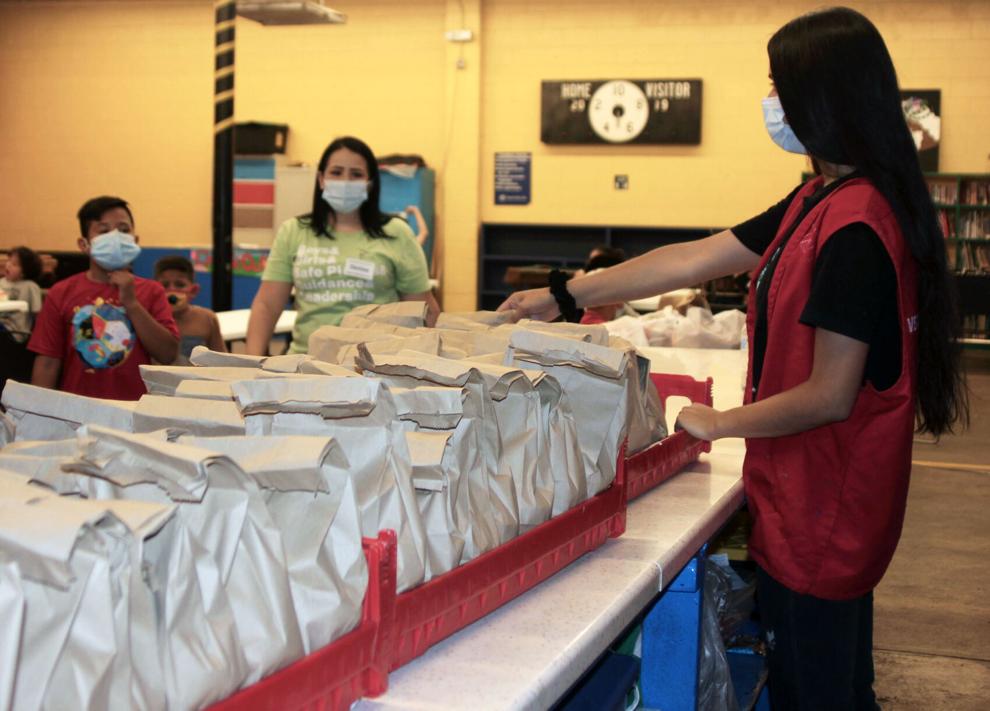 The Santa Cruz Valley Unified School District has also made slight modifications to its Summer Food Service Program, also offered in collaboration with Sodexo.
Pick-up sites are in two different locations: Calabasas School and Mountain View Elementary School. The second location was originally Coatimundi Middle School, but parking lot improvements required the change.
The two locations are expected to remain the same through the month of June, but Mountain View could change starting in July.
In an email, SCVUSD spokesperson Shannon Enciso said meal distribution is taking place Mondays, Wednesdays and Fridays from 11 a.m. to 1 p.m.
"Families can choose the most convenient stop for them along the east or west bus route," Enciso said, adding that the district has taken steps to ensure that families are up to date with information about summer meals.
"The meal program has been shared with families throughout the school year via email, Superintendent Verdugo's weekly video update and on social media," Enciso said. 
In Rio Rico, SCVUSD said it's expecting to distribute 20,000 meals to families in need this summer, not including meals served during in-person summer instruction and other activities held on school grounds.
In the Patagonia elementary and high school districts, the Summer Feeding Program has a dine-in option available as well as meal pick-up at the high school campus. And in another difference from NUSD and SCVUSD, meal distributions take place Monday through Friday, rather than three days per week.
However, there is one distribution per day of two meals.
"At lunch time we are handing out lunch for that day and breakfast for the next day," Superintendent Kenny Hayes said.
The district is also serving students and their families in the Sonoita area by operating a grab-and-go location at the Sonoita Fairgrounds.