Paintbrushes in hand, a group of approximately nine students got to work last Friday to help create one of the latest murals in downtown Nogales
The artwork, covering a large brick wall in a parking lot on the south side of Court Street, depicts the flora and fauna of the Sonoran Desert. It's divided into two sections: day and night.
The mural project represents one of the final segments of a more expansive summer arts program that the Santa Cruz County School Superintendent's Office hosted this month through its Gear Up Program.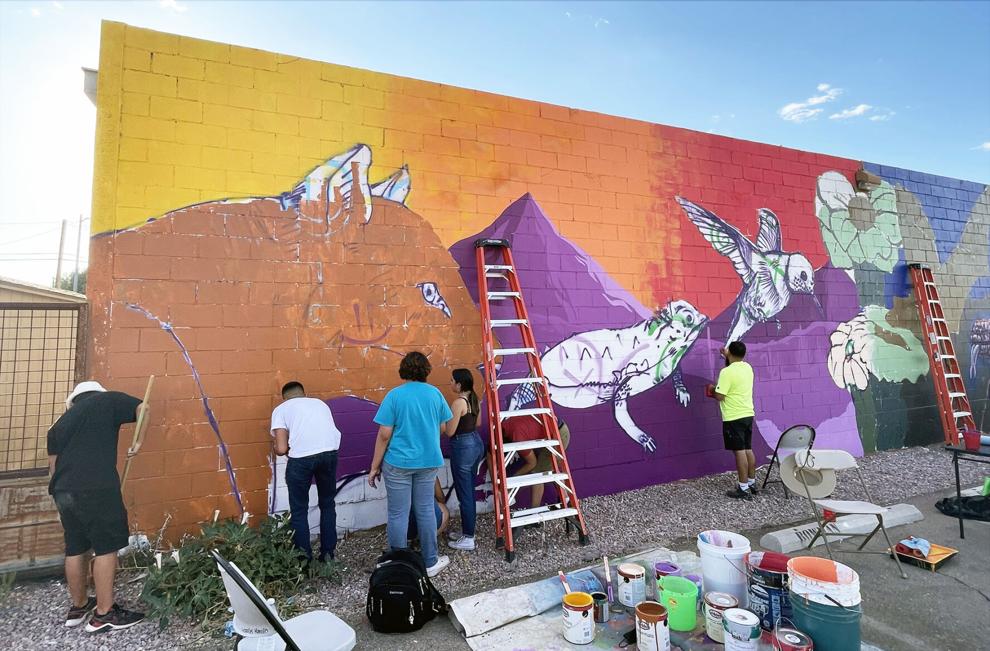 "Our focus this summer – after having to cancel all camps last year – was to offer students a safe way to resume learning with their peers and enjoy socializing in a stress free environment," said Maya Donnelly, the Gear Up director.
She added that the School Superintendent's Office created a total of 12 programs for students in grades 3-12, with subjects ranging from art to science.
The summer arts program was directed by Nogales native Evan Kory. Classes included paper-making, mixed media drawing and painting, photography, and the community mural project that students took part in beginning June 14.
Throughout the two-week duration of the mural project, Phoenix-based artist Isaac Caruso guided the group in painting the night portion of the mural while Ambos Nogales artist Antonio Lucero (better known as Tony Plak) provided his expertise on the daylight section.
"We had our first class and all the students sketched desert animals that they liked," Kory said. "So, using those sketches, Tony and Isaac created the day-and-night-themed desert mural."
Last Friday, the students brushed the paint over their outlined sketches on the wall, often taking breaks to socialize and crack jokes among each other, as they worked on setting the base colors for some of the animals and mountains.
"The night side is supposed to represent probably about half, if not more, of the creatures that exist in our desert because animals have adapted to being out at night since it gets so hot in the day," Caruso said, adding that they planned to paint a gila monster, coyote and bat for the night portion.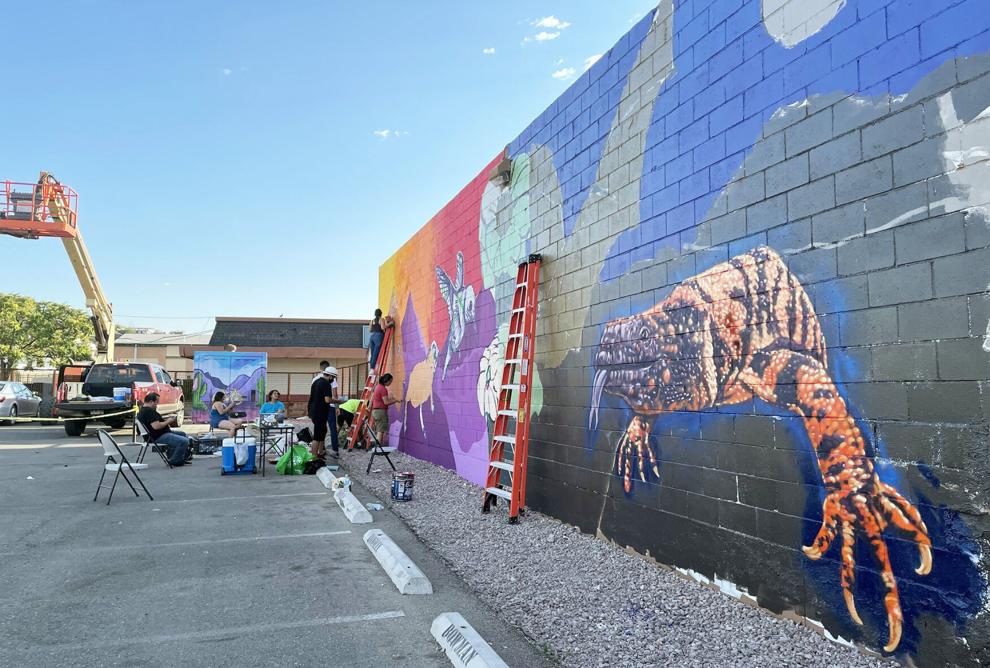 The daylight side of the mural included a mountain lion, hummingbird and cactus, among other elements that were still taking shape last Friday.
For Plak, who has collaborated with other local artists on several murals in Ambos Nogales over the past three years, this project was about more than simply painting over a blank canvas. It represented the opportunities that are slowly opening up for other young artists in town, he said.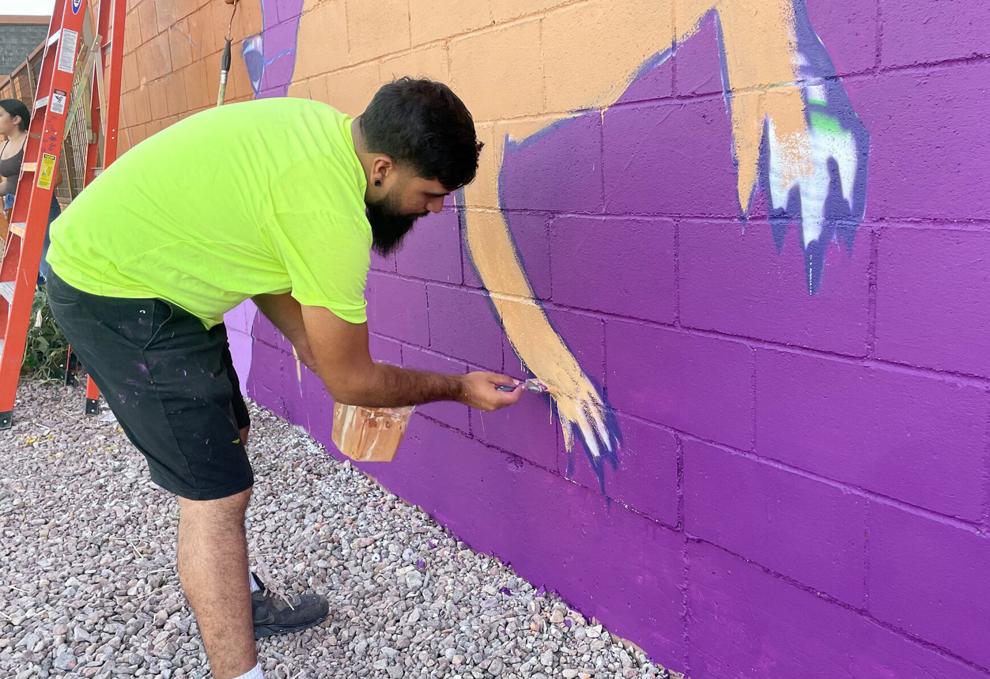 "It's neat to see that a lot of these kids are already really talented," Plak said. "I think they'll surpass my work when they reach my age, but it's really cool that they're improving their skills and that there will be more opportunities for them at a younger age."
He noted that he has already seen the growth within some of the younger artists, whom he has been mentoring through the project.
For example, he said, 16-year-old Nogales High School student Grecia Solorio had helped him with a project to paint the Nogales Skate Park back in 2018. Seeing her skills in the mural project now, Plak said, she has improved greatly.
"It makes me really happy that she's here with even more talent," he said. "It means that she'll be able to do what she loves from a very young age, just as I would've loved to do."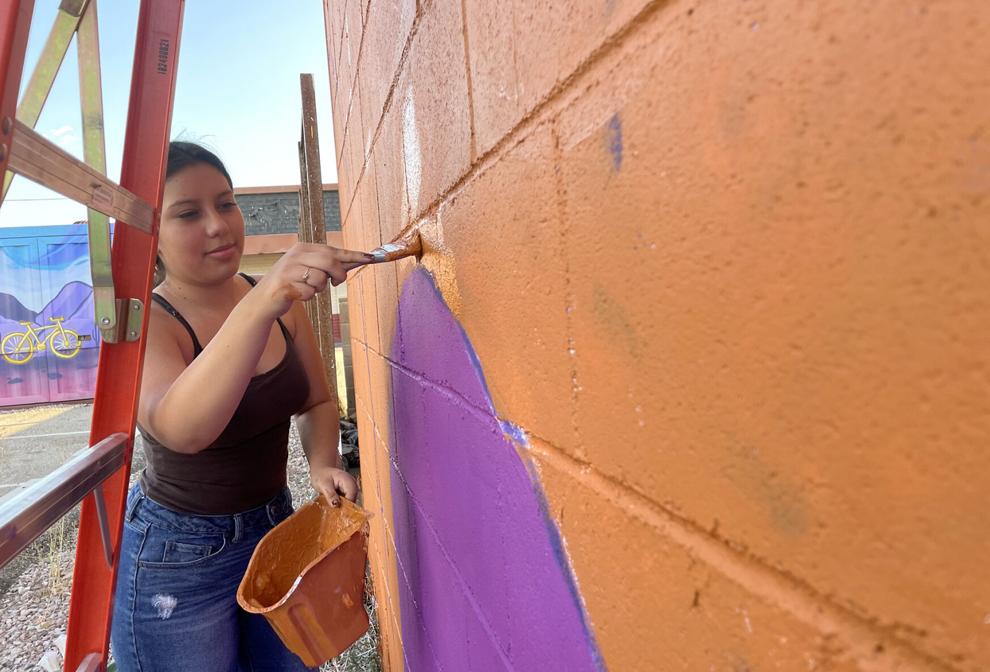 Solorio, who said she became more serious about her art after realizing she'll be graduating from high school soon, also expressed excitement about what this early experience would mean for her future.
"It's really cool because (Nogales) is kind of becoming an art town," she said in reference to murals around town, school art programs and more expansive events at Hilltop Gallery. "I get to learn and see other people who are artists just like me."
Kory, the summer arts director, said he believes the mural project has helped refresh and invigorate the community's perspectives of Nogales. As the students brought color to the former large white wall, local residents stopped by to show their interest in the project and strike up conversation with new faces.
And, he said, the summer arts program as a whole also helped local students forge deeper ties with their hometown.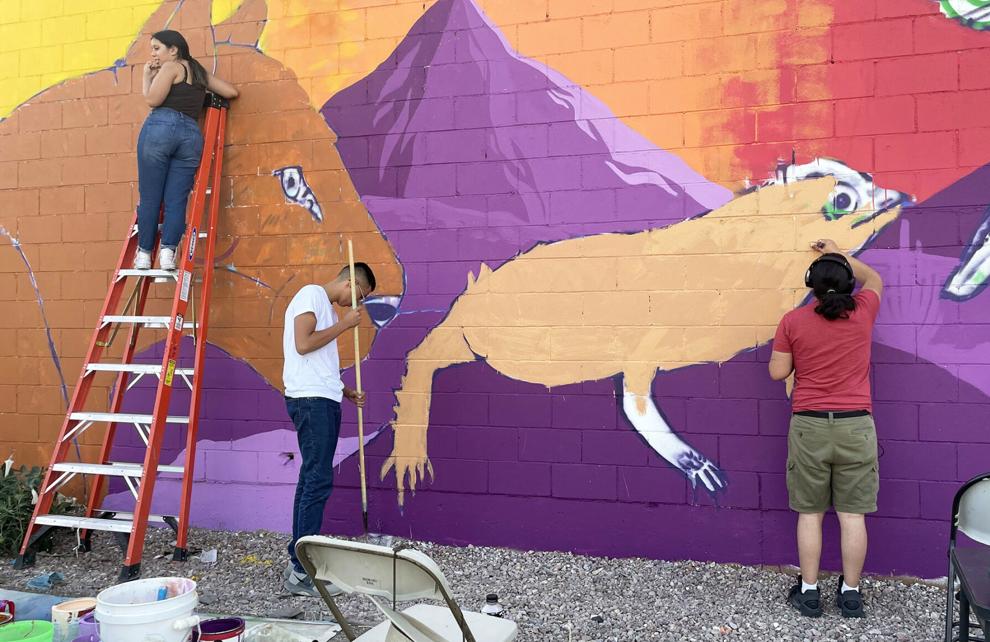 "A lot of these students had not even walked downtown before… The program brings students downtown, so that they have a sense of ownership to their historic downtown," Kory said, adding: "When this mural is done, for years to come, they'll say, 'Oh yeah, I was part of that.'"
All of the students' summer artwork was scheduled for a one-day exhibition at La Linea art studio on Morley Avenue, alongside local artist Paula Wittner's exhibit, on June 24. After that, Kory said, the artwork may possibly be displayed at the Santa Cruz County Complex.
The mural, which is scheduled to be completed this Friday, marks the last of the scheduled arts activities this summer, he said. But looking forward, there are plans to continue providing more art opportunities for local youth, including a video marketing class that was postponed for the fall semester.
For more information about summer programs, call the County School Superintendent's Office at (520) 375-7947.