Students in Santa Cruz County now have greater access to career and college guidance, after the C-CREO Hub opened its doors at the Santa Cruz Center in Nogales last Thursday morning.
The C-CREO Hub, short for College and Career Readiness Educational Opportunities, is designed to assist students in finding their post-secondary path by educating them on different career options, college enrollment and transition, and financial aid and scholarship opportunities.
Maya Donnelly, grants program coordinator for the County School Superintendent's Office, said that nearly 90 interviews were conducted with school administrators, teachers, students and parents to find what gaps needed to be filled in terms of local education.
"What we found, mainly, was that people were lacking basic awareness – awareness of postsecondary programs, financial aid, scholarships, the admissions process, what degrees were available, what certifications were available," she said. "This hub is what we found our community was really, really yearning for."
On Thursday morning, as several community members gathered to take a first look at the new center, a large table in the middle of the room was covered with various university pamphlets and information on different career paths ranging from public health to civil engineering.
Six computers were also lined against the back wall of the room, each with a label indicating a specific use, such as financial aid applications and career exploration.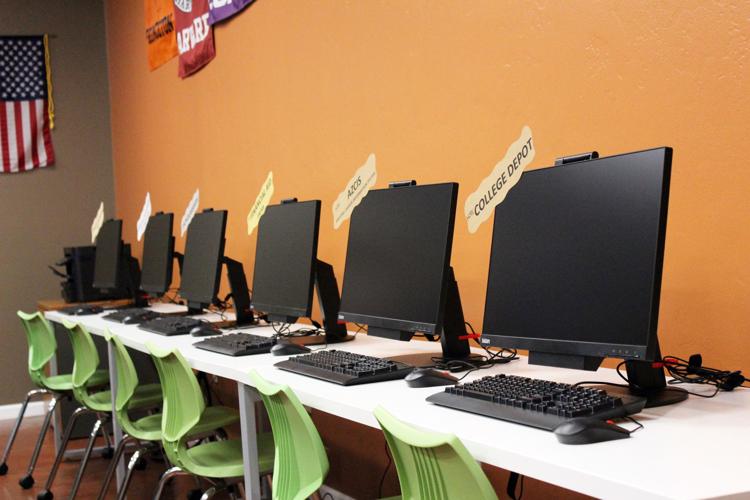 In addition to the access center, Donnelly said, the Santa Cruz Center will also house the C-CREO Imagination Center, in an effort to enhance the Arts for Learning initiative. Students from around the county are encouraged to visit the Imagination Center for assistance with any STEAM-related projects.
County School Superintendent Alfredo Velasquez said both centers were, in part, made possible through a $4.5 million GEAR UP grant that his office received in October 2018.