More than 20 paintings adorned the walls inside a room at the Hilltop Gallery on Sunday afternoon, each with an underlying theme that represented a small part of Frida Kahlo's life and several that mimicked the styles of famous artists ranging from Leonardo Da Vinci to Fernando Botero.
As she walked around the room taking in the artwork, a woman expressed the main theme of the display when she said out loud: "Everyone has some connection to Frida."
Local artist Abel "Pato" Aguilar said his inspiration for his new exhibit, "Retratos de Frida," came from his deep connection with the late Mexican artist's life and artwork.
"My original idea was to show them on her 111th birthday," Aguilar said. "I didn't want to just come up with new paintings, but I wanted to kind of make it like Van Gogh painted that for her, Botero painted that for her. It was a big birthday and all of these artists got together and it's all about Frida."
And while his original idea didn't come to fruition until more than a year after the 111th anniversary of Kahlo's birth, Aguilar said his exhibit still represents the same concept – a celebration of the late artist.
Out of the several artworks featured in the exhibition, he said he felt a particularly special connection with one of the pieces standing tall in a corner of the room.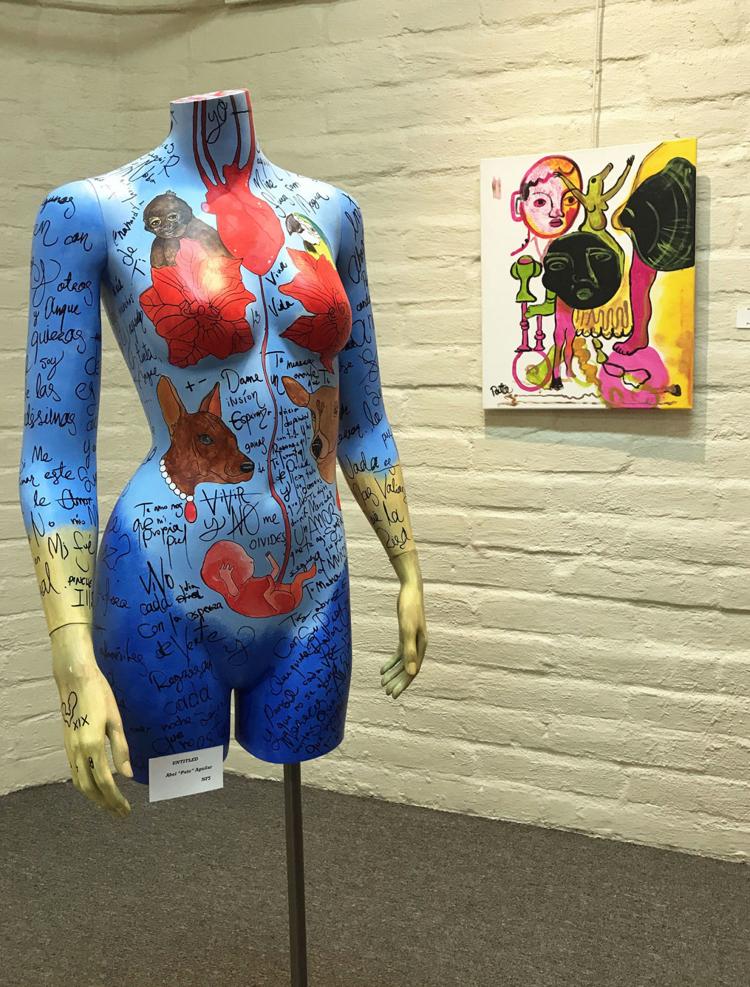 Aguilar painted a mannequin in different shades of blue with a fetus connected to its heart, and covered it with various Kahlo quotes and poems. It was the only artwork in the exhibit that didn't include a price tag along with the name of the piece.
"I don't typically get attached to my art because I do it as a coping skill, hoping to give that energy and transmit it somewhere else," Aguilar said, adding that this particular piece represented something more to him. "This last year, I went through different events in my life that it was not a good year, and this mannequin was a process through that year."
He added that his hope is for the public to be able to connect with the artwork in a similar way that he did. He hoped that the guests viewing his art would simply react to it, whether in a positive or negative way.
Aguilar also encouraged community members to support local artists.
"To support an artist, it doesn't mean that you have to buy a painting. It's also following social media – if you like something, go like it, follow it and support it that way," he said, also encouraging more people to attend exhibition openings. "That way you can get a better idea and connection behind the art and who the artist is."
Hilltop Gallery is at 730 Hilltop Dr. in Nogales and is open free of charge 12:30-4:30 p.m., Tuesday-Saturday. Call (520) 287-5515 for more information.
After being displayed at Hilltop Gallery, "Portraits of Frida" will move to the Santa Cruz Center in Nogales later in January as part of the Extended Gallery program.