Daniel Bojorquez had to be at Tucson International Airport for a 4 a.m. flight Tuesday, but he wasn't complaining.
The eighth-grader at Desert Shadows Middle School is part of the Tucson Arizona Boys Chorus, which is set to perform at the National Tree Lighting ceremony on Thursday in Washington, D.C. The ceremony includes the lighting of the tree by President Trump and First Lady Melania Trump, and performances of holiday songs by professional, military and youth musicians.
Of the songs in the Tucson Arizona Boys Chorus' repertoire, Bojorquez is particularly fond of "Carol of the Bells," he said.
It's the third time the Tucson chorus has been invited to the ceremony, which will be broadcast Dec. 9 at 6 p.m. on REELZ and 7 p.m. on Ovation. The last time the chorus performed at the event was 1991. Prior to that, it was 1963.
Julian Ackerley, who has directed the group since 1980, said he is thrilled they were invited again.
"It was truly an extraordinary experience and these boys will have the same experience," he said.
Borjorquez, 13, and the rest of the chorus are also slated to perform privately for the U.S. Senate.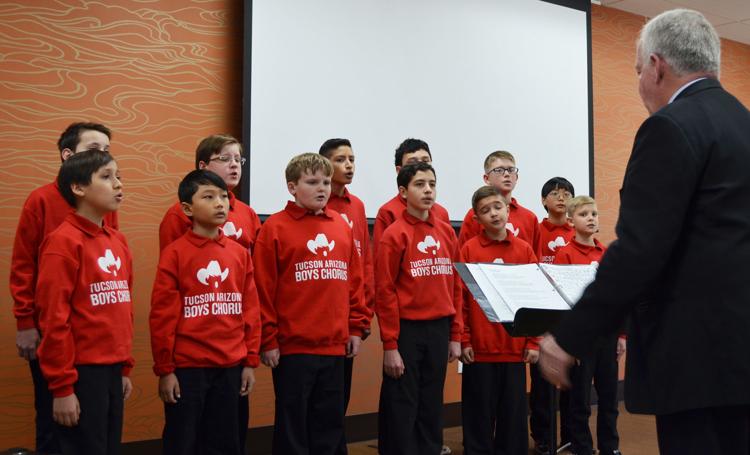 The boys have been rehearsing practically every day since the invitation was extended in October. Typically, they rehearse 90 minutes three days a week. They perform all year long, but December is a busy month, with sometimes up to four performances in a single day.
Last summer, the chorus traveled to Hawaii and the Grand Canyon, and Bojorquez has also been to China and San Carlos, Sonora with the group. This summer they'll tour Scotland, England and Ireland.
Bojorquez auditioned for the chorus three years ago after his piano teacher told him about it. He was made a member of the touring group almost immediately. He's been singing in front of crowds since he was a kindergartner performing in his school's talent show.
His mother Diana Bojorquez said her husband and Daniel's little sister, Danika, are all sports enthusiasts. But not Daniel. He just loves to sing and travel, she said.
Making the trek to Tucson for rehearsals and other performances is worth it, she said.
"It's more hectic for us, but it's what he loves. We've got to do it," she said.
This is Daniel Bojorquez's last year with the chorus; he's graduating.
"It's very fun and very exciting. It's been a great experience," he said. "Dr. Ackerley is very nice and fun. I've been honored to work with him."
He's considering auditioning for the Tucson Arizona Young Men's Ensemble next year. The ensemble is comprised of high school and college students.
In the long run, Bojorquez is considering pursuing an acting career. But for now, he's focused on the Thursday performance and everything else the nation's capital has in store for the chorus – including a private tour of the White House.
"I'd be shocked to see the president and nervous," he said.