Marysol Luna of Nogales is the first Latina to earn a Ph.D. in mechanical engineering in the Sibley School of Mechanical and Aerospace Engineering at Cornell University, an Ivy League school in Ithaca, N.Y.
She attributes her success to her hard work, dedication and support from the people she has met along the way.
Luna first became interested in STEM as a student at Desert Shadows Middle School, where she participated in a program that allows students to compete in team projects in the areas of science and engineering.
After graduating from Nogales High School in 2011 as salutatorian, Luna, a first-generation student, attended the University of Arizona to study biomedical engineering with minors in mechanical engineering, math and Spanish.
Speaking for a profile story published in the NI in May 2011, she explained her interest in biomedical engineering, saying: "I'm interested in the medical field, and in engineering, and I found that to be the perfect balance."
During her freshman year at the UA, Luna joined an undergraduate lab that grew cartilage from stem cells – further cementing her interest in the field.
During her undergraduate career, Luna was heavily involved in the UA's Society of Hispanic Professional Engineers (SHPE), serving on the leadership board for a year. As a junior, Luna submitted an abstract for a poster and paper competition. She was selected to present her work at the SHPE National Convention, which proved to be a very memorable experience. 
It was at the SHPE National Convention where Luna was first approached by Christopher Hernandez, professor in the Cornell Sibley School of Mechanical and Aerospace Engineering, who organized the scientific sessions at the SHPE National Convention and was interested in her work. Hernandez introduced Luna to the idea of graduate school and later went on to become one of her most influential mentors.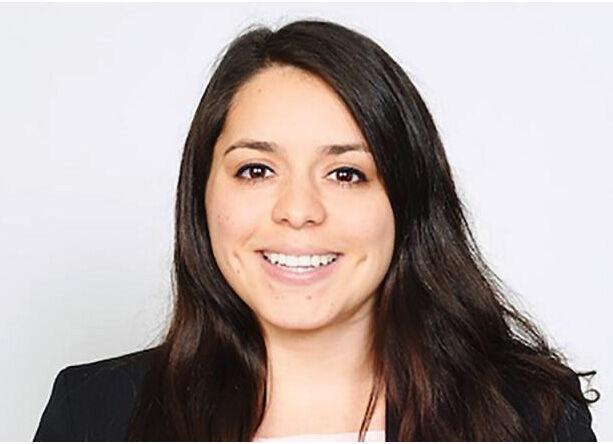 "I'm a first-generation student," Luna said. "I didn't even know what grad school was until that conference. He [Professor Hernandez] showed me that there were multiple options post-graduation."
After this memorable experience, Luna began pursuing summer research experiences through the Research Experience for Undergraduates (REU) program. She participated in the Louis Stokes Alliance for Minority Participation (LSAMP) REU in Professor Hernandez's lab, analyzing micro-damage in trabecular bone.
"Specifically, we looked very closely at the micro-architecture of the bone," Luna said. "We saw how the damage by fatigue loading would initiate and propagate over several cycles."
This experience in the lab and the mentorship from lab members and faculty in the Sibley School led Luna to apply to graduate school – where she ended up joining Hernandez's lab as a Ph.D. student following her graduation from the UA in 2015.
"Marysol's dissertation was groundbreaking. She's a careful and insightful scientist. If you provide a person with the right resources and a welcoming environment, they can be successful," said Christopher J. Hernandez, her doctoral advisor. 
Luna received the Alfred P. Sloan Fellowship from Diversity Programs in Engineering, not only providing funding, but a community of support. 
One of Luna's biggest pieces of advice for historically underrepresented minority students is to not be afraid to ask for help.
"I was doubting myself a lot at the beginning of graduate school and it really took finding people that believed in me and gave me the time of day to help me out," she said. "It took courage to finally ask for help." 
She also believes it's important for students to not be afraid of reaching out to people from other disciplines. Forming a network of supportive people is a huge factor in being successful in a Ph.D. program.
Luna has always valued mentorship, which led her to mentor eight undergraduate students from underrepresented minority groups during her time as a Ph.D. student at Cornell. Mentorship is something she plans to continue as her career progresses. Luna is especially interested in helping students from low-income families leave school debt-free, as she was able to do.
"I really want to help younger students who are afraid of going to college because of the expense," Luna said. "That was my main concern and one of the biggest concerns for students."
After completing her Ph.D. in August 2020, Luna is now an associate for Exponent, a multi-disciplinary engineering and scientific consulting firm based in Phoenix that brings together more than 90 different disciplines to solve engineering, science, regulatory and business issues facing their clients. Her role allows her to continue to do what she loves: research and applying her engineering knowledge to solve problems. Luna is part of the biomechanics group, conducting failure and accident analysis.
Her parents are María Dolores Egurrola and Jesus Mariano Luna of Nogales.
(This story was originally published on the website of the Cornell University Sibley School of Mechanical and Aerospace Engineering as part of the "Spotlights" series.)