Alfredo Lopez, head custodian at Nogales High School, has worked at the school since 1973.
In fact, Superintendent Fernando Parra told the Nogales Unified School District governing board last week, Lopez has been an important part of his life since he was a student at NHS. Lopez always had the gymnasium ready for the students and was a role model, demonstrating a strong work ethic and what it meant to be responsible, he said.
When Parra became a teacher at the school, "Alfredo made sure my room had the best desks," he joked.
When he became an administrator, Parra said, Lopez was a key factor in his daily life since Lopez "kept everything running smoothly."
"He is the first one there in the morning and the last one to leave," Parra said. "He has saved the district a great deal of money in that he knows how to fix anything and many times we avoided having to call in someone because Alfredo took care of it himself."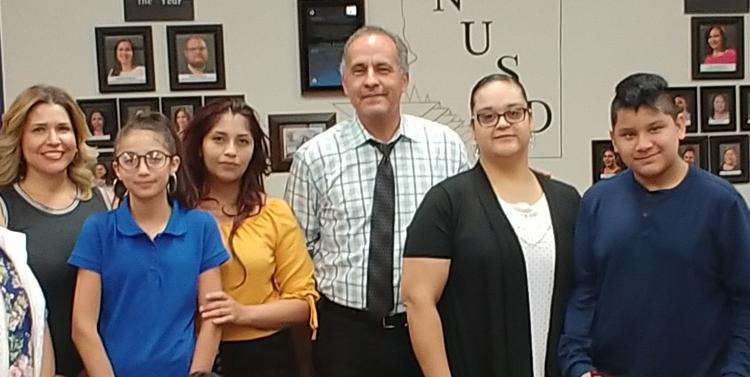 Parra recognized Lopez with the Superintendent's Outstanding Award during the April 22 board meeting. He also gave the award to Wade Carpenter Middle School students Javier Lopez and Aolanis Gutierrez for winning the recent "Women Who Inspire Me" essay contest sponsored by U.S. Rep. Raul Grijalva.
Parra praised the students and presented them with a certificate of excellence.
Lopez and Gutierrez read their winning essays before the governing board on March 24.
(From a news release submitted by Kathy Scott of the Nogales Unified School District.)