Combining her own educational experiences in Mexico and the United States, as well as a touch of her relationship with a couple of family members, Clarissa Alvarez of Ambos Nogales published her first children's book earlier this summer.
The Spanish-language book, titled "Las cualidades de mi abuela," meaning "my grandmother's qualities," was inspired by Alvarez's former fourth-grade students, two grandmothers and her young niece.
"I would see them so into books and that's something that I never really got to experience when I was a child," the 26-year-old said of her students.
She added that she could recall reading educational textbooks while attending elementary school in Nogales, Sonora, but never fun picture books that poked at her imagination.
So after bonding with her students over children's books in her Phoenix classroom, Alvarez said she felt an itch to create her own book based on her personal experiences.
"It was just experiencing everything – how one book changed everything in my classroom – and I thought, 'Why not create a book that has something to do with me, my childhood?'" she said.
Alvarez began to research the publication process in March, when she found herself with more time on her hands in light of the pandemic.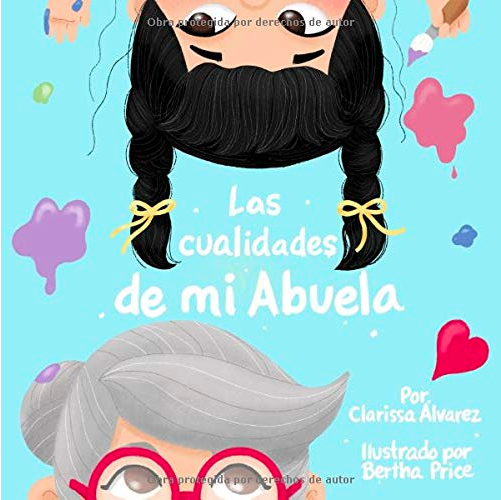 She recalled that the biggest struggle was finding an illustrator who could understand her vision for the contents of the book. But after dedicating some time to searching, she came across illustrator Bertha Price.
"I wanted the images to obviously have a meaning with the words of the book," Alvarez said. "We agreed on a lot of things, so that was a really good collaboration with the illustrator."
The end product of that collaboration? A book about the relationship between a young girl and her grandmother, detailing the grandmother's greatest qualities.
As for the younger main character in the book, Price created a cartoon character that resembled Alvarez's niece.
"I only have one niece and she's our world, I would say," Alvarez said, adding that her two grandmothers were her "go-to people."
To further highlight the illustrations for the readers, Alvarez and Price included an interactive activity at the end of the book, asking youngsters to go back and find certain drawings within the pages.
Now, with her first publication on record, Alvarez said her next goal is to have her book published in Mexico and other Spanish-speaking countries.
As for her current book, Alvarez said she hopes the readers take one message with them.
"I feel like sometimes we don't appreciate our grandparents as much as we should. Our grandparents give us a lot of things, from shelter to fun stuff… They try to make our lives a little bit more fun," she said.
Clarissa Alvarez graduated from Nogales High School in 2012 and the University of Arizona in 2016. She then joined Teach for America, a nationwide organization that recruits top college graduates who commit to teaching at schools in "high-needs" communities for two years.