Cars rolled through an improvised pick-up lane in the parking lot of the Duval Center in Nogales on Monday morning and volunteers loaded cardboard boxes filled with apples, eggs and even a gallon of milk into trunks and back seats.
An autumn chill was in the air as more than a dozen volunteers directed traffic, unloaded pallets from the refrigerated trailer of a parked semi truck and finally dropped food into the passing vehicles.
Masks and gloves covered faces and hands and greetings were short, often a simple wave through the window and a shouted "Gracias!"
Monday's menu included a 34-pound USDA food box, with a mix of fresh produce and dairy products. Volunteers were also offering large Ziplock bags bulging with sugar and salt.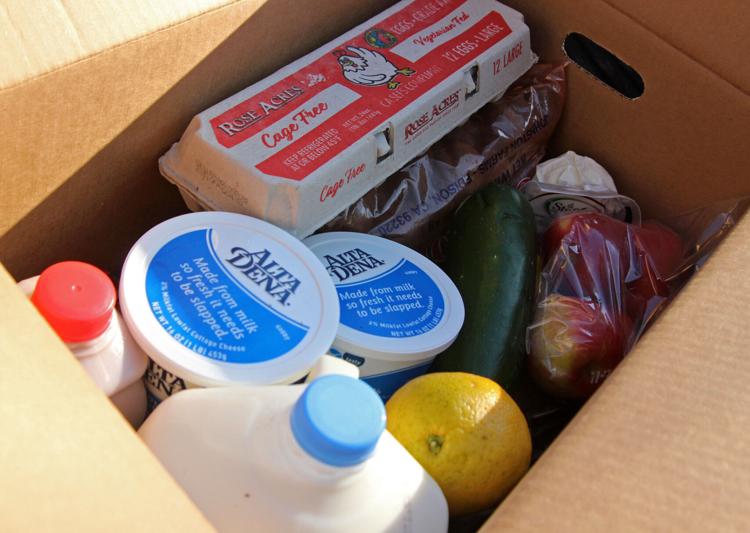 The Oct. 19 event was the work of a group called the Brothers and Sisters of Charity, formed earlier this year in response to the COVID-19 crisis. Eddie Jeong, founder of the group and owner of Dandy's print shop in Nogales, said there are now about 25 people involved.
"I'm proud of these people," Jeong said of his volunteer crew. "God put us all together and he needed us to help do a job."
On Monday, the volunteers were sporting custom yellow T-shirts with a motto printed on the back: "We start by doing what is necessary; then we do what is possible; and suddenly we will be doing the impossible." (It's a slight adaptation of a saying often attributed to Saint Francis of Assisi.)
Around 7:30 a.m., as a line of waiting cars idled on Western Avenue, Jeong loaded up his Chevy Silverado to make deliveries, bringing along old friends David Valenzuela and Gilberto Escareños.
They stopped at the Casitas de Santa Cruz, a senior apartment complex; the St. Joseph Convent; and the Bowman Senior Residences. Jeong said he's also made deliveries to the Casas de Anza, the city's public housing complexes.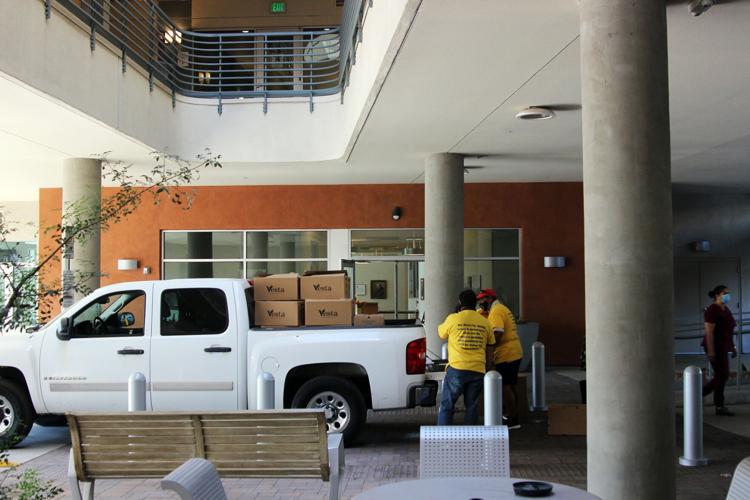 Jeong estimated that the group had around 500 boxes to hand out on Monday, along with more than 2,000 pounds of sugar and a couple of hundred pounds of salt. There are no restrictions on who can receive the food.
The giveaways look similar to the weekly events put on by the Community Food Bank at Nogales High School, where cars cruise through on Friday mornings and volunteers pop boxes of fruits and vegetables into trunks.
Jeong said his group's efforts are unique because of their location and the deliveries he makes. "It's the most vulnerable and needy part of our community," he said.
Luisa Massee, manager at the Casitas de Santa Cruz, said the deliveries are a big help for the residents. Many of them relied on Nogales Rides to get to the store, but the ride-service stopped operating earlier this year due to the pandemic.
The Brothers and Sisters of Charity grew out of a reunion with high school buddies at Tacos y Tarros before the pandemic started, Jeong said. He and his friends graduated from Nogales High School in 1973, so most turned 65 this year. Over tacos and beers, the group promised to spend more time together, like they did in their school days.
"We all knew we had to do something, we just didn't know what," he said. "And then the pandemic kinda kicked in."
Jeong got on the phone, enlisted volunteers and lined up donated produce through Borderlands Produce Rescue. Soon, the group was giving away food regularly at the Duval Center on Western Avenue.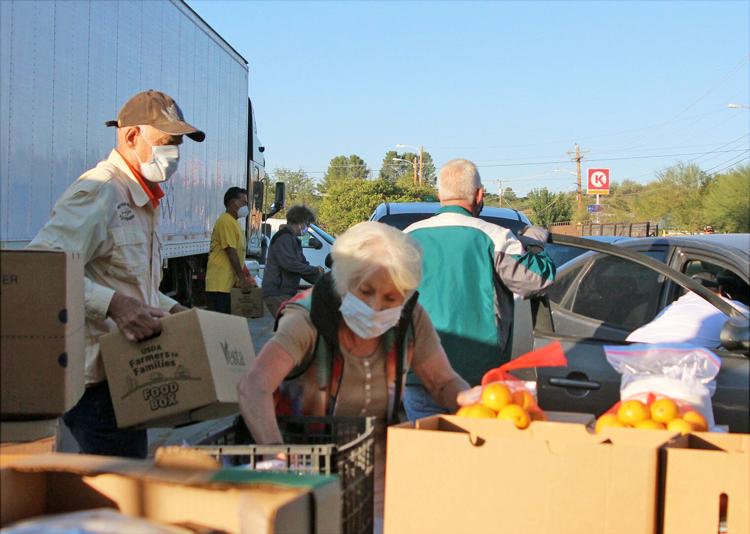 This spring, he said, the group hosted giveaways every other week from April until early August, when the end of the importing season meant produce donations dried up. They attracted 300 or 400 cars to each event, and also handed out dry goods like rice, beans and pasta that they bought with cash donations.
After a summer break, the group got back in action this month, handing out the USDA boxes for the first time on Monday, Oct. 5 and again this week, on Oct. 19. The boxes are left over from a separate giveaway event in Pima County – Borderlands Produce Rescue brings the extras down to Nogales.
There's another giveaway planned to begin at 7 a.m. on Nov. 2, when the Brother and Sisters will distribute another round of USDA boxes. And Jeong said that, with produce season picking up, he hopes to have donated produce available within a month. He's also hoping to put together a special donation package for Thanksgiving.
Jeong said he's motivated by seeing smiles on people's faces when they pick up food, and he's also enjoyed the time spent with old friends.
"We've never been together like this for 47 years," he said, "And look at us, we're so happy to do it."