Paul M. Showalter settled in Patagonia in the mid-1920s, where he remained until his death in 1987 at the age of 82. His legacy lives on in his extraordinary hand-tooled saddles and the intricately designed silver buckles and jewelry that were his trademark.
Showalter's artistic endeavors also included sketches, paintings and gorgeous engravings on various types of firearms, which are highly sought after by collectors to this day.
In 1920, when Showalter was 16, he took off from his family home in Pennsylvania and started his long trek west, hopping freight trains along the way. He finally reached Wyoming, found work as a ranch hand, and periodically moved southward until he put together enough money to buy a horse and make it to Patagonia.
Showalter landed a job as a riding instructor at the Hacienda del Sol Guest ranch in Tucson. The handsome young cowboy was a big hit with his female clients and soon headlines across the country screamed the news: "Society Girl's Surprise Wedding Shocks Parents." First appearing in the Pittsburgh Press in March 1932, it was followed up by similar stories in papers from Chicago to Albuquerque.
His bride, Caroline Crittenden, a Pittsburgh steel heiress, had ditched her high society fiancée to elope with Showalter. Two weeks later, she announced he was not on her social level and took off.
Showalter filed for divorce, but meanwhile, his picture was published across the country and the dashing cowboy was deluged with letters from starstruck young women enamored with romantic notions of the Wild West, which he used to paper the walls in his little shack in Patagonia.
Several years later, he married Mazel Stoddard, who he met at the R.C. Larrimore Ranch in Sonoita, where they both worked. They bought the home in Patagonia where their son, Paul W., known as Sonny, still lives. The couple had two other children, Carolyn and Tim, who are both now deceased.
He and Mazel eventually divorced, and he later married Lily Arbizo and built a home in Elgin, where they lived with her children and their daughter Sandra.
"I love to tell people, I have 10 brothers and sisters, but I'm really an only child," Sandra said with a laugh. "My mom had seven children from a previous marriage and Dad had three, but I am the only one they had together."
Law enforcement and sharpshooting
Completely self-taught, Showalter started out doing leather work and graduated to sketching his own intricate designs for leather belts and saddles, always working his initials, P.S., into the finished piece. He later opened another saddle shop in Nogales, and Sonny, by that time a teenager, would hitchhike down there after school to help out and learn to sketch original designs and create leatherwork of his own.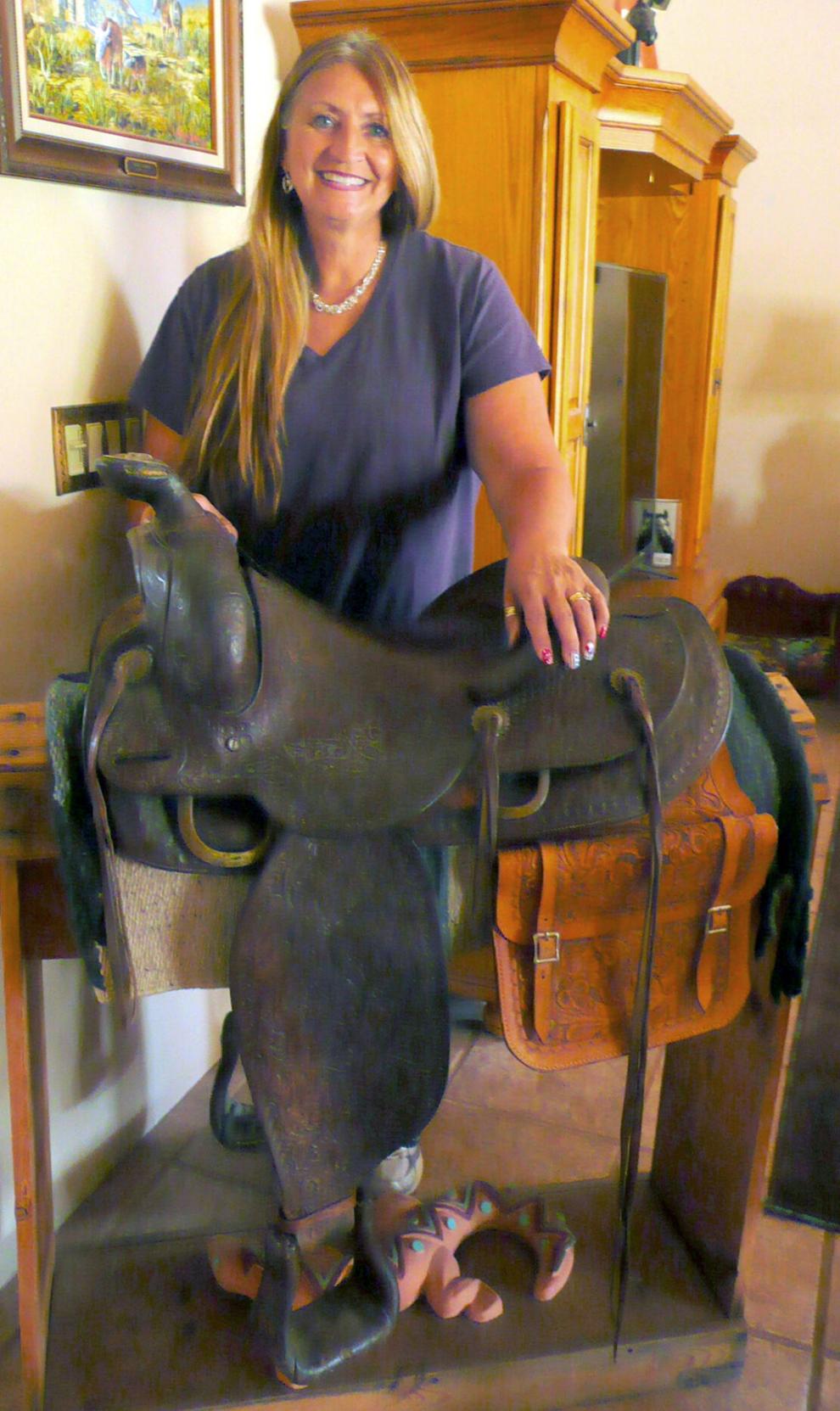 Showalter served in the Border Patrol for several years after he and Mazel were married, first living in Naco and then transferring to Tubac.
"Dad always had a little trailer that he set up so he could do his saddle and silver work wherever he was stationed," Sonny said.
After resigning the agency, Showalter returned to Patagonia, where he had a 20-year career as a deputy sheriff.
On one occasion, Deputy Showalter found a missing girl who got separated from her father as they were hiking on the west side of Mt. Baldy. Somehow, she got off the trail and ended up 10 miles away, where he found her on the other side of the mountain almost 24 hours later.
He made another exciting rescue when the 19-year-old daughter of Dr. William Scott of Tucson fell 15 feet into Onyx Cave while on an outing near Sonoita. Showalter managed to bring her to safety, unharmed by the adventure. Scott and his wife Cary later bought horse property in the area and lived there until he died in 2004.
Many John Wayne movies were filmed in the county and Showalter and his children all acted as extras in several of them. Sonny has a replica of the belt buckle that his dad designed for Wayne to wear in the movie "Red River." It features a letter "D" for Dunson, the hero of the story, and has wavy lines across the bottom right representing the river.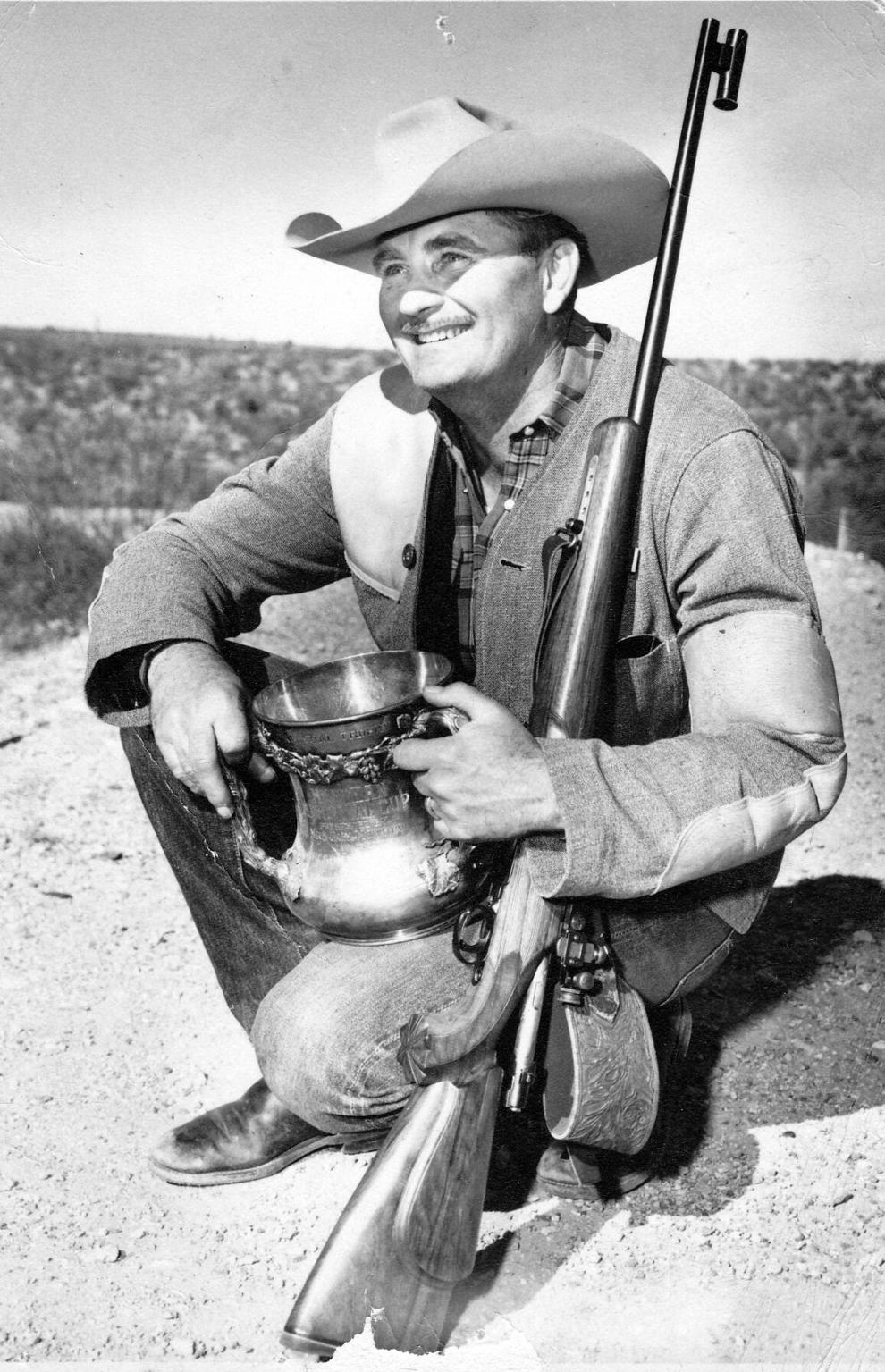 Unfortunately, he never applied for a patent and it is now being replicated by another company. Sandra remembered: "John Wayne came to dinner at our house in Elgin one night and there was a picture of me as a little girl, sitting on his lap."
The elder Showalter's favorite pastime was sharpshooting. In 1951 he won the Tucson Rifle Club's International Trophy Match as the .30 caliber champ, earning him a trip to the nationals at Camp Matthews, Calif.
He won the Monthan Trophy the following year, ahead of his two favorite competitors: Sam Levitz, founder of the furniture company, and George Parker of the Parker Cattle Company in Amado.