Students from Santa Cruz County won cash prizes and, in one case, a college scholarship, for their entries in the "Hi-Art" high school art exhibition sponsored by the Tubac Center of the Arts.
Andree Verdugo, a graduating senior at Lourdes Catholic High School, was the Best of Show winner for his acrylic-on-canvas painting "Living in Color." The recognition earned him a $200 prize and $1,000 college scholarship.
The valedictorian of his class at LCHS, Verdugo previously told the NI that he plans to attend the University of Arizona in Tucson.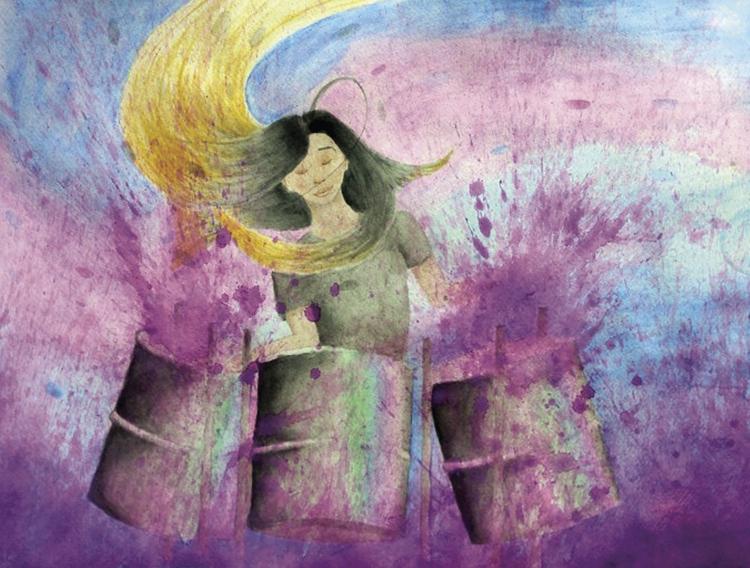 Another valedictorian, Nicholas Botz of Patagonia Union High School, won the Award of Excellence and $175 for his watercolor-and-colored-pencil work "Let the Music Flow." It depicts a woman playing the steel drums – an instrument that Botz learned to play while at PUHS.
Four more local students won Honorable Mention accolades and $75. They were:
• Santiago Crisantes, Nogales High School, "El Jefe on the Prowl," acrylic on canvas.
• Roberta Gracia, Nogales High School, "Lion," scratch art.
• Jacqueline Larson, Nogales High School, "The Stallion," acrylic on canvas.
• Alejandra Romero,  Rio Rico High School, "Lady and The Raven," digital painting.
TCA's annual "Hi-Art" exhibition gives students from Santa Cruz Valley high schools a chance to participate in a gallery exhibition, while also providing awards and a college scholarship to a graduating senior.
The awards and scholarship funds are raised by a local paint-out event in the fall, and this year's event was hosted by Tige and Sherry Reeve at their gallery Casa de Tesoro in Tubac. They made a donation to TCA of more than $2,000 to support the program. 
Due to the school closures, this year's exhibit was modified to allow only graduating seniors to apply for the scholarship and awards, and TCA will host a virtual rather than in-person exhibit of the art.