Dozens of people gathered at the Hilltop Gallery on Sunday to learn more about and honor the early life of local artist and guitarist James "Sonny" Peters, who also served as a music teacher at Nogales High School for four decades.
The exhibit depicts Peters in different stages of his musical life through old photographs as well as video installations that include digitalized photos, clips of his performances and an interview with Peters himself, in which he offers tidbits about his life in Nogales.
In one video clip, a youthful Peters and his bandmates try to imitate The Monkees. In another, he talks about the formation of his group Jassmin as photos of the group appear on the screen.
The photos include one of Peters, electric guitar in hand, performing as "Sgt. Pepper" at a Halloween event in the 1980s. Another shows him and his group playing at the grand opening of the McDonald's restaurant on Crawford Street in the 1970s.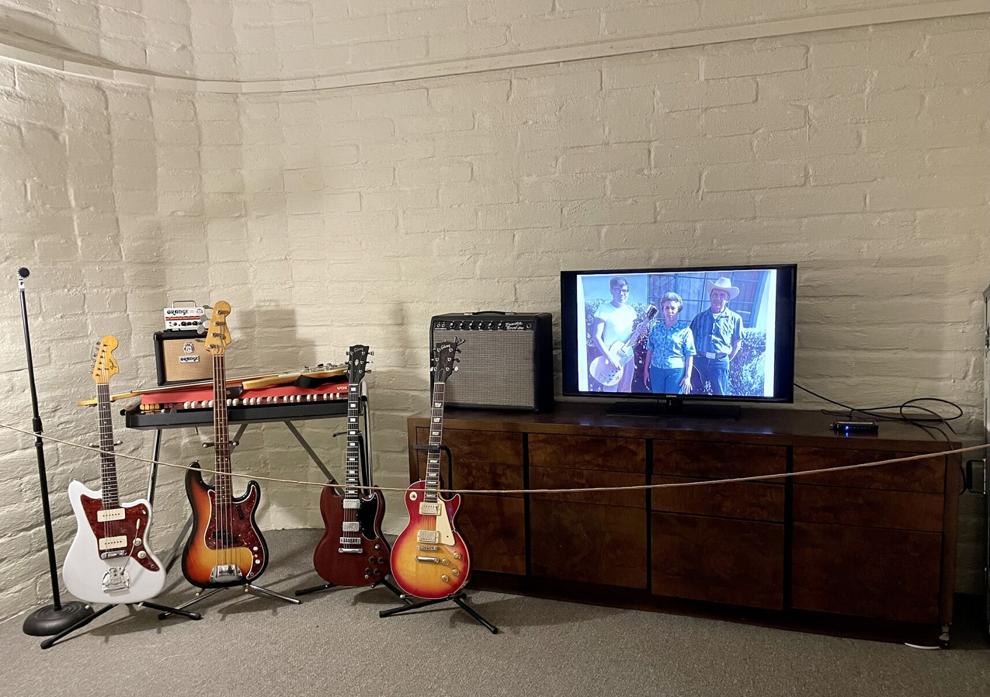 In addition to celebrating Peters' colorful career, Sunday's opening reception also represented the early stages of two larger, independent efforts by the organizations that collaborated to make the show possible: the Hilltop Gallery and Borderlands Theater of Tucson.
"This is like a stepping stone for all these future events… There is so much untouched and untapped like Sonny's history," said Elizabeth Weatherbie, the gallery's vice president. "We're hoping to have more local musicians, more local artists as far as the performing arts go."
She added that Hilltop Gallery is going through a transformative phase as it begins promoting all of the arts through events such as live music and poetry readings, rather than focusing on the visual arts as it has done for most of its history.
As for the Borderlands Theater, producer (and Weatherbie's daughter) Veronica Conran said the Peters show fits into its "Barrio Stories Nogales," a developing project in which staff interview local people to document the history of the community based on firsthand experiences and perspectives.
The concept of Barrio Stories originally began for specific neighborhoods in Tucson, Conran said. But Borderlands administrators decided to expand it to the Nogales area and had been planning a large-scale heritage event on Morley Avenue last spring to present the work to the community.
However, when the coronavirus pandemic changed those plans and postponed the festival until spring 2022, organizers needed to come up with other alternatives so the project wouldn't stagnate in the meantime.
They came up with "bridge events" to continue working on the same objective as Barrio Stories Nogales, while connecting the local community to Tucson and surrounding areas to amplify local voices and projects.
Sunday's event, called "La Generación: Sonny Peters and His Generation of Music," was only one of a series of bridge events that will segue into the bigger end project next year.
"It started with the photographs. The photographs are a key part because he had them already," Conran said, adding that one of Peters' friends had taken the old photos to Hilltop Gallery.
"I interviewed Sonny like we would normally interview someone for oral history… but beyond that, I got a lot of the interview information from the photos," she said.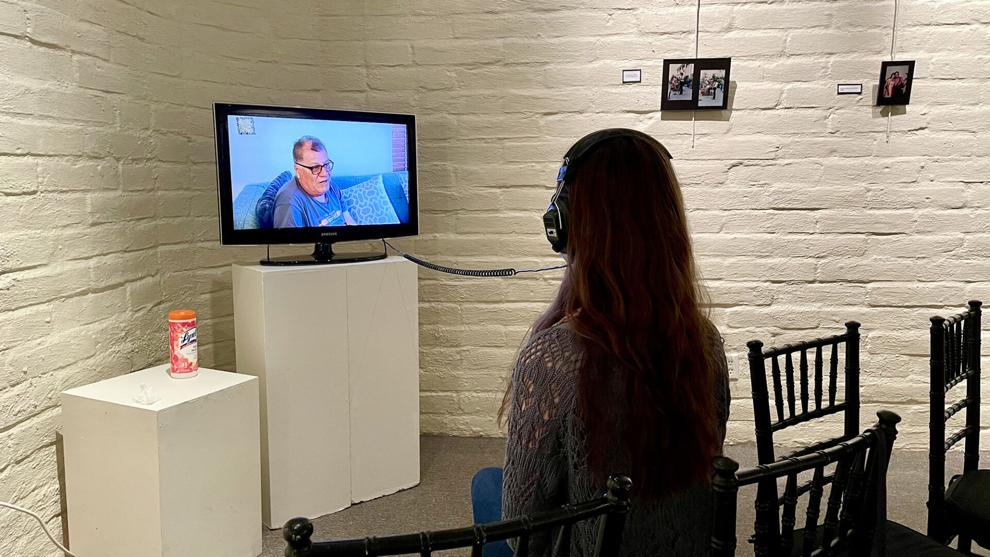 The gallery set up three monitors for the video installations, which played about six different clips on a loop during Sunday's event. In each clip, Peters could be heard describing the stories behind some of the photos, talking about his adventures while in a band as well as his daily life in Nogales.
In a separate room, titled "The Annex," there was a display of Peters' collection of vintage music posters and several paintings that he had created during the pandemic.
As the guests perused the exhibit, they reminisced about the old days and shared memories with people they hadn't seen in a long time. Some younger visitors showed their interest in the things and places they didn't get to see, having grown up in a different version of Nogales.
For Peters, who mingled with the guests as he strolled around the gallery, the most meaningful part of the event was the sense of community that it brought back.
"Seeing all these old friends that I hadn't seen in a long time, in years. It means a lot that they showed up, and my family too," he said.
Still, he insisted that the exhibit represented a bigger portion of Nogales than just himself.
"All these other guys, they did the same thing I did, except maybe they didn't take so many photographs," he said, pointing out to friends and former bandmates. "The credit goes to everybody."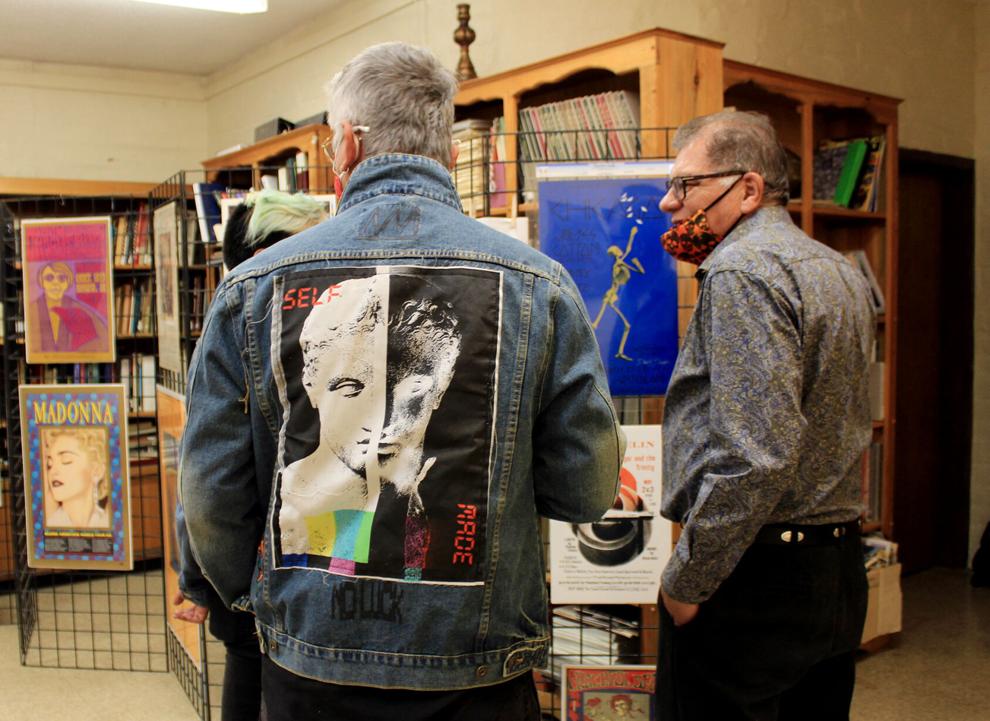 In addition to sharing Peters' story, Conran said Borderlands is also working with the Santa Cruz County Superintendent of Schools' Office to provide all teachers with the tools to learn how to gather oral histories and incorporate that inside the K-12 classrooms.
"What you see here, the interviews with Sonny, there are ways to capture cultural moments from the perspective of a local person. It's kind of like writing history in an accurate way of someone's perspective who lived the history," she said.
Marc Pinate, artistic director for Borderlands Theater, said they had gathered more than 15 oral history interviews as of last spring, when they originally planned to hold the big event on Morley Avenue. Some of those interviews are with people including former Sheriff Antonio Estrada and Mario Villa, the founder of Villa's Market.
But considering the the festival has now been postponed until spring 2022, he said, they plan on gathering a few more.
"It's a way to shift the narrative about the border, about a border city like Nogales, that it's not just the militarization of the border and the wall," Pinate said. "I think a lot of people think of Nogales and that's what they think, whereas the festival is trying to say, 'There's way more to the story than that.'"
And while there's no second collaboration between the Hilltop Gallery and Borderlands Theater planned for the immediate future, the gallery has scheduled several more events in the coming weeks to continue its goal of encompassing local artists of all ranges into its efforts.
"This town is one big family and, this, I consider this a home to share with our big family," Weatherbie said of Hilltop Gallery.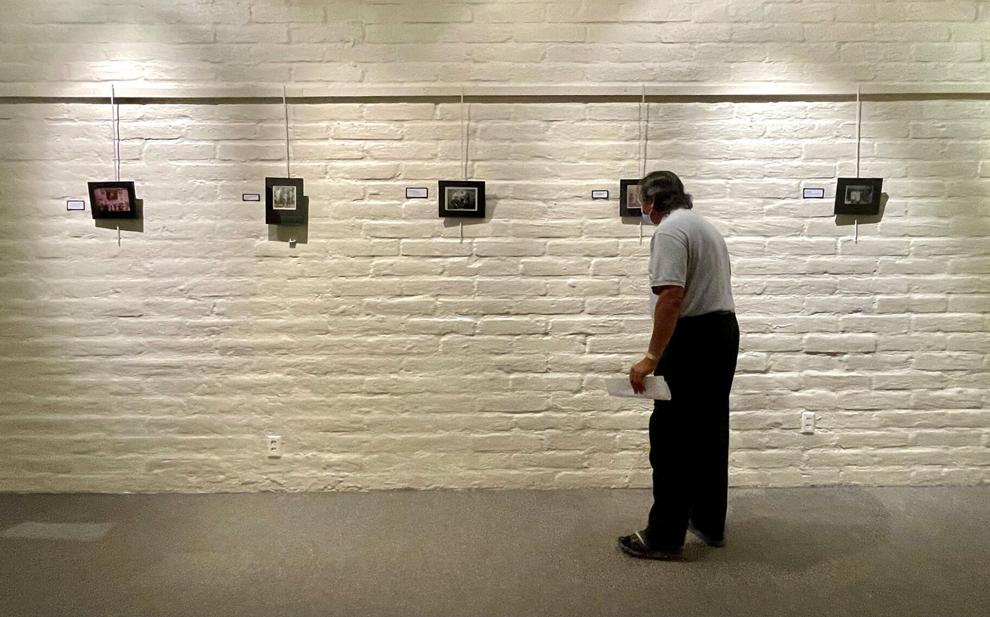 The Sonny Peters exhibition is set to remain on display until April 30. It will be accompanied by live musical performances by local bands Mezcal and Prova on March 31 and April 28 from 5-7 p.m., as well as a poetry reading by Priscilla Nefftys on April 14 at the same time.
The Hilltop Gallery, located at 730 Hill Top Drive in Nogales, is open Tuesday through Saturday from 12:30-4:30 p.m. Call (520) 287-5515 for more information.