Thirty-eight middle school students from the Santa Cruz Valley Unified School District – 12 from Calabasas School and 26 from Coatimundi Middle School – have qualified to participate in the Johns Hopkins Center for Talented Youth (CTY) summer program.
In all, 55 SCVUSD middle-school students participated in the Johns Hopkins CTY search by taking the Scholastic Aptitude Test (SAT) – a test designed to measure college and career readiness – along with high school seniors in December and March. Of these, 38 students earned scores that qualified them for the summer program: 420 or higher in verbal or math for seventh-graders and 470 or higher in verbal or math for eighth-graders.
"This confirms for me, what I have known for years, that our students can be as competitive as any other student on a national level," said Stephen Schadler, assistant superintendent at SCVUSD.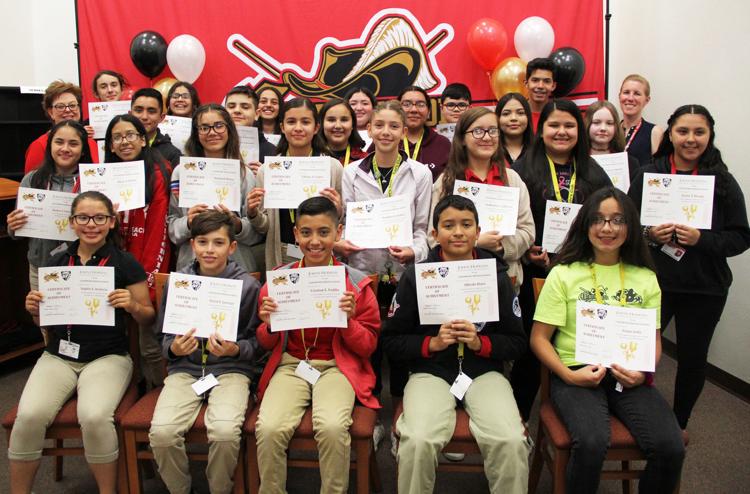 The qualifying students from Coatimundi are Isabella Cabrera, Paulina Fontes, Edric Herrera, Leah Hetherington, Johana Holman, David Jauregui, Tiffany Lopez, Briana Madrid, Christian Padilla, Matthew Ramsower, Kayla Riesgo, Uriel Rivas, Elizabeth Valencia, Elyse Batriz, Atticus Birkett, Amy Contreras, Damian De La Torre, Hailee Gonzalez, Alfredo Haro, Sheila Mendivil, Juan Nuñez, Samantha Quijada, Sophia Renteria, Aniella Ruiz, Fiona Solis and Luvia Suarez.
The qualifying students from Calabasas are Cesar Campos, Angel Godinez, Alexandra Hernandez, Stefen Kemp, Christopher Niebla, Maria Armenta, Sabrina Ceja, Gamaliel De La Rosa, Ivanna Garcia, Sofia Ibarra, Airyle McIlrath and Miren Miranda.
For more information about the Johns Hopkins CTY, see cty.jhu.edu.
(News release submitted by Carol Cullen of the Santa Cruz Valley Unified School District.)