Five seniors at Nogales High School debuted an art exhibit last weekend at Hilltop Gallery that tackles issues ranging from censorship and the American Dream to the protection of sacred places and the plight of sex trafficking victims.
The artwork they created for the exhibit is illustrative of a larger, year-long senior project that includes an essay, portfolio and presentation on a topic of their choice.
"I think it's very interesting to see what they have done, and absolutely enlightening to hear them talk about it," said Janice Johnson, exhibit director at Hilltop Gallery.
The exhibit will remain on display at the gallery, located at 730 Hilltop Dr. in Nogales, through March 17. The gallery is open Tuesday through Saturday, from 12:30 to 4:30 p.m.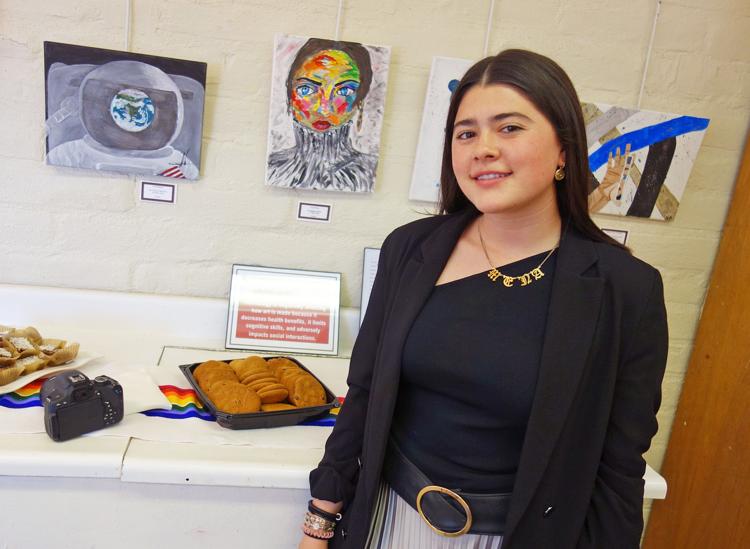 For her senior project, Ximena Parra wanted to make a statement about what she sees as the overemphasis of computers and technology in artistic expression.
"Everything is done by computer, or technology in general," she said. "You don't normally see people painting during classes. You always see them on their phone, doing applications – like graphic design, everything is by computer nowadays."
So Parra approached her friends and asked them to paint something, regardless of their artistic experience. The results ranged from straight-forward depictions of a blue butterfly and an astronaut with the earth reflected in their facial shield, to more surreal works, like a piece called "Trippy Eyes" and Parra's own depiction of a pair of space aliens removing a man's brain from his head.
"I was really amazed by their talent because I didn't know half of them could paint," she said of her friends.
Parra also included four 12-inch vinyl records that had been painted in swirly colors by Julio Zaragoza, her 70-year-old uncle, a lifelong painter who instructed her in a number of artistic techniques.
Asked why paint-and-canvas illustration is an important expression to preserve, Parra said she thinks it has unique cognitive and emotional benefits. "If you feel angry or something you can get everything out while painting and express yourself in a way that you can't by using your computer," she said.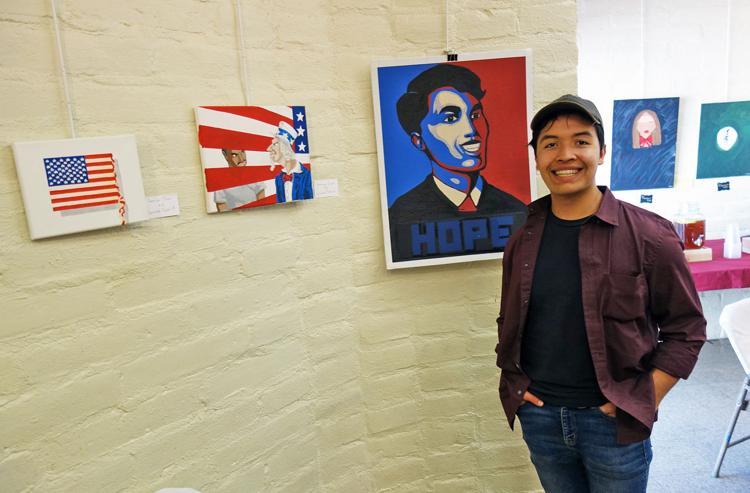 Leonardo Tavera's senior project is a literary analysis of the American dream, in which he examined the theme as portrayed in John Steinbeck's "Of Mice and Men" and F. Scott Fitzgerald's "The Great Gatsby."
"I wanted to talk about the American dream in a different medium, so I chose art because I like drawing," he said of his contribution to the exhibit at Hilltop Gallery, adding that this was his first experience with painting.
The first of the three works Tavera created shows the U.S. flag as an unraveling fabric. The second features Uncle Sam and a would-be immigrant facing off through a barrier comprised of the red stripes of the U.S. flag. The third is a self-portrait based on the iconic Barack Obama "Hope" poster designed by artist Shepard Fairey.
"I was just saying that even though the American dream is unraveling, and with our current status with illegal immigrants or people seeking haven in the United States being denied, that the American dream was still a possibility for me, specifically, because of how I was raised and my opportunities — even though not everyone has them," he said.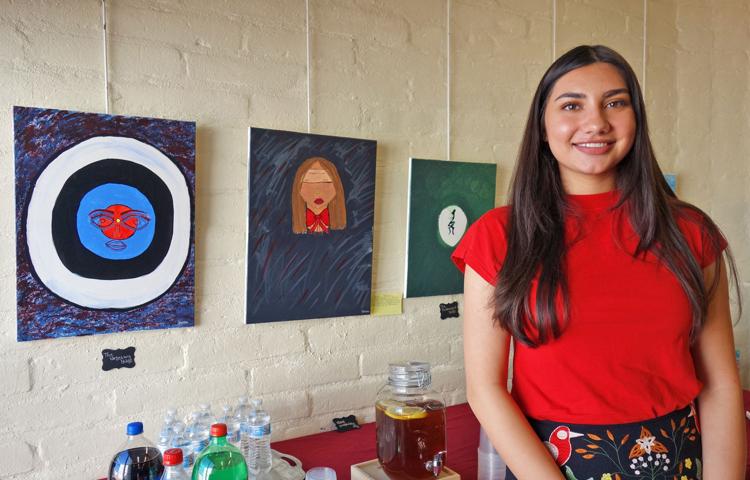 Nicole Moreno painted a series of images representing the grooming process that sex traffickers use to trap their victims as part of her project on clemency for sex trafficking victims who strike back at their abusers.
She's been studying the topic of since freshman year. "It's always really interested me, just because I think the justice system is very, very unfair to people who are being trafficked," she said.
Moreno said she was especially inspired by the case of Cyntoia Brown, a trafficking victim who served 15 years of a life sentence for killing a man who bought her for sex while she was a teenager – before Tennessee Gov. Bill Haslam commuted her sentence in 2019.
"Obviously, there are a lot of cases like that but not everybody gets the same treatment," Moreno said.
She said she's been painting since she was little.
"It's always been something that I've really loved," she said. "It's kind of like a therapeutic thing for me and I just thought it would be really cool to incorporate art into something that you wouldn't see art incorporated into."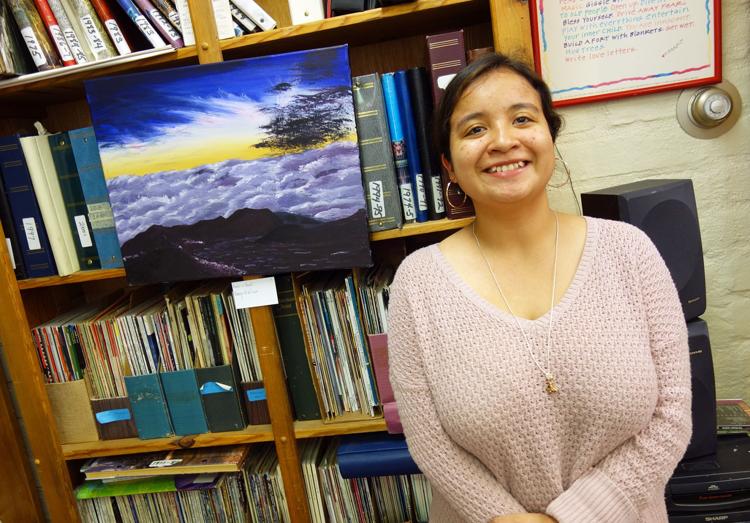 After Kameryn De La Ossa hit a dead end with her first senior project topic, her teacher suggested something related to astronomy – an area she's long been interested in.
She studied the ongoing conflict over plans to install the powerful Thirty Meter Telescope on Mauna Kea, a dormant volcano in Hawaii that has sacred significance to some Hawaiians.
"With my paper, I argued that they shouldn't build it there because there's already 13 other telescopes on that volcano, and if they build another one, they're taking more sacred grounds away from the Hawaiians," she said.
As part of the art display, De La Ossa created "Heaven in Hawaii," a painting of the volcano, as well as a four-canvas constellation map called "Glistening Constellations."
The latter work was done in memory of her grandfather, who died a year ago from colon cancer. "He always used to promise me that we'd go look at the stars, so I wanted to do a little tribute to him with it," De La Ossa said.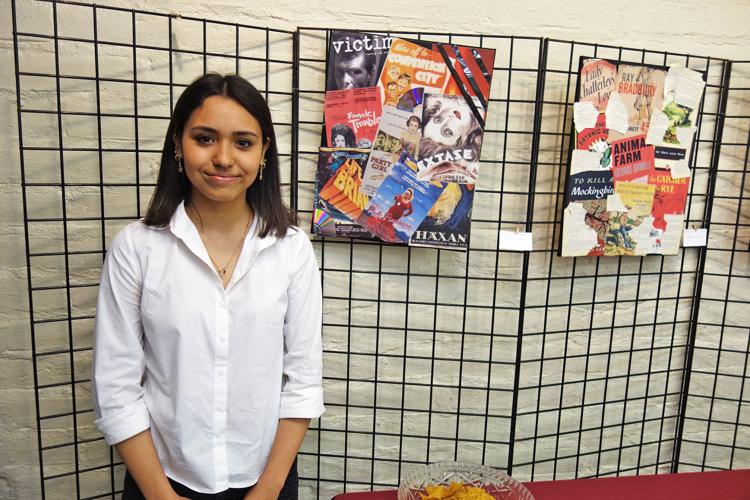 "I really like art," said Andrea Corella, adding that she doesn't like the idea of art being censored.
"It's talking about your opinions and your ideas, and everyone should hear about them even though they could be said to be inappropriate," she said.
Corella created four poster collages illustrating work that someone, somewhere has found offensive enough to censor.
The poster of banned films includes titles such as Monty Python's religious satire "The Life of Brian," as well as "Pink Flamingos" and "Female Trouble," two components of cult filmmaker John Waters' so-called "trash trilogy."
Corella's banned books display features a collage of covers and pages torn from classic American literary works including "The Adventures of Huckleberry Finn," "The Catcher in the Rye" and "To Kill a Mockingbird." Her censored songs display includes the lyrics to popular hits such as The Beatles' "Lucy in the Sky with Diamonds," the Rolling Stones' "Satisfaction" and Olivia Newton-John's "Let's Get Physical."
Corella also made a poster depicting censored art, "but it wasn't appropriate for this exhibition," she said.