It wasn't exactly a monsoon downpour, but water that rained down from a Tubac Fire District engine delighted and cooled a crowd of mostly children gathered at Tumacácori National Historical Park on Monday to celebrate a Mexican cultural tradition.
June 24 is the feast day of San Juan Bautista, or St. John the Baptist, which is typically celebrated in Mexico as the start of summer and the seasonal rains. On days like Monday when there is no natural precipitation, people go out and find another way to get wet, said park ranger Hope Noriega.
For the past three years, the Tumacácori park has enabled that practice by hosting a Día de San Juan Splash Fest, which this year drew dozens of participants.
"This is the third one we've done and this is the best turnout so far," Noriega said.
The afternoon began with water-themed games in a courtyard behind the visitor center, where attendees dashed through a mist-spraying monsoon tunnel, played fill the bottle and sponge toss, and enjoyed the raspados and watermelon served up by park staff and volunteers. Throughout it all, kids armed with squirters waged battle against each other, with adult bystanders taking occasional hits.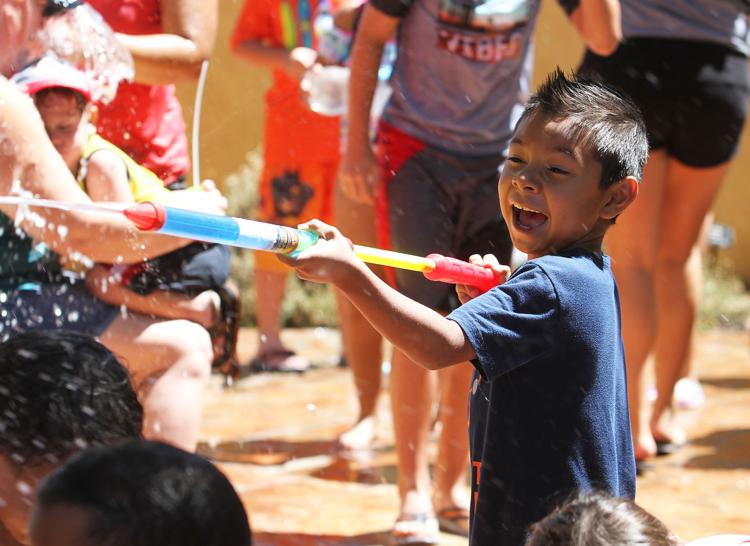 For the grand finale, the party moved to an adjacent field for the "mega super soaker" – a hose-down courtesy of the Tubac Fire District.
Noriega said the celebration of San Juan Bautista Day fits with the park's historical context as a Catholic mission and its geographical and cultural proximity to Mexico. It also furthers the park's goals for community outreach.
And while there wasn't a significant educational component to the water games, the event serves as a stepping stone for additional engagement.
"It is just having a good time, having fun, but a lot of kids already have gone out to see the ruins with their families, so it's just another opportunity for them to come and check out the whole park," Noriega said.
That was the case with Daniela Freig of Nogales, Sonora, who came to the splash fest with a group that included her daughters Ximena, 4, and Carolina, 5. She said she learned about the celebration from her mother-in-law and thought it would be a good way "to entertain the girls during their vacation."
Freig said it was her first time at Tumacácori, and her group, which included three adults and four children, had already checked out other areas of the park. She liked it and thought she'd come back for another visit, she said.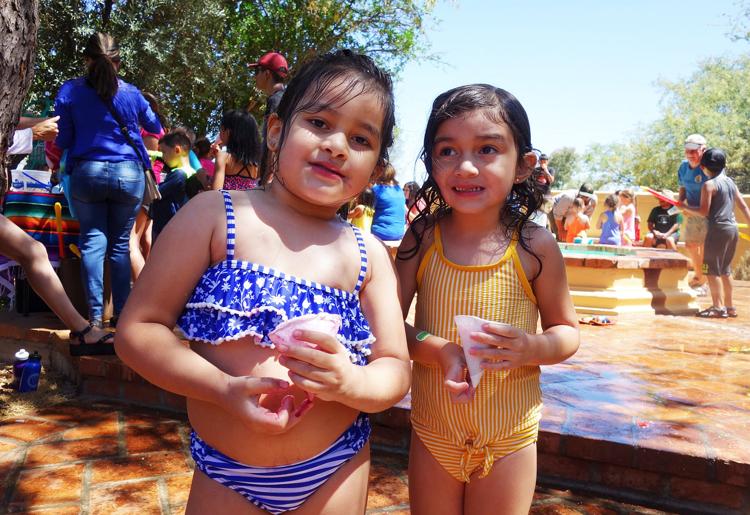 Writing for the Arizona Daily Star in 2013, Jim Griffith, former director of the Southwest Folklore Center at the University of Arizona, noted that St. John baptized Jesus in the River Jordan, which is why many Mexican traditions associated with his feast day involve water – especially running water.
El Día de San Juan is also used for weather prediction, Griffith wrote. If the summer rains start on June 24, it's supposed to be a sign of a long and wet monsoon season. However, if a heavy rain comes before June 24, its a sign that St. John "is trying to warn us about something terrible."
There was no rainfall in the local area on Monday, nor any measurable precipitation during the preceding weeks.
Some forecasters are predicting a late start to this year's monsoon storms in Southern Arizona. But the University of Arizona said in a news release this week that its research scientists aren't so sure.
"If I had to bet, I predict it's going to start maybe a little later, which we might say would mean about July 10, but I also think it's within the realm of possibility for the next two weeks for the conditions to change and the monsoon to come in around July 4," said Zack Guido of the UA's Institute of the Environment.