As a young boy in the 1980s and 1990s, my family lived near the top of Noon Street. Some of my earliest memories as a kid are of walking down Noon on my way to either my Nana's house on Elm Street, Sacred Heart Church or the stores on Morley Avenue.
As I walked downhill, I remember always anticipating the historic Edward E. Noon house. Almost like a ritual, I'd gaze up at the striking structure, not knowing much about it, but always marveling at its stoic presence. The dramatic texture of the stone sparked my imagination; it was a material suited for castles and fortresses, I thought.
Fast-forward 25 years and I find myself back in Nogales after living in New York City for most of my adult life.
Since I've moved back, I've become fascinated with our rich Nogales history, collecting photos and postcards and piecing the local history together through old newspapers and anecdotes from friends and family. Spending a lot of time downtown, I started to notice similarities in many of the historic buildings.
One of these traits that I'm sure jumps out at a lot of people is the frequent use of tufa stone.
The grandest example of a tufa stone building in town is the 1904 Courthouse on Morley. There are several other houses, like the Noon House built in 1908, that thankfully still exist. Many of them are on Crawford Street, Court Street, Noon, Sonoita Avenue, etc.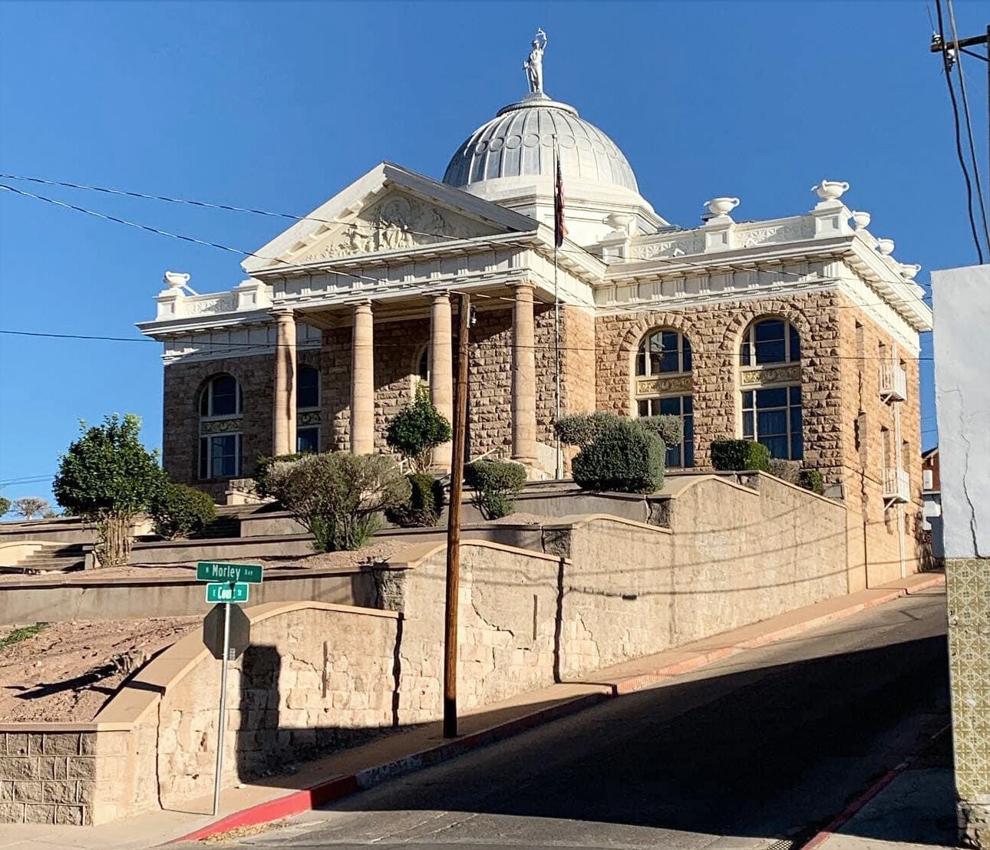 My friend Alex Lim, an architectural conservator at Tumacácori National Historical Park, explained that tufa is a sedimentary volcanic ash rock, and there are many varieties of strength and composition. Cantera, for example, is a type of tufa.
(Coincidentally, E.E. Noon's brother Adolphus S. Noon, who moved to Nogales in the 1890s, did some of the first restoration work at Tumacácori Mission.)
Not too long ago, I acquired the glass negatives of a panoramic view of Nogales in 1909. The four photos that make up the panorama were taken from a hill behind Morley Avenue by a photographer named Howard C. Tibbitts. He was hired by Southern Pacific Railroad to take photos of all of the cities and towns the railroad served in the new American West and Mexico. 
Southern Pacific used Tibbitts's photographs to promote passenger travel through a publication called Sunset Magazine. One of Tibbitts' stops was Nogales.
A good friend, local photographer and house restorer Tom Bell, who happens to live in a tufa stone house, made the first contact prints of these negatives and it's a marvelous historic image of very high quality. 
One of the first things you notice is the incredible amount of tufa buildings scattered around the hills of Nogales, Ariz. and Nogales, Sonora.
Many of these buildings no longer exist: the train station, the Roy and Titcomb building on Morley Avenue, the Masonic Temple, the first St. Andrew's Church, the Methodist Church and many homes. Morley Avenue had several tufa structures that were torn down – the most impressive being the first Montezuma Hotel and the arches of the Brickwood Hotel.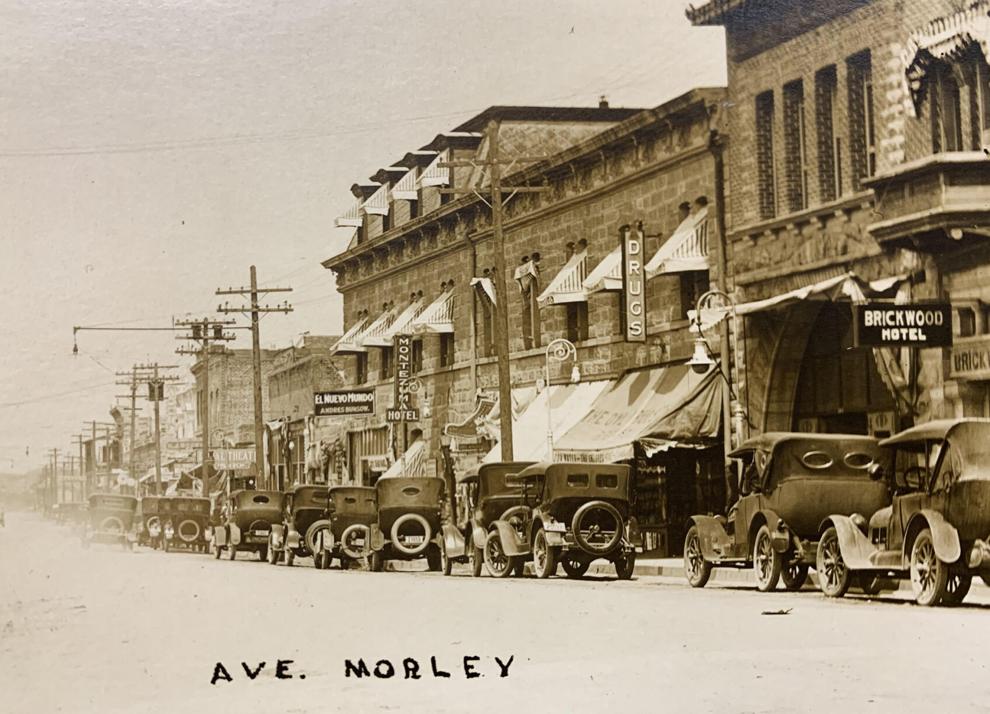 Fortunately, many buildings do survive today. In the panorama, one can see the E.E. Noon house freshly built, the Catholic Church in Nogales, Sonora, and the William Schuckmann residence on Crawford Street, to name a few.
Schuckmann owned the successful early 20th-century cigar company Las Dos Naciones on Morley Avenue and his house is on the corner of Crawford and West streets.
Another striking visible site in the panorama that was pointed out to me by the late local historian Axel Holm is the tufa stone quarry that existed in the area where the old high school sits today. The street near Pierson field is called Quarry Street for this reason. It is likely that the majority of the tufa stone buildings in Nogales, those that were torn down and those that still exist, got their tufa stone from this quarry.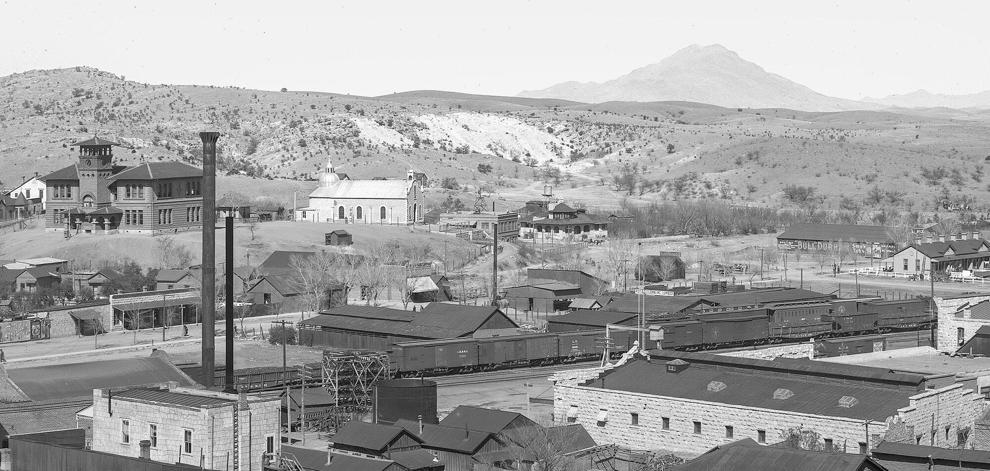 One large tufa structure that is often missed today, visible from Elm Street, is a retaining wall that holds up Noon Street. In the 1909 panorama, all we see is an empty road being held up by the strong tufa wall. Today, Noon and Elm are filled with houses.
The tufa stone that came from the ancient quarry and was used for so many of our first buildings is a Nogales trademark. We have it in abundance because it came from our backyard, so to speak.
Those of us who grew up here, whether we live in Nogales today or not, know these buildings and they are part of our local heritage. If you have a moment to take a walk, I invite you to spend a few minutes studying these beautiful structures. They carry the stories of our ancestors and we are lucky to live among them.