David Ernesto Murillo, the 29-year-old man who pleaded guilty last month to killing Nogales Police Officer Jesus Cordova and committing an array of other violent crimes in April 2018, was sentenced Wednesday afternoon to three terms of natural life in prison, plus another 119.5 years behind bars.
"There's nothing that I can do, as part of this sentence, that will alleviate the trauma that we as a community here have experienced because of what happened," Superior Court Judge Thomas Fink said after he handed down Murillo's punishment.
"But Mr. Murillo… you're going to walk through that door and you're going to go to a state prison. There, you're going to be housed in a maximum security unit. You're going to be housed with the lowest form of human life that exists on this planet," Fink continued, reminding him: "You'll finish your natural life in prison and you will die with those people."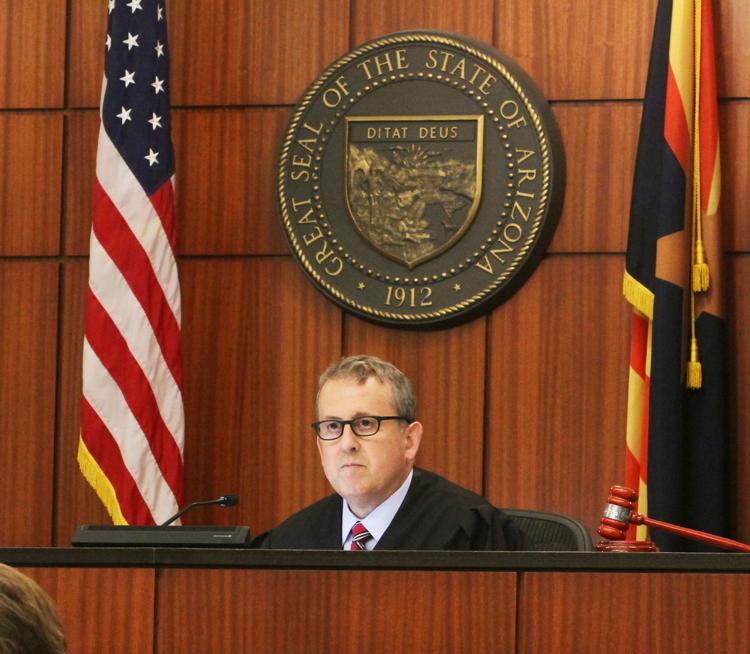 A roomful of family members, friends, victims and law enforcement officers were on hand for the emotional, tearful hearing at which county prosecutor Liliana Ortega laid out the graphic factual basis for Murillo's 39 criminal convictions, and several of Cordova's family members read statements to the judge, detailing how Murillo's crimes had affected their daily lives.
"All I am left with now are cherished memories and a lot of unanswered, 'What ifs,'" Cordova's wife Alyssa stated in court. "No amount of money could ever bring my husband back. A million years in prison for his murderer won't make a difference either. This individual should never be given the opportunity to hurt and destroy another family as he has ours."
Murillo's crime spree on April 27, 2018 began with the attempted robbery of a taxi driver, followed by several carjackings or attempted carjackings in which he victimized a teacher, a pair of tourists, a county employee and two local men at their own homes.
He later opened fire with an AR-15, killing 44-year-old Cordova when the officer tried to pull him over near the intersection of Grand Avenue and Mesa Verde Drive.
Law enforcement officers with agencies including NPD, U.S. Border Patrol, Santa Cruz County Sheriff's Office and U.S. Customs and Border Protection pursued Murillo through town, eventually surrounding and arresting him at the Mariposa Manor Trailer Park.
Murillo pleaded guilty on Aug. 7 to the 39 charges that included three counts of first-degree murder, five counts of kidnapping and seven counts of armed robbery among other charges, with the condition that county prosecutors drop their pursuit of the death penalty as a possible sentence.
Surrounded by five sheriff's deputies and a security officer, all standing within a few feet of him, and wearing a striped jail uniform and bulletproof vest, Murillo addressed the judge and the victims just prior to Fink's pronouncement of the sentence:
"Obviously, there's no words I can put together to bring him back, but now that I hear all these testimonies from the family, guilt overcomes me even more," Murillo said from his seat at the defense table. "If I could literally give my life to bring him back, I would in order to prevent all the pain to the county, to my family and loved ones."
Defense Attorney Laura Udall also apologized for community's loss, adding: "Sometimes people do – we believe this – things that are so horrible they forfeit their rights to live in a civilized society. That happened here."
More details to come