Lowell Robinson thought he was just sending his employees to pick up some trash.
On Nov. 5, he said, he asked workers on the Tres Bellotas Ranch in Western Santa Cruz County to clear a patch of land near his house so that he didn't get a flat tire driving over the area.
But as the employees dragged an industrial tilling tool through the ground and picked up metal scraps, they came across something they weren't expecting: a styrofoam dome, painted gray like a rock, with an antenna pointing out.
They called Robinson over and pointed to the device, tucked under a bush near two other rocks. It was a cleverly disguised camera, which Robinson assumed had been placed there, on his private property, by the U.S. Border Patrol.
And there was something about its orientation that gave him pause: the camera was pointing north, toward Robinson's house, rather than south, toward Mexico.
"Why isn't it pointing towards the border?" he asked.
Frustrated, he grabbed the camera and carried it a few hundred feet away to his house.
It turned out that the camera did belong to the Border Patrol, and Robinson hung onto it for almost two weeks. He gave it back this Monday, after a lawyer from the American Civil Liberties Union told him that keeping it could land him in trouble.
But that doesn't mean he's putting the incident behind him. Now, Robinson said, he wants the Border Patrol to tell him exactly how and why the camera ended up on his land.
"All I want is a believable explanation," he said.
He also reported the incident to the Santa Cruz Sheriff's Office, which said it is still investigating the case as a possible trespassing violation. Robinson said he isn't actively pursuing a lawsuit, but hasn't discarded legal action.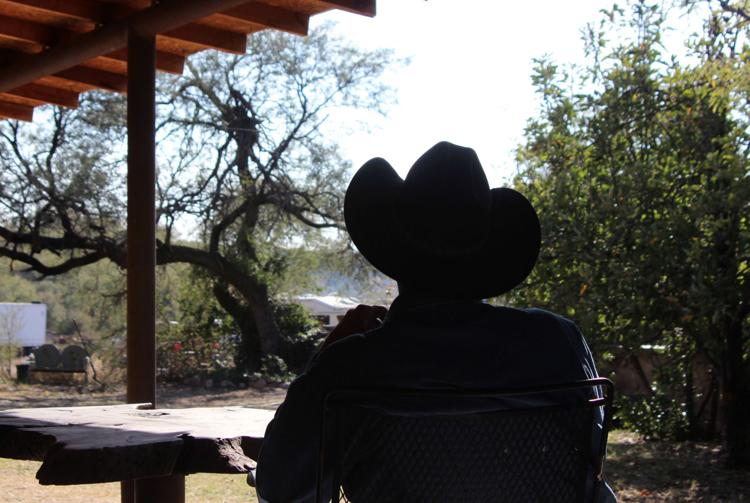 The standoff highlights the tensions between border communities and federal law enforcement agents whose aggressive tactics can come into conflict with Fourth Amendment protections against unreasonable searches and seizures.
Often times those tensions arise at checkpoints and the ports of entry, where citizens find the questions asked by agents or the technology used to screen them to be overly invasive. But the blurry line between border security and civil liberties is also contested – and sometimes crossed – on private properties that fall on human and drug smuggling routes.
Living less than a quarter-mile from the U.S.-Mexico border with the nearest neighbors miles away across rugged terrain, Robinson said his goal is to stay "neutral," both with respect to people crossing into the United States through the ranch and to the Border Patrol agents trying to stop them.
But he's also become frustrated – with the migrants, the smugglers and the Border Patrol.
The discovery of the camera earlier this month came after several months of increased traffic from border-crossers in the area.
Robinson estimated that, since September, around 500 asylum-seeking migrants – most from Central American countries, some in groups as large as 70 – have approached his house and asked him to call the Border Patrol.
"They all say, 'Ayuda. La migra.' So, you call them up. I tell them, 'Wait at that gate, Border Patrol will be down to pick you up.' And they do."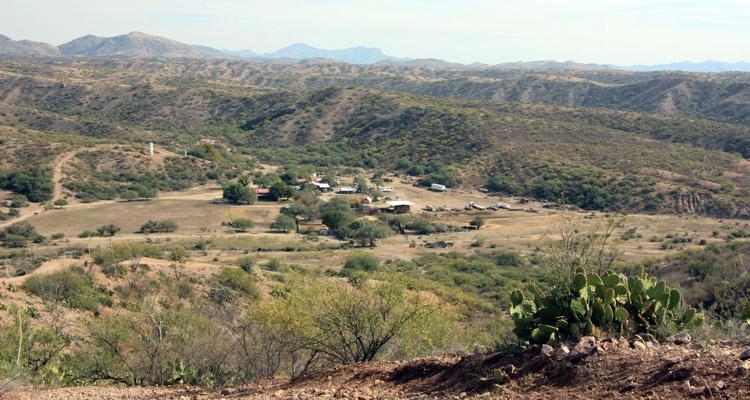 Since 2018, a rise in asylum-seekers reaching the United States, many fleeing violence in Central American countries, has led to an increase in Border Patrol arrests across the U.S.-Mexico border.
In Fiscal Year 2019, agents apprehended 859,508 people along the Southwest border. That's up from 396,579 in 2018 and 303,916 in 2017, according to government statistics. In the Border Patrol's Tucson Sector, which includes Santa Cruz County, 63,490 people were apprehended between October 2018 and September 2019.
In an emailed statement, the Border Patrol acknowledged putting the camera near Robinson's house and said it was in response to the recent uptick in crossing activity. But it didn't specifically address whether it had been installed on private property.
"U.S. Border Patrol agents placed a camera near the Robinsons' ranch specifically to monitor family unit crossings that have been occurring in the area over the past few months," the statement said.
But Robinson reasoned that if the camera was intended to catch border-crossers, it wouldn't have been pointed in the direction of his house.
The Border Patrol did not respond to a question about the orientation of the camera.
For Robinson, who says he reported a local Border Patrol agent for wrongdoing in January, finding the camera was the latest in a series of incidents this year that have left him thinking that he's facing retaliation.
And he's worried that the Border Patrol could be trying to "catch me doing something like Scott Warren" – a reference to the humanitarian aid volunteer who was acquitted earlier this week on charges of harboring migrants in a building near Ajo.
"They're trying to make bad people out of good people," he said.
The Tres Bellotas Ranch lies in the far southwest corner of Santa Cruz County, due south of Arivaca, about 14 miles down a gravel road. The land is carved by mountain ridges in all directions and dotted with mesquite trees and the occasional prickly pear cactus.
The ranch complex, where three families live, includes several buildings and animal corrals and is littered with pickup trucks, farm equipment and rusted-out vehicles.
South of the houses, a short fence with five strands of barbed wire marks the border with Mexico.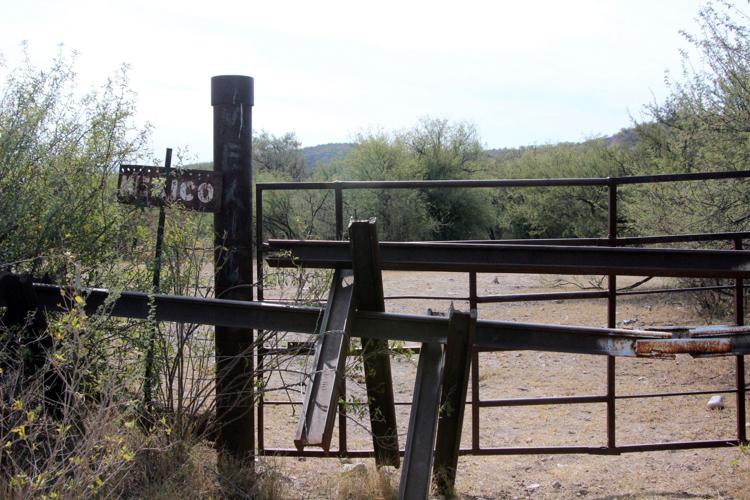 Wearing jeans, a denim shirt and a Stetson hat, Robinson leaned back in a metal chair on his porch a week ago Friday.
"I just want to do my ranching. I want to be left alone in peace," he said.
"I don't want to have any involvement with anyone. The cartels, the people that come across, the Border Patrol, the Samaritans, the No More Deaths. They can do their thing and I'll do my thing. Just leave me alone."
Robinson's "thing" is cattle ranching.
He is a third-generation rancher and currently counts about 400 head of cattle at Tres Bellotas. Calves from the ranch are sold at auction in Marana.
With his wife Chrissy, he's raised three sons and a daughter at the ranch, which his grandfather purchased in 1968.
His youngest son, 14-year-old Layton, sometimes rides a horse along the southern edge of the property, repairing cuts that border-crossers make in the barbed wire fence.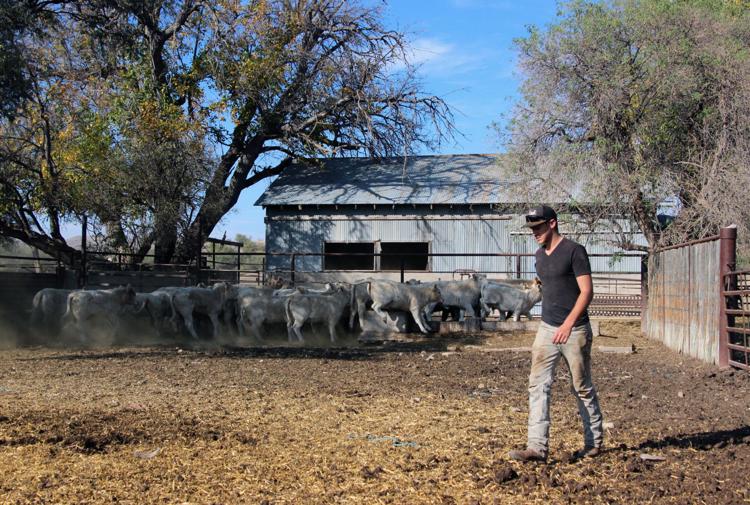 Lowell and Chrissy have grown used to migrants approaching the house, or making their way across hills in the distance.
But Robinson, who is 52, remembers a time when things were different.
When he was growing up, there were fewer border-crossers and the family would see Border Patrol agents only once every few months. As a child, he said, he would lure Border Patrol agents into car chases along the ranch's dirt roads.
"We'd haul butt and then we'd duck into a side road and they'd go blowing by us. And then we'd come out come right behind them," he laughed.
Back then, there wasn't any tension between the family and the agents. "A lot of (Border Patrol agents) would come down here to drink coffee with mom and dad," he recalled.
These days, getting left alone feels like a pipe dream.
For several years, he's battled with Border Patrol agents who he says cut through cattle fences or leave gates open, allowing livestock to wander across boundaries.
He's also had to help tow Border Patrol vehicles that got stuck on some of the steep, gravel roads around the ranch.
That isn't to say that he's happy to see migrants crossing the ranch, either on his private property or the grazing land that's leased from the federal government.
Driving his Dodge Ram pickup truck through the ranch, Robinson stopped to grab water bottles, clothes and diapers left behind by migrants. And he pointed to the remnants of a fire where he said migrants had burned some wooden fence slats to stay warm.
Robinson, who spoke in fluent Spanish to an employee who is a Mexican citizen, appeared more concerned with the impact that border traffic has on his ranch than with a particular approach to immigration policy.
"I'd definitely like to see the Border Patrol on the border… Stop the people," he said. But, he continued, "If you can't stop them, change the laws. Make it where it's like the old days, the bracero program. The people want to come in and work? Fine, give them a six-month visa. Come over here and work six months, go back, renew it. That bracero program worked great."
Robinson says that his problems started escalating earlier this year, after he made the report about a Border Patrol agent in January.
A few months after the report, Robinson said, he found that Border Patrol agents had entered his house, leaving doors open. They told him they had been following a suspected undocumented border-crosser, but he wasn't convinced.
The Border Patrol, in its emailed response to questions for this article, did not confirm nor deny that Robinson had made a complaint about an agent. But it denied that an agent had ever entered his house to conduct a search.
Over the summer, Robinson saw an unmarked white truck, which he believed belonged to a Border Patrol agent, on his private property. When he approached, the vehicle sped off. Now, he suspects that was the agent planting the camera.
And in September, a message posted to a Facebook account that Robinson said belongs to the spouse of the agent whom he reported suggested that Robinson was "mixed up with the cartel."
Then, on Nov. 5, he found and seized the camera.
About 45 minutes later, an agent patrolling in the area approached him.
Robinson recorded that interaction, in which he talks to the agent about the camera.
"You're not going to give it to me?" she asks in the recording.
He stuck with that stance for more than 10 days, even as another agent in the area texted him asking for the camera's return.
For a while, the camera, along with the styrofoam dome, a cable and a camouflage-painted equipment box, was stored in a Trader Joe's shopping bag at Robinson's father's veterinary clinic in Arivaca.
He's now given up on holding the camera hostage, but he's hoping to find redress through a different channel: the media.
"Like I said, I really don't talk to reporters," he mused last week.
Why, then, did he agree to talk after the NI reached out?
"Reporters are about the only way to hold this federal bureaucracy accountable," he replied.
To start, he wants an honest accounting of what happened: "I think a homeowner, or a property owner, deserves that explanation."