Crews clearing the way for a flyover traffic ramp at Mariposa Road and Interstate 19 in Nogales are drawing close to a row of leafy, well-formed and much-beloved trees. But community members need not be concerned, the Arizona Department of Transportation says: the trees will not be taken down as part of the project.
"Those trees are to be protected," ADOT spokesman Tom Hermann said in an email Friday, adding that the preservation of the trees had been included in the project's design process.
"It's important to us, as we know it is to the community, to protect the natural environment as much as possible," he said.
Concern for the fate of the trees began to grow after Mayor Arturo Garino, citing a meeting with ADOT officials, said at a May 1, 2019 city council meeting that "those big trees, they're going down, that's what they told us."
A subsequent story in the NI generated considerable outcry on social media. One letter to the editor writer asked: "Why would anyone even consider removing these spectacular trees that have been a part of the Nogales landscape for decades?"
Since then, ADOT had been non-committal regarding its plans for the trees, though during a community meeting in February to discuss the start of the $134-million overhaul of SR 189/Mariposa Road, Herrmann said there were "incentives" for the contractor not to cut trees down. At the time, he couldn't specify what the incentives were.
The trees in question line the north side of Mariposa Road in front of a shopping plaza that's home to Chuyito's Hot Dogs, Harbor Freight Tools and the yet-to-open Planet Fitness. They are now surrounded by a temporary orange fence.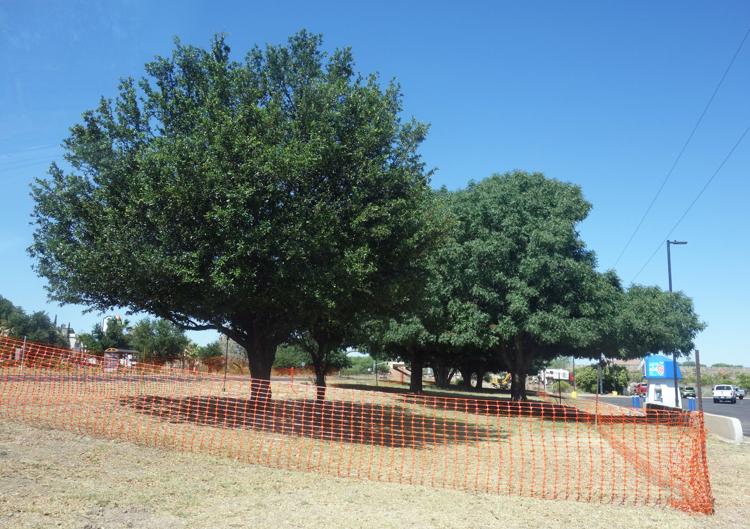 After reviewing photos of the trees last year, Mima Falk, a plant ecologist at the University of Arizona herbarium, said she thought they were pistache trees.
The trees match descriptions of the red push pistache tree, which Tucson Clean and Beautiful, a nonprofit environmental advocacy organization, describes on its website as a hybrid pistachio tree that's considered ornamental, which means it produces no nuts.