Migrants who have requested asylum in the United States are now being returned to Mexico through Nogales ports of entry to await future court hearings, federal authorities said Thursday.
The move represents an expansion of the Migrant Protection Protocols, also referred to as the "Remain in Mexico" policy, a controversial program that sends asylum-seekers to Mexico while they wait – often for months – for their date at U.S. immigration court.
"MPP has been an extremely effective tool as the United States, under the leadership of President Trump, continues to address the ongoing humanitarian and security crisis at the border," Chad Wolf, acting secretary of Homeland Security, said in a news release Thursday.
Joanna Williams, director of education and advocacy at the Kino Border Initiative, a Jesuit ministry that serves migrants and deportees in Nogales, Sonora, said the move would likely put individuals and families in danger.
"It's clear to us that there isn't a plan for receiving (asylum-seeking migrants) and for particularly the humanitarian services that they need here in Mexico, especially shelter," she said. "We're deeply troubled by the limbo that folks will be left in."
About 56,000 people have been processed under MPP as of November 2019, according to data compiled by researchers at Syracuse University. The program began in January 2019.
The migrants returned to Mexico through Nogales earlier Thursday were given immigration court dates in El Paso, Texas, according to U.S. Customs and Border Protection spokesperson Teresa Small.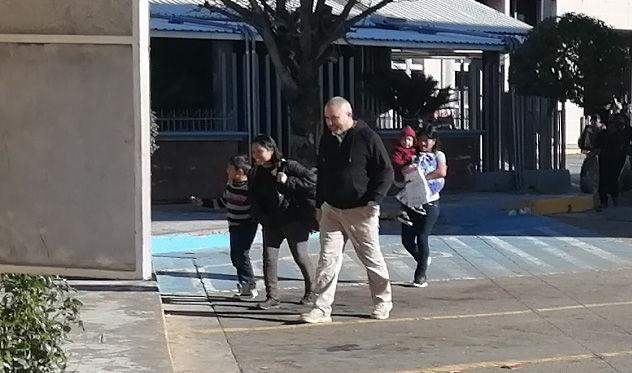 In an iteration of MPP in Arizona that began last month, asylum-seekers who entered the U.S. at Nogales ports were bused to El Paso and later returned to Ciudad Juarez, Mexico, which borders El Paso.
Small said that, under MPP, CBP has returned about 120 migrants who entered the United States at Arizona ports. It wasn't clear if that figure included the individuals who were returned through Nogales on Thursday. Williams and Sonoran media reports put the number of asylum-seekers returned on Thursday at around 30.
Speaking to the Wall Street Journal, which reported a lower number of returnees – 18 – U.S. Border Patrol Tucson Sector Chief Roy Villareal said the move would save his agency the cost of busing the migrants to Texas.
Now, affected asylum-seekers will still travel to El Paso for their court appearances – they'll just have to get there themselves.
"We've had families that have been extorted on the journey between El Paso-Juarez and Nogales, just attempting to come here after being returned under MPP" through El Paso, Williams said. "I can only expect that we'll see higher instances of extortions and other challenges along the journey if in fact they have to travel to Juarez."
Rumors had circulated for months that MPP, which started in California and was later expanded to Texas ports, would eventually be used to return asylum-seekers to Mexico through Nogales.
But in recent months, word had spread that Arizona was one of the last states that hadn't been affected by Remain in Mexico.
In October, the NI reported that some asylum-seekers were heading to Nogales, Sonora, often leaving their spot on asylum waiting lists at Texas ports of entry, after hearing that they wouldn't be returned to Mexico if they made their asylum claim in Nogales, Ariz.
The operator of a Tucson migrant shelter told the Wall Street Journal in November that she'd heard from federal authorities that the logistics of returning migrants to Mexico are more complicated in Arizona, which doesn't have immigration courts located in border cities like Nogales.
But in November, CBP announced that it had plans to implement MPP in Arizona by busing migrants from Tucson to El Paso, Texas. In a news release dated Dec. 5, CBP said that on the previous day, it had transported nine asylum-seekers who had crossed at Arizona ports to El Paso, where they were then sent to Mexico.
In addition to Nogales, MPP has now been implemented in and around San Diego and Calexico in California, and El Paso, Laredo, Brownsville and Eagle Pass in Texas, the DHS news release said.
"Any migrants making illegal or inadmissible entry at the Southwest Border, regardless of location of entry, may be returned to Mexico through one of these locations to await their immigration court proceedings," the agency said.