A male alpine goat that had been harassing hikers in the Mt. Wrightson Wilderness Area was killed last weekend by an officer from the U.S. Forest Service. His docile female partner was taken to a rescue facility.
Dorilis Camacho Torres, acting public affairs officer for the Coronado National Forest, said sightings of two goats near Baldy Saddle have been reported "for a few years."
But last weekend, a family reported "one of the goats was acting strangely and charging at them," prompting a Forest Service officer to hike to their location where he put down the male after he determined it couldn't be apprehended and removed safely. The officer escorted the female down the mountain.
The family wasn't the first to encounter the charging buck; multiple hikers reported interacting with him over the previous week, including an Oro Valley hiking group and a former mountain climbing and hiking guide, Terry DeWald, who documented his encounter with the buck on Wednesday, July 22.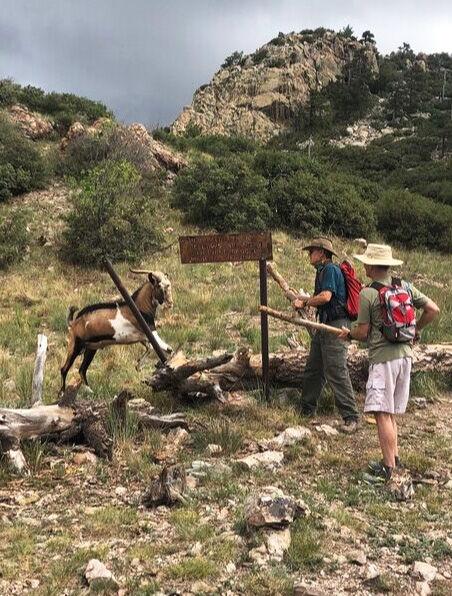 DeWald said he was hiking alone on Old Baldy Trail when he saw a hiker coming down the trail with the goats behind her. As the hiker approached, he realized she was "freaking out" and she told him she could not shake the buck from trailing and butting her.
DeWald, 73, stepped in to block the goats as the woman hustled down the trail to safety. He said the buck charged him and reared up on its hind legs.
"A couple times when he got close to me, I don't know why but I grabbed his horns with both hands and with my legs locked...he just shoved me around like I wasn't even there," DeWald said.
On Thursday, July 23, the Southern Arizona Rescue Association posted an alert to hikers on its Facebook page warning of an aggressive goat on Mt. Wrightson with images taken by Dr. Nicola Baker, their medical director.
Mark Hart, public information officer for the Arizona Game and Fish Department, said they were notified by the Santa Cruz County Sheriff's Office on July 22 that they were responding to a 911 call about an aggressive ram "that turned out to be a billy goat," and that the Arizona Department of Agriculture had been notified.
Hart said the initial report indicated a bighorn sheep was the culprit. However, "We quickly realized we had something else."
Game and Fish was already in the area responding to reports of bear sightings.
Hart said the matter was referred to Santa Cruz County Animal Care and Control. The Santa Cruz County Sheriff's Office did not respond to a request for more information.
Lesia George, who raises alpine goats in Sonoita, thinks the buck was an alpine or a nubian cross and the doe is a nubian. She said by the look of the doe's udder she had kidded, meaning she had given birth at some point.
George noticed in an image of the doe that she had a tether around her neck and suspects someone may have turned the goats loose.
"I live with them daily and they are incredible, intelligent creatures," she said, adding that alpine goats are "very close to their natural ancestors and readapt to the wild very well," and that the buck was likely protecting the doe.
George said the goats weren't hers because she disbuds all of the goats she raises and the way she raises them creates such a strong bond between goat and human that one would not willingly leave its human's side.