As a thick fog rolled off the Patagonia Mountains on Thursday morning, construction vehicles were parked idly along the freshly widened and graded border road that stretched east toward Nogales.
The worksite, which has been the scene of round-the-clock border wall prep in recent weeks, was quiet the morning after President Joe Biden, in one of his first acts in office, signed a proclamation rescinding a state of emergency at the U.S.-Mexico border and ordering a "pause" on border wall construction.
However, several of the workers still present in the area told the NI that the pause was because of the rainy weather – they hadn't gotten word of a work stoppage due to government orders.
To the immediate west of city limits, where crews have been building a new, taller barrier a few feet in front of an existing concertina wire-covered fence, there was also no visible activity on Thursday morning. Heavy machinery was still parked nearby, and several gaps wide enough to drive a large vehicle through remained in the nearly finished wall.
That barrier extends approximately seven miles west through rugged wilderness, past Border Monument 127 where the U.S.-Mexico changes trajectory, and ends on a mountainside that was carved away to create a staging area for the construction project. There was no visible wall-building going on in that vicinity on Thursday morning, but the staging area continued to hum with activity as heavy machinery moved sections of concrete piping and piles of gravel around, and stacks of border wall panels sat at the ready nearby.
Several workers at the site said they had not received any word from their bosses about the project shutting down, and were working as if it were any other day on the job. One subcontractor wondered if the pause on border wall building just applied to the barrier itself, and if those involved in peripheral drainage and electrical work would be able to continue as planned.
The NI reached out to U.S. Customs and Border Protection's Tucson Field Office to see what, if any, instruction had been given to contractors in Santa Cruz County in terms of the construction pause. However, a spokesman said CBP had been instructed to refer all border wall questions to a White House email address, which did not respond on Thursday.
Biden's proclamation didn't order an immediate and definitive stop to border wall construction, as his campaign promise that "there will not be another foot of wall constructed in my administration" might have led some to hope. Instead, it mandated a pause in construction "to the extent permitted by law," and "as soon as possible," but in no later than seven days.
Even then, the order allows the secretaries of Defense and Homeland Security to grant exceptions to the pause "for urgent measures needed to avert immediate physical dangers or where an exception is required to ensure that funds appropriated by the Congress fulfill their intended purpose."
The ongoing wall-building in Santa Cruz County is bankrolled by Defense Department funds that were redirected in response to former President Trump's emergency declaration, not by congressional appropriation.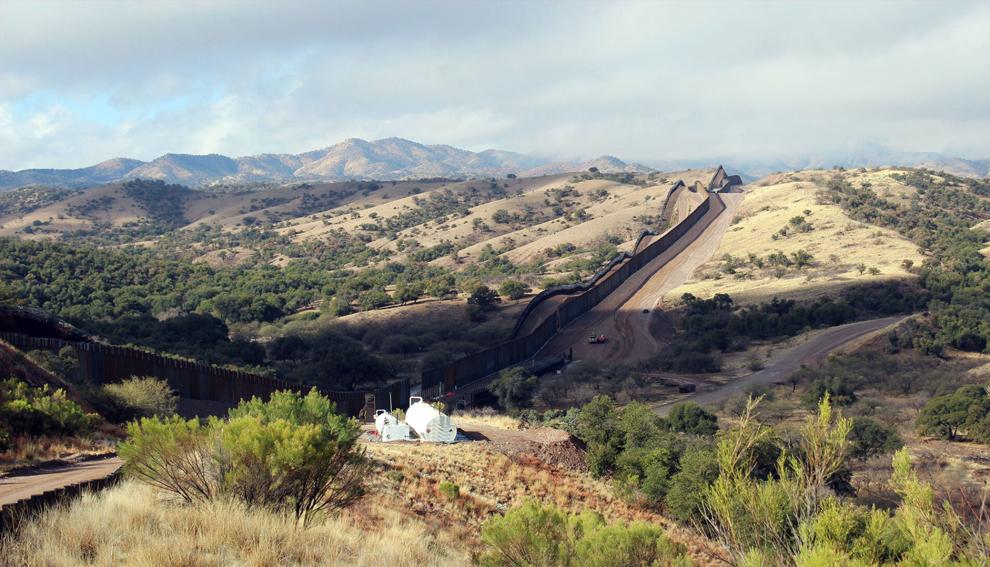 The work here is part of the larger Tucson 10/28 project, also known as Tucson Package 3 – a $1.28-million contract awarded to North Dakota-based Fisher Sand and Gravel to build about 43 miles of new border wall in Pima and Santa Cruz counties.
The project plans in Santa Cruz County included about 23 miles of fencing extending from just west of the Mariposa Port of Entry, through undeveloped National Forest land, to the border with Pima County. Another roughly 4 miles were planned east of the city.
Work began west of Nogales last June and was estimated to finish in summer 2021.
In the area southeast of Kino Springs, in the Coronado National Forest west of the Patagonia Mountains, construction got a later start. It wasn't until the start of the New Year that local residents noticed road-building equipment and flatbed trucks loaded with fence panels rumbling through the desert there.
On Thursday, the hilly landscape had been graded and trenches dug for new fencing in the area, but it appeared that no new wall segments had been put up.
West of the city near Border Monument 127, sections of fencing that began going up in November have since been painted black – an extra feature that Trump had specifically requested for border fencing in hopes of making it look more imposing, as well as making it too hot to touch during the summer, the Washington Post reported last May.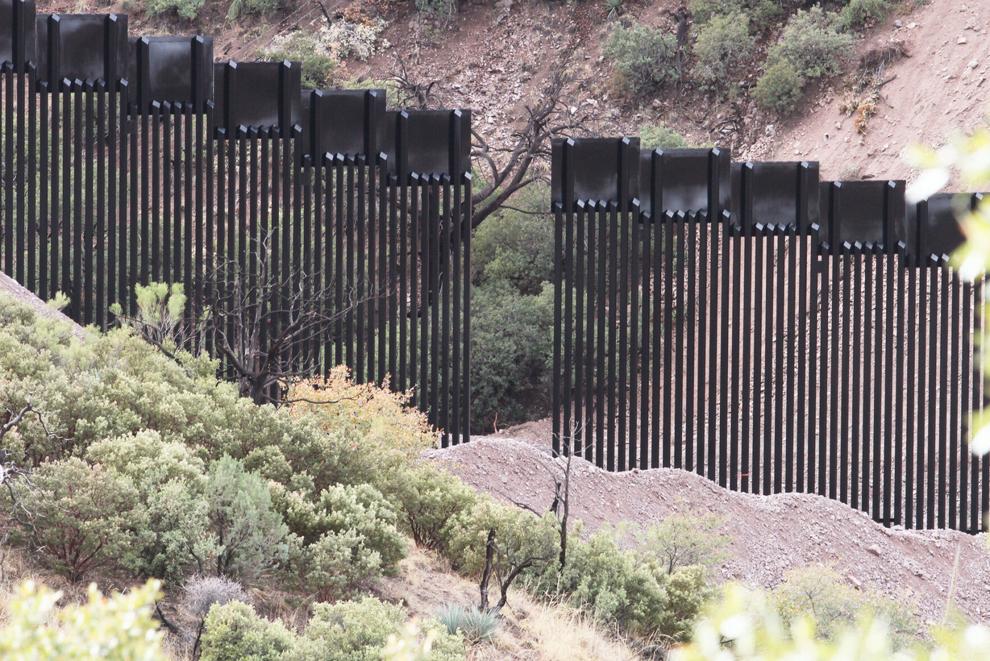 There was at least one small gap remaining in the fence near the monument, which, like the gaps in the barrier closer to the west side of Nogales, could remain open if the fence-building pause becomes permanent – or if nobody decides that closing them off constitutes the type of "urgent measures" that would still be permissible under Biden's proclamation.
It wasn't clear if any fence-building had gone on as planned west of the staging area, where the terrain becomes even more rugged.
And while crews working east from Sasabe in Pima County have reportedly been doing prep work that extended into far western Santa Cruz County, the NI wasn't able to confirm the extent of the work as of Thursday.
While Trump made building a "big, beautiful" wall along the U.S.-Mexico border a cornerstone of his agenda, Biden said in the proclamation he issued Wednesday that "building a massive wall that spans the entire southern border is not a serious policy solution."
He called it "a waste of money that diverts attention from genuine threats to our homeland security," and vowed that no more taxpayer funds would be "diverted" to construct a border wall during his administration.
In February 2019, Trump declared a state of emergency at the border and redirected nearly $6 billion in Treasury and Defense department funding to border wall construction after Congress refused to allocate the funding he asked for. Biden's proclamation calls for an assessment of the legality of the funding and contracting methods used by the Trump administration to construct the wall, as well as the contractual consequences of ceasing the ongoing wall-building projects prior to completion.
Biden administration officials now have 60 days from Wednesday to develop a plan for the legal redirection of funds currently earmarked for border wall, and to terminate or repurpose contracts with builders currently engaged in the wall-building.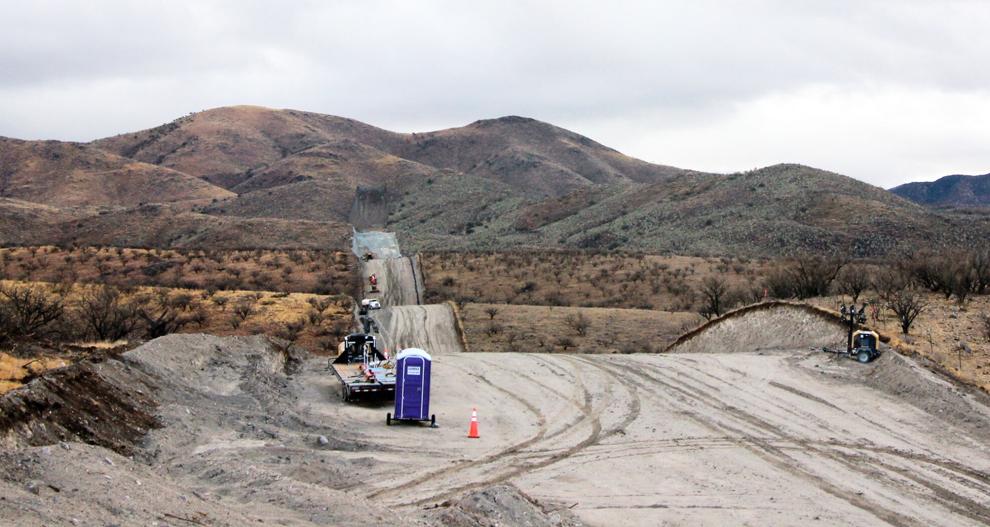 U.S. Rep. Raul Grijalva, a Democrat from Tucson who represents Santa Cruz County as part of Arizona's Congressional District 3, applauded Biden's proclamation in a statement issued Wednesday.
"While ending the national emergency at the southern border is important, President Biden must keep his promise and ensure that not another foot of border wall is constructed under his watch. This includes a complete moratorium on construction and a cancellation of construction contracts," Grijalva said, adding: "The voices of border residents should be at the center of our border policy."