A week ago Tuesday, elementary school teacher Gabriela Lopez began writing the "problem of the day" on her classroom's erasable white board.
"We have a school bus," she wrote, telling the class that the bus had 21 seats.
Nine students in red polo shirts took notes and fidgeted in their seats.
"And we have 18 students in all," Lopez continued.
"How many seats do we have left," she wrote, leaving the end of the sentence unpunctuated.
She paused, pointing at the last word, and asked, "What am I missing here?"
One student called out: "A period!"
Two girls yelled at once: "A question mark!"
"Very good," Lopez said. "A question mark. So we put the question mark because it's a question, verdad?"
The exercise, conducted in English, took place at the Instituto Americano de Nogales (IAN), a bilingual school situated near the top of a windy road on a hill in Nogales, Sonora.
In a community where languages and cultures mix across the international border, a handful of private schools on the Mexican side of Ambos Nogales offer intensive English-language education for students beginning as early as preschool.
Students, parents and teachers said that job opportunities, family ties and cultural considerations all contributed to the demand for English education on the southern side of the border.
Monica Molina, a director at IAN, which has about 180 students in preschool, elementary and middle school, estimated that there are around six fully bilingual schools in the city.
Preschoolers at IAN have a split schedule, with half the day taught in English and half in Spanish. By middle school, almost all classes are taught in English, said Jazmin Ruiz, the principal of the IAN middle school.
For Ruiz, the motivation for bilingual education is clear.
Parents, she said, "want their children to have a good job, so they know they have to speak English. And they have to learn English at a very young age. That is why many people are here, because they know they will have a better job."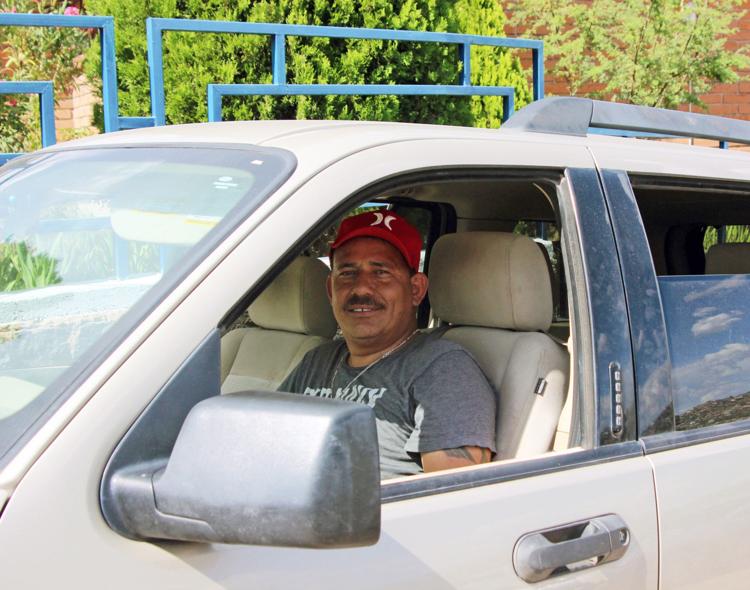 Ernesto Santos Castañeda, who has a child at IAN, agreed. Sitting in his Ford SUV in an after school pick-up line, Castañeda said he expects that English-language ability will be a professional advantage for his son.
"He can find work more easily," he said.
Eighth-grader Maria Molina goes to the Instituto Vanguardista Marcel (IVM), another private, bilingual school in Nogales, Sonora.
Her parents made the decision to send her to IVM, where she has studied since second grade. Now, thinking about her own future, Molina said that her English skills will help her eventually move to the United States, where she has family in Rio Rico, Ariz. and Texas.
"I want to study college there, to live there and (find) a job," she said in English.
Martha Celaya, founder and director of IVM, said the school's approximately 300 students have about 15 hours of English-language instruction per week, including in subjects like science and math.
As a private school, Celaya said, they have more freedom to incorporate curriculums that aren't taught in Mexican public schools.
"In elementary and middle school, we dedicate three hours to the program regulated by the secretary of education, and the other three hours to programs from the United States, in English," she said.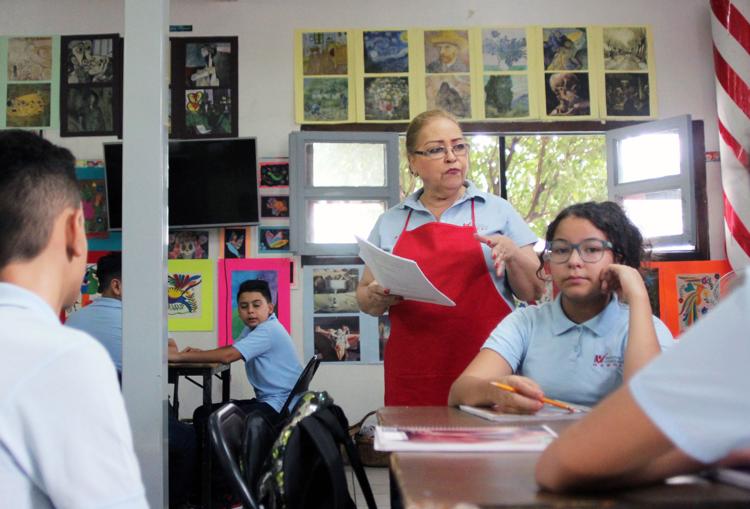 Jason Canizales, who studied at IVM before transferring to Nogales, Ariz. public schools in middle school, said that moving from the bilingual environment in Nogales, Sonora, to the English-first setting in Nogales, Ariz. wasn't easy.
"I felt that I was prepared enough to handle it, but I certainly wasn't really comfortable with it," Canizales said.
Eventually he got more comfortable – Canizales graduated from Nogales High School's International Baccalaureate program in the spring and is starting this semester at the University of Arizona.
Thinking back to his time at IVM, he said that some forceful nudges from teachers had helped encourage his English education.
"One of the teachers actually had a jar that, every time you spoke in Spanish, we had to put a one peso coin in there, so that was (one) of the tricks they used! I feel like that was a really powerful thing," he said.
Even for students who can't or don't want to cross the border, the thriving maquila industry in Nogales, Sonora offers opportunities for employees with strong English-language skills.
Last Wednesday morning, Eduardo Leyva was dropping his children off for school at IVM. He has children in third grade and seventh grade.
"When it's time to find work, if you have a bilingual education, you already have a 30-percent advantage," he said.
Leyva said that he works in an office and speaks a little English himself – he tries to practice with his children at home.
For teachers, working in a bilingual environment can also represent a professional achievement.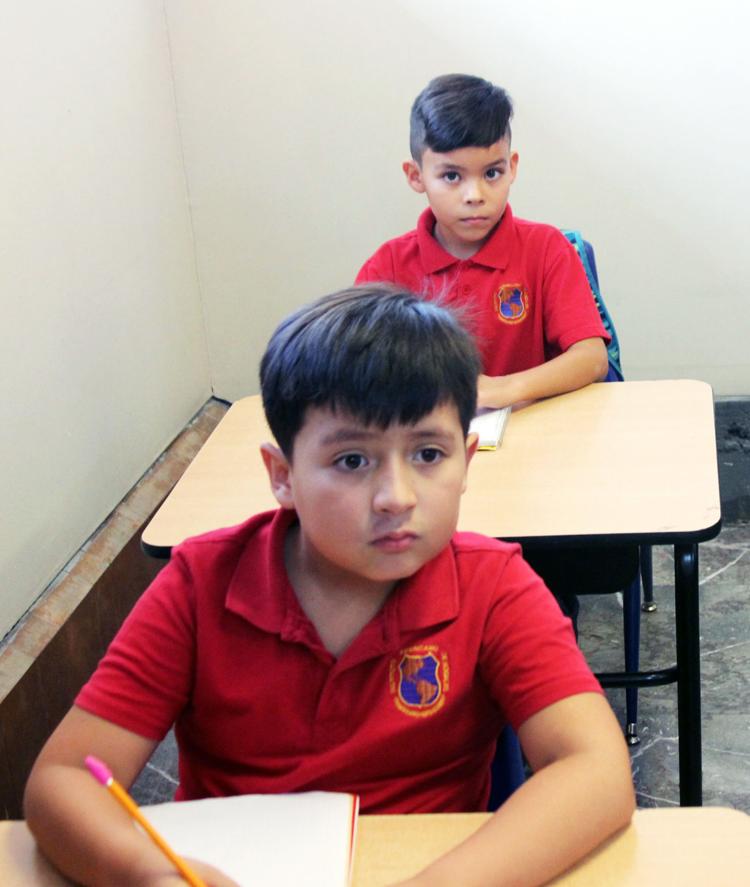 Judith Ibarra has taught math at IAN for two years. Before that, she taught in Mexican public schools. She said that moving into English-language instruction was a big step for her.
"To be able to teach math, in English, that's like a whole new level," she said.
The schools also attract teachers who grew up in the United States and speak English as their first language.
Rosalinda Ibarra Duarte, the principal of IAN's elementary school, said that the school currently had teachers from Tucson, Phoenix and Ohio.
She joked about how some U.S. teachers found their way to Nogales, Sonora: "Married a Mexican!"
While English-language ability is often the principal motivation for parents and students that choose bilingual schools in Nogales, Sonora, the schools also offer opportunities that aren't available in the United States.
Carlos Alvarez-Macias Kashakito's parents sent him to the Nogales English School in Nogales, Sonora for sixth grade, after he had studied from first to fifth grade at Lourdes Catholic School and Sacred Heart Catholic School in Nogales, Ariz.
"My parents were like, 'Why not let my child be more culturally diverse?' So they moved me to Mexico to experience the life they lived, and it was actually pretty interesting," said Alvarez-Macias, who later transferred to public schools in Nogales, Ariz. and also graduated from NHS last spring.
"When I was in the Catholic school I didn't learn a lot of history, I didn't learn any Mexican tradition or anything," he said. "When I moved to Nogales English, that's when I was immersed into Mexican culture, Cinco de Mayo, Batalla de Puebla, and all that."
And, for all the emphasis placed on English, Spanish-language skills aren't forgotten at bilingual schools.
"Some of the parents, for example, they say, 'I want my children to read in Spanish,' said Ruiz, the IAN middle school principal. "They want that, and they want (their children) to speak English as well, but they know if they are learning in the USA, probably they won't learn Spanish so well."
Despite their advantages, the few schools that offer bilingual education aren't accessible to everyone.
Tuition at IVM is 3,400 pesos ($172) per month. At IAN, it's 2,700 ($137). For working families, those numbers can mean hard choices.
Nubia Placencia, who has a son in third grade at IVM, said that choosing the school was a difficult decision, given the costs.
But she thinks that an English-language education will eventually help her son get a better job, perhaps as an engineer.
"We do everything we can" for him, she said.