Earlier this month, the Nogales Police Department received a call: a woman said she wanted to make a complaint after being touched by U.S. Customs and Border Protection officers.
An NPD officer responded to Terrace Avenue, near the DeConcini Port of Entry, where the woman said that she had been sent to secondary inspection at the port and then touched inappropriately by a female CBP officer.
It was the early afternoon on Monday, June 1 and the woman was apparently on her way to work.
The woman told the officer that "she felt so scared that she just ran away as soon as she was let go," according to an NPD incident report in which her name was redacted. In her rush to leave the port, the woman added, she left behind her SENTRI card and a water bottle.
In recent weeks, CBP has used its social media accounts to highlight busts of body-carried drugs, frequently posting pictures of contraband in small plastic bags that were reportedly taped to the carrier's body or found in an "internal cavity." CBP said its Tucson Field Office, which includes land ports like Nogales and San Luis, as well as airports in Phoenix and Tucson, has made 297 drug seizures involving body carriers so far in Fiscal Year 2020, which began Oct. 1, 2019. In all of Fiscal Year 2019, the agency nabbed 281 body carriers in Tucson Field Office locations.
CBP has unusual authority to skirt Fourth Amendment protection against unreasonable searches and seizures at the country's ports of entry. But in their quest to seize body-carried contraband, officers have sometimes interrogated and subjected innocent travelers to invasive inspections that don't turn up any illicit material. In extreme cases, travelers have sued the agency and won settlements for unnecessary body searches at the border.
"(The border is) an exception to the Fourth Amendment, but I still think that people have to be treated fairly and expeditiously. So I think it's always been an issue," said Matt Davidson, a lawyer who represented an 18-year-old Santa Cruz County woman who sued the government in 2016 for violating her constitutional protection against unreasonable search and seizure after she was detained at a local port. (The woman's case against CBP, in which she alleged that she was subjected to an excessively invasive body inspection, settled out of court with undisclosed terms in 2017.)
The account provided to Nogales police by the woman in the June 1 incident highlights the invasive examinations that travelers can be subjected to by federal officers at local ports of entry, as well as the fine line that CBP officers walk in their search for drugs and other contraband headed for the United States.
"The invasive body cavity searches, those are something that we do hear about," said Edgar Saldivar, a lawyer for the American Civil Liberties Union in Texas. He represented an anonymous woman who was awarded a total of more than $1 million from the government and an El Paso hospital system after CBP officers brought her to a hospital to conduct an internal search in 2012.
"They're not as frequent as other complaints about CBP, (but) I think that has something to do with the fact that these very invasive searches, they're very traumatic experiences for some individuals, and so often times they don't get reported," he said.
Vicki Gaubeca, director of the Southern Border Communities Coalition, an umbrella group for 60 organizations from California to Texas that advocate for fair border policy, said that body searches are of particular concern.
"It's not even like searching your car," she said. "Your body has an even higher standard of privacy expectation."
Ambos Nogales residents – many of whom cross the border frequently for work, school or family – know that CBP officers can ask travelers to open a backpack or a purse for examination at local ports of entry.
That's because the Fourth Amendment is interpreted differently at the border, where federal rules explicitly give the government exceptional power to conduct searches.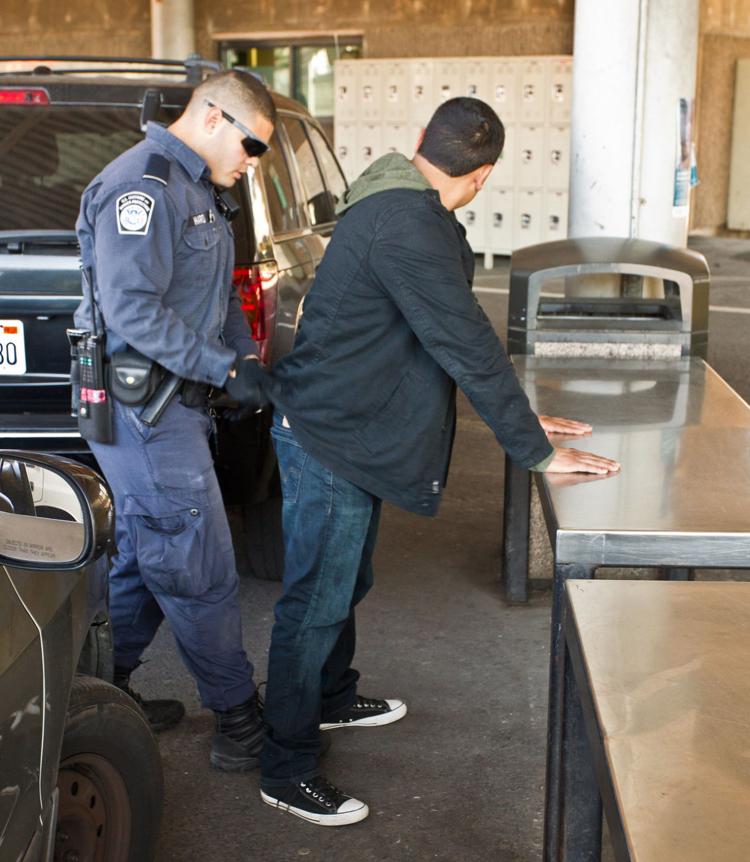 Under the so-called border search exception, courts have held for decades that routine port searches don't require a warrant or even suspicion of wrongdoing.
The rules surrounding non-routine searches, like strip searches or body-cavity probes, aren't as clear, though courts have suggested that at least some level of suspicion is required.
"Basically, as the search becomes more intrusive, officers are required to have greater justification for that search," Saldivar said.
CBP representatives did not respond to multiple requests for comment about the specific policies that officers follow when conducting searches that include physically touching a person or searching a body area. But a spokesman pointed to a page on CBP's website about the agency's search authority.
"We rely upon the judgment of our individual CBP officers to use their discretion as to the extent of examination necessary," the page states.
A 2015 CBP handbook outlining the agency's standards for transport, escort, detention and search states that: "All searches must be conducted under the appropriate legal authority and standards. Officers/Agents must be diligent in their efforts to protect a detainee's legal rights and treat detainees with respect, dignity and an appropriate level of privacy."
"CBP officers may, unfortunately, inconvenience law-abiding citizens in order to detect those involved in illicit activities," the webpage adds. "We are especially aware of how inconvenient and stressful the inspection process may be to those selected for inspection. In such cases we rely heavily on the patience, understanding, and cooperation of the traveler."
But those polite terms don't necessarily describe the experience of border-crossers who get sent to secondary inspection areas at local ports of entry.
"They order you into the cage, they lock the door behind you and you're stuck," Davidson said.
Davidson said he and other local lawyers have long heard stories about detentions that drag on for hours, searches conducted with problematic protocols and "not a lot of respect," as well as drug-sniffing dogs that can get uncomfortably close to a person being searched.
In practice, travelers can be sent for additional inspection for a wide range of reasons.
"There isn't really a fine line defining who to search and when," Saldivar said. He added that a traveler's reaction to questions, or an officer noticing a person trying to hide something, could be grounds for a stepped-up search.
Davidson said inspections often stem from a "be on the lookout." But these so-called BOLOs can vague, such as: "Be on the lookout for young girls crossing."
"I guess it's true that young girls have been used as body carriers for drugs, but… you can't just say well this is a young girl coming across and therefore we really want to give it a check, but we've seen that," he said.
And in the secondary inspection area, it's again up to officers' discretion to determine what type of search to conduct.
It's not clear exactly what search was carried out in the June 1 incident involving the woman at the DeConinci port, but she reportedly told NPD officers that a female CBP officer touched her in "private areas" after she was referred for secondary inspection. The woman also told the NPD officer that a CBP officer told her that if she cried or made a scene, the officer would take her SENTRI away.
CBP said it was unable to provide the NI with further information about the incident, including whether the woman had been found to be carrying any illicit material.
The considerable leeway given to port officers, Saldivar said, raises concerns about inappropriate use of power and the potential for racial profiling.
"Our concerns are that people will be subjected to abuse at the hands of CBP officers who either are improperly trained on the Fourth Amendment, or improperly trained on the personal search handbook," he said.
Accountability in question
Although some high-profile cases against the agency have resulted in large cash settlements, Saldivar and Davidson said CBP officers are rarely held accountable for searches that violate border-crossers' rights.
"I think (travelers) absolutely should report those incidents through all available administrative avenues, but I think the chances of them getting relief are very limited, if they're existent at all," Saldivar said.
"At least in my experience, I seldom see actual discipline imposed," Davidson added.
Saldivar also said the agency isn't transparent about complaints against officers.
"It's hard to know how many times people file reports or complaints about these kinds of things because even Freedom of Information Act requests to CBP are not responded to," he said.
While CBP shared numbers highlighting its body-carrier drug busts for this story, the agency didn't provide any statistics in response to the NI's questions about how many people are sent for secondary inspection at Nogales ports, how many of those are subjected to invasive searches and how many are eventually caught with contraband.
"We do not track the numbers in a manner that would appropriately address the questions," a CBP spokeswoman wrote in an email.
In the case of the June 1 incident, there was no indication that the woman searched at the port wanted to file criminal charges and it's not clear if she eventually made a complaint to CBP.
The police report says the NPD officer brought the woman back to the port of entry to collect her belongings and file a report with CBP, but the agency didn't say whether it had received a complaint and didn't respond to the NI's request for comment on the specific incident.
Even after being provided with the NPD report – which included date, time and location, as well as all of the other details mentioned in this story – the CBP spokeswoman said she couldn't locate any information about the alleged incident.
"Based on the limited information provided, we were not able to pinpoint a specific case," she wrote.
But, she added, "CBP takes any complaints filed seriously and will process them accordingly."