Construction crews have been at work in recent days preparing to install a barrier along the U.S.-Mexico border in a rural stretch of eastern Santa Cruz County near the Patagonia Mountains. The project site runs through the Coronado National Forest, east of where the Santa Cruz River crosses the border and west of Lochiel.
It appeared that no new sections of wall had been erected at the construction site by Thursday morning, but tractor-trailers traveling down a widened, graded gravel road had already delivered more than 150 segments of fencing, each consisting of eight steel bollards and anti-climbing plates.
The existing barrier in the area is a short fence consisting of four or five strands of lightly barbed wire. Border Monument 116 stands in the middle of the current worksite.
The work corresponds to a project announced in March 2020 that showed plans for 4.1 miles of new border barrier in the area, part of 27 miles of new fencing planned for Santa Cruz County. The plans also call for converting stretches of waist-high vehicle barriers to pedestrian barriers – presumably the 30-foot bollards – along stretches of the border adjacent to the new fencing.
The construction to the east of Nogales comes months after contractors installed bollard fencing along the border in similarly remote areas west of the city, to the south of Peña Blanca Lake, as part of the same project announced last year.
Contractors have been working day and sometimes night, effectively racing against the clock to build the border wall in the waning days of President Donald Trump's term, since President-elect Joe Biden has signaled that he plans to put a stop to new wall construction.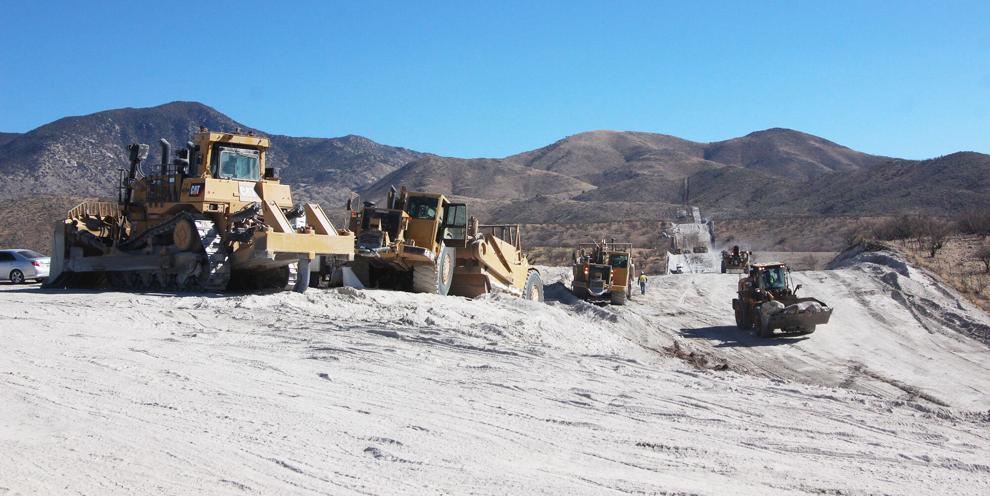 There were multiple forklifts, backhoes and earth movers at the project site on Thursday. The heavy machinery bore logos for Scottdale-based Rummel Construction and North Dakota-based Fisher Sand and Gravel.
There were also about 150 segments of 15-inch concrete piping, apparently to be used in a drainage system for floodwaters that surge through the area during monsoon storms.
In recent days, flatbed trucks carrying segments of bollard fencing have rattled along Patagonia Highway and onto Duquesne Road towards their destination.
That caught the attention of Cesar Lopez, a Nogales man who lives in the area and wasn't too happy to see big trucks carrying border wall materials through his neighborhood before dawn in recent days.
"I think it's sort of a low-intensity conflict watching this militarization happen in front of our eyes," he said on Thursday. "I don't think it makes any sense for the community, for the young people here, to see these kinds of divisive, very tangible walls being reinforced and being put in rather than things that are about growth and about union."
Lopez added that he's not pleased with how either political party has treated the local borderlands, noting that former President Bill Clinton, a Democrat, had initiated other wall construction efforts in the region.
With just 13 days remaining in President Trump's term, construction crews may be setting priorities with the expectation that not all planned work will be completed before Joe Biden takes office.
Another part of the project calls for a stretch of pedestrian barrier where the Santa Cruz River crosses the border. Currently, the tall bollard fencing gives way to a shorter vehicle barrier at the site of the river crossing.
On Thursday, there was no sign of border construction activity near the river.