"I didn't know what Okinawa was. We were all very young. When we got there, that's the first time I ever heard, 'Kill or be killed,' and it stayed with me. I still have it in here," Conrado Humberto Villegas said, tapping his temples.
Villegas, now a 93-year-old resident of the Bowman Senior Residences in Nogales, spoke calmly as he sat back on a couch late last month to recount his service in the U.S. Army during World War II, most notably serving in the 305th Infantry Regiment of the 77th Division at the Battle of Okinawa in Japan.
Sitting in front of him, fascinated by his stories, fellow Bowman resident Marco Antonio Flores showered him with questions and compliments about his service.
"When I came here, I found out there was a World War II veteran and thought, 'I have to meet him.' I'm a history buff, anything that has to do with WWI and WWII," Flores said. "His story cannot fade away."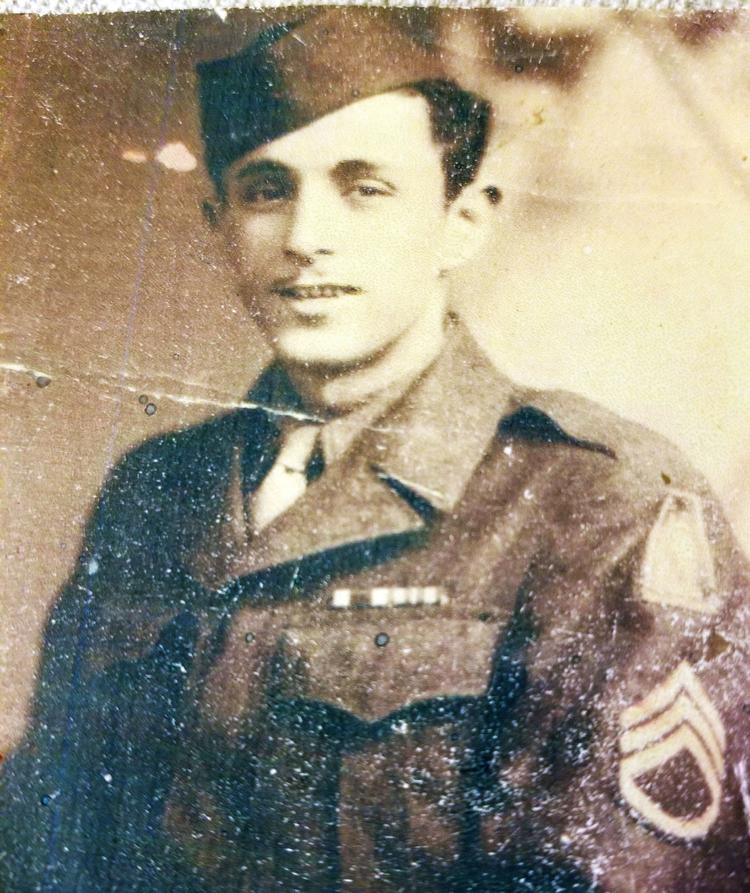 Villegas recalled that he initially tried to enlist in the military by forging his father's signature at the age of 17, lying about his parents' permission to enlist as a minor. However, when his mother found out, he recalled, he was forced to wait until after his 18th birthday, and reported for duty on Oct. 6, 1944.
"I was very patriotic – I still am. I am Mexican, but very American. I wanted them to know who I was," he said, adding that while his friends nicknamed him "Coffin" for his small and lean physique, he was confident in what he was able to offer. "I was only 18 years old, but I wanted to go. Everyone was waiting for Coffin."
He soon moved away from his San Fernando, Calif. hometown to attend training camps at Fort MacArthur and Camp Roberts in California. After only eight weeks, he said, he found himself on a troop ship full of soldiers on route to Okinawa in Japan while the rest of the war played out in Europe.
The soldiers faced their first challenge while on board, enduring days of sea sickness. It was only then, Villegas said with a laugh, that he remembered that he didn't know how to swim.
Bigger challenges were soon to come.
"They trained us by giving us an idea of what it's going to be like, but it's not the same. It's just an idea," Villegas said. "When you hear gunfire and you don't know whether they're shooting at you or them, that's how one learns. Suddenly you just hear the sergeants telling you, 'Kill or be killed.'"
He now understands that he was only a teenager who had to make a big decision, he said. But the only thing he could think at the time was, "This is my body and I have to protect it."
Villegas fidgeted with his hands in his lap as he tried to recall what happened after arriving ashore in Okinawa, struggling to remember the events that followed. His wife Rosa Maria chimed in, taking out a notebook that her husband wrote in during his 70s about his time before, during and after the war.
"The thing is he now has dementia," Rosa Maria said, adding that while Villegas typically loves to share countless of stories about his military service, he seemed to be having more difficulty that morning.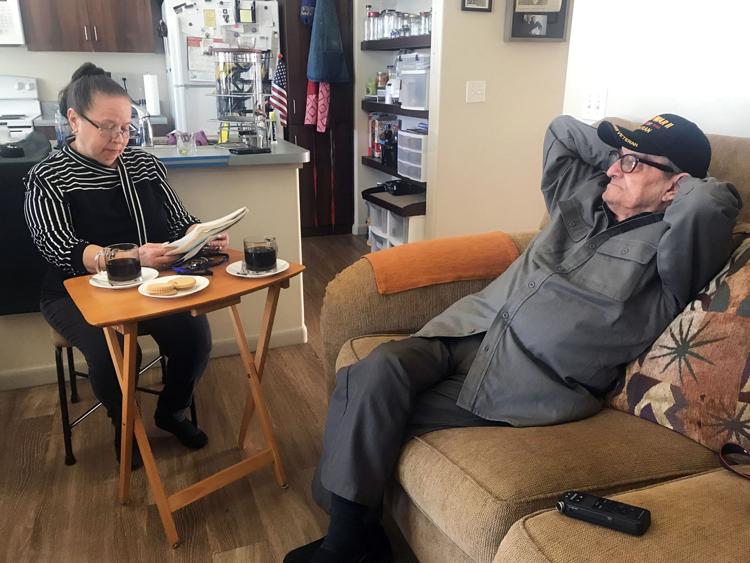 She turned her attention to the spiral notebook in her hands and began to read Villegas' own recollection of his past, as he had written a couple decades ago while living as a retiree in Hermosillo, Sonora.
In Okinawa, he recalled in his notebook, he encountered a couple of men that he knew from back home and formed strong bonds with them while they were assigned together. However, his two friends didn't have the same luck as he did.
"I turned back to look at Bobby," Villegas wrote, referring to one of his hometown friends while they were boarding a boat in Okinawa. "His face was full of fear… I will never, ever forget that day because it was the last time I saw Bobby alive."
Sitting with his head resting on his hands, Villegas began nodding as Rosa Maria read the excerpt from his notebook, as if suddenly recalling the moment behind the words he wrote.
Eventually, Rosa Maria continued reading, Villegas was trained to become a scout and lead the rest of the troops through Okinawa, sending information back to his captain as he and another soldier made their way further ahead.
The war ended while he was stationed in the Philippines, he wrote in his notebook, celebrating the fact that he was able to accomplish his dream after all.
"I was in the service for two years, nine months, 11 days," Villegas said proudly. "I used to have nightmares that made me remember. I ask myself sometimes, 'You killed another person?' But it was under military orders."
On Monday, Nov. 11, he'll serve as the grand marshal in the annual Veterans Day parade in Nogales, and potentially as one of the speakers at the Wall of Honor ceremony in front of City Hall starting at 11 a.m.