The Arizona Independent Redistricting Commission has not scheduled a return trip to Santa Cruz County as the commissioners solicit public comment on their draft congressional and legislative maps. Instead, they'll hold a "virtual town hall" for residents of Southern and Eastern Arizona on Friday, Nov. 12.
The event is scheduled to begin at noon. It will be streamed on YouTube, or you can join by phone at (404) 397-1516 or (877) 309-3457 by using the access code 245 261 27721.
The closest in-person public hearing is set for 10 a.m. on Saturday, Dec. 4, at the Four Points by Sheraton Tucson Airport Hotel, 7060 S. Tucson Blvd.
The commission approved the draft maps, which will ultimately define the boundaries of Arizona's congressional and legislative districts for the next decade, during a meeting on Oct. 28. The commission says it will accept public comment on the drafts through Dec. 4. It plans to have final maps approved by Dec. 22.
Federal funds available to support home-based services
Adults 60 and older and people with disabilities living in Santa Cruz County may be eligible for home meal delivery or to receive bathing assistance/light house cleaning through the Southeastern Arizona Governments Organization (SEAGO) Area Agency on Aging.
SEAGO-Area Agency on Aging said it has received American Rescue Plan Act funds to help support vulnerable populations in a four-county region that includes Santa Cruz. The focus of the new funds will be to provide attendant care services and home-delivered meals, the organization said.
If you qualify for case management for the aforementioned services, SEAGO-Area Agency on Aging said, contact the local Case Management Office at 2150 N. Congress Dr. in Nogales, or call Elizabeth Castellanos at (520) 375-7896.
Information is also available at (520) 432-2528 and www.seago.org.
Forest roads closed for mine cleanup work
The Coronado National Forest said it has temporarily closed two roads in the Patagonia Mountains that are being used by heavy equipment as part of a mine cleanup project.
The closures apply to Forest Road 4698 (Endless Chain Road) and Forest Road 4695 (Guajolote Flat Road), both of which run southwest from Harshaw Creek Road (FR 49) south of Patagonia.
"Access to both FR 4698 and FR 4695 are closed starting at their junctions with FR 49 and continuing for 0.75 miles and 1.75 miles, respectively, due to construction activity in the area," the CNF said in an announced posted to its social media feeds on Nov. 5.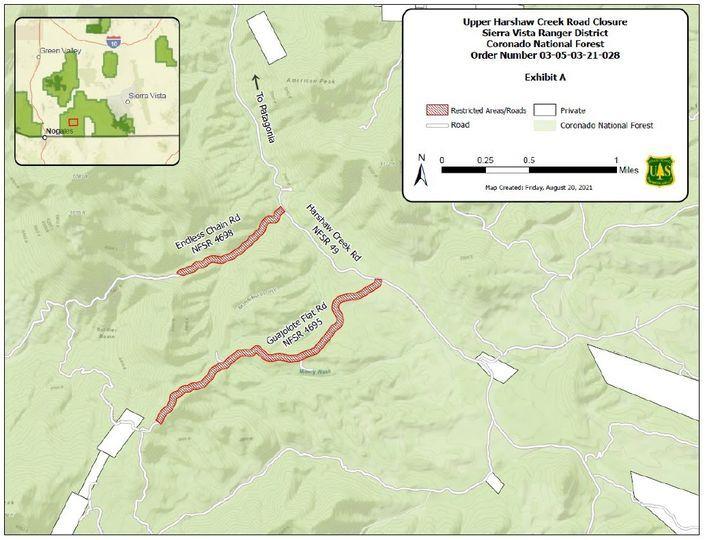 In addition, heavy equipment, including articulated haul trucks, will frequently use Harshaw Creek Road between the two closed roads. The CNF advised people traveling in passenger vehicles to drive slowly on this portion of the road and watch out for large equipment.
The truck traffic is part of Phase II of the Upper Harshaw Creek Mine Sites Environmental Clean Up Project, which began on Sept. 7 and involves the clean-up of two abandoned mines and associated hazardous materials through the excavation, hauling and isolation of waste material in onsite consolidation cells.