Beyond the tall arc welcoming visitors to the Calabasas Cemetery in Rio Rico, a neatly arranged gravel path leads the way past dozens of graves near the entrance of the property, a few mesquite trees casting patches of shade over the open space.
Several headstones, though tilted, chipped and weather-worn over the years, still stand tall and visible, showing faded dates ranging from the 1860s to 1950s. But as local resident David Goodman led the way deeper into the cemetery last Friday morning, the path disappeared and other graves became hidden among the heavy brush that covered the rest of the small cemetery.
After maintaining the front part of the cemetery by himself for the past four years, Goodman said, he became motivated to clean up the approximately 2.5-acre property entirely – a bigger project that has sent him searching for help within the community, so far with minimal success.
"I've been doing it on my own for years now because I was just doing this section," Goodman said, spreading his arms to show the cleared area that only had a few weeds beginning to sprout from the ground again. "But then when I decided to go all the way, I thought, 'Now I need help.'"
He first reached out to state representatives about five months ago, after finding out that the cemetery belonged to the state. After receiving no answer, he addressed the Santa Cruz County Board of Supervisors at two different public meetings, only to find a similar response.
"They say they want to help. They say, 'We're going to call you, expect our call,' but it never happens," Goodman said of his two outreach efforts to the county. "I just think they should be a part of it."
As of Friday morning, he had also reached out to local historical societies, schools and community groups on social media. But thus far, only two people had come on board to help.
While he doesn't have any ancestors or loved ones buried at the Calabasas Cemetery, Goodman – a veteran himself – was drawn to it upon learning that about 40 soldiers were buried there after being based at Fort Mason, a former Civil War-era outpost for Union soldiers.
"I have no connection to it whatsoever except for the soldiers that are buried here. That's the only reason I actually started (cleaning)," he said.
He added that there's a record of 40 soldiers who were buried there after dying of malaria shortly before they abandoned Fort Mason for San Francisco. More than 40 years later, 30 bodies were dug out and taken to the San Francisco National Cemetery to honor the soldiers, he said.
"There were no markings and they didn't know where the soldiers were," Goodman said, explaining that there's no definitive way to know how many soldiers are actually buried at the Calabasas Cemetery now. "Even if they dug up all those soldiers, they still left 10, which I'm sure they didn't get all of them."
He said he decided to take responsibility for the upkeep of the graves in honor of those fallen men.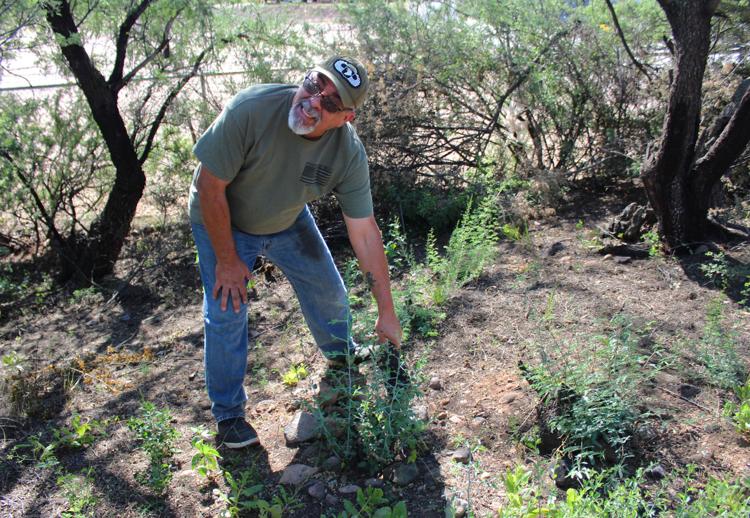 While there have been others before him who have taken it upon themselves to clean up the cemetery and mark a few trails, including the Boy Scouts in 2008 and Nogales resident Jake Brown until his death in 2012, Goodman said the property seemed to have been nearly abandoned for several years when he visited for the first time in 2015.
A Tumacacori resident who has generations of family members buried at the cemetery hired someone to spray weedkiller over half of the land about a month ago, Goodman said, which allowed him to focus on clearing out brush in new areas.
His next step, he said, is to keep searching for anybody who can either lend a hand at cleaning or donate tools to continue the work himself, as most of his own equipment has broken down from the heavy use.
"I plan on cleaning it all the way to the edges and keeping it maintained for as long as I can. Hopefully people will see this and take it upon themselves to help," Goodman said.
To get involved or to learn more, contact Goodman at dgoodman301@gmail.com. The cemetery is located just off the East Frontage Road south of Exit 17.