Members of the local community and law enforcement officers from around Southern Arizona gathered on Wednesday morning to pay their final respects to Nogales Police Officer Jeremy Brinton, who was killed last month while working an off-duty traffic assignment.
More than 200 people came to Nogales High School for a Mass followed by a ceremony that featured a seven-gun salute, a helicopter flyover and the presentation of the U.S. flag to Brinton's widow.
Fr. Marcos Velasquez of Sacred Heart Church celebrated Mass in the NHS auditorium.
"The Lord called him and gave him a vocation of service… We all benefited from that service," Velasquez said during the sermon.
Brinton's relatives read scripture during the service, and four community leaders took the microphone to talk about Brinton's life and legacy.
Mayor Arturo Garino said that he knew Brinton before he began his career at NPD, when Brinton worked at Foxworth's lumber company, a local store that closed in 2009.
"He was always very happy and helpful. He always greeted me with a smile and we shared many laughs together," Garino said.
Tom Vader, an officer with U.S. Customs and Border Protection, said he'd met Brinton when the future NPD officer was still a student, and encouraged him to stay in school and think about career goals: "Try to be someone that you could look up to, someone that others could look up to."
Vader eventually left Nogales in the 1990s, but when he returned in 2007, he got an unexpected visit – Brinton showed up to his house in a police cruiser.
"He said he wanted me to be proud of the life that I pushed him toward," Vader said, pausing to wipe back tears. "I could not be more proud of the man that he became, the father that he was – always willing to help or give."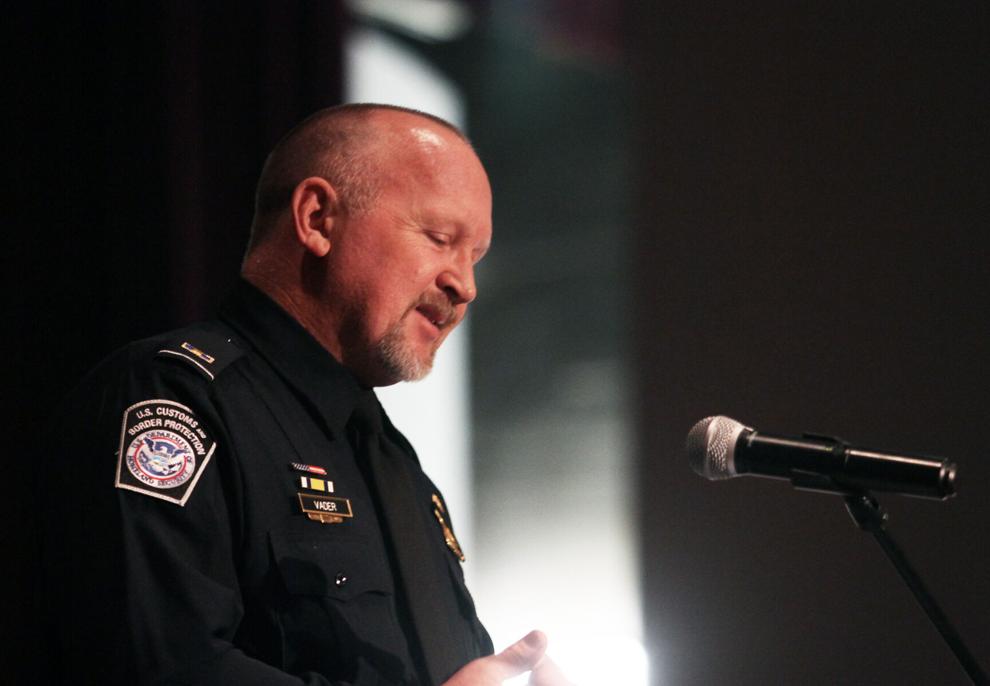 Law enforcement officers sat on the right side of the NHS auditorium during the Mass. Personnel from NPD and the Santa Cruz County Sheriff's Department were on hand, as well as Pima County's Sheriff's deputies; police officers from Tucson, Marana and Oro Valley; U.S. Customs and Border Protection and Border Patrol employees; and state troopers from the Department of Public Safety and Department of Transportation.
City of Nogales staff and elected officials filled the left side of the auditorium, along with dozens of community members.
Brinton's family sat in the front row, facing the casket.
The auditorium entrance was decorated with flowers donated by different local and law enforcement organizations.
Vader and some of Brinton's coworkers recalled his no-filter style and dry, "wise-guy" humor.
"He had no qualms with speaking his mind. He did not mince words," said Victor Heatherington, an NPD officer who represents the NPD officers' union. "We knew, when Jeremy said something, that's exactly what he was feeling."
Heatherington remembered going on calls with Brinton shortly after he joined the department, and added that Brinton loved his kids and loved cars.
"We're going to miss him," Heatherington said.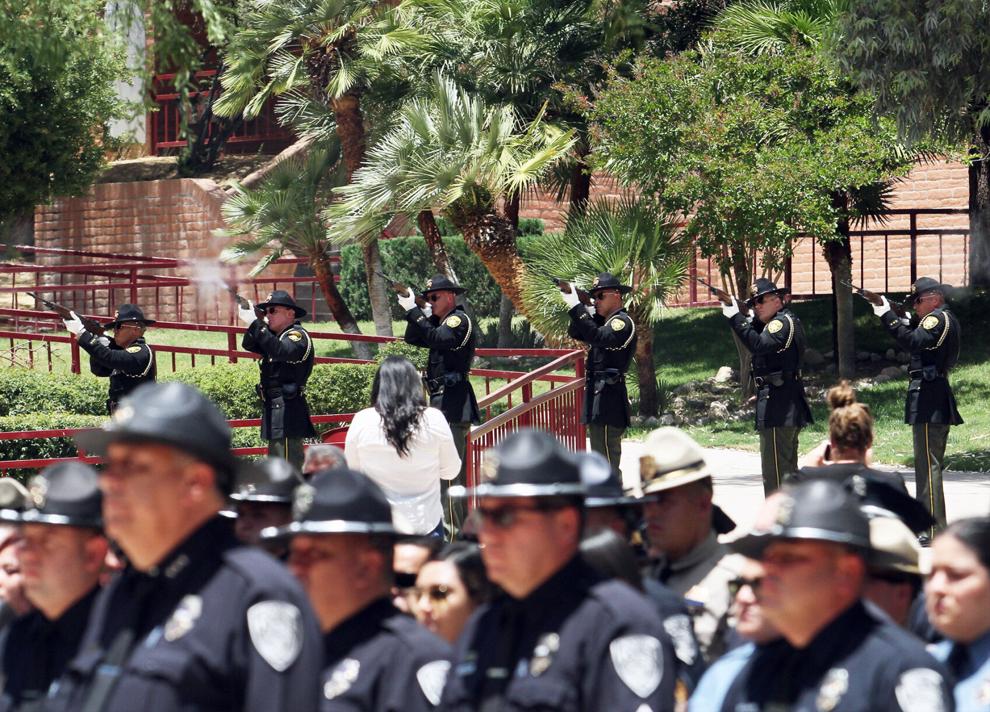 "He was a guy's guy," Vader said. "He liked to hang out, kick back a beer or two, working on cars, talking about quads."
NPD Chief Roy Bermudez also remembered Brinton's knack for auto repairs.
"Jeremy was famous for his 'I-can-fix-it' attitude," Bermudez said. "He was always the to-go person when something needed to be fixed or replaced, no matter how big or small the task was. Jeremy fixed many patrol cars during his day, preventing them from going to the shop and spending days upon days having certified mechanics trying to figure out what was wrong with them."
At 40, Brinton had served 18 years with NPD and was nearing retirement. Vader said Brinton had a plan for a new career that would have fed his passion for do-it-yourself work: "He told me that there was nobody that had a powder-coating business here in Nogales, so that was going to be his gig."
Brinton had registered as an organ donor, and Heatherington said that four people received organ donations from Brinton's body.
"Even in the afterlife," Heatherington said, "Jeremy was able to save lives."
Following the Mass service, officers conducted a ceremony outside the auditorium, transporting Brinton's casket to a waiting hearse.
More than 150 law enforcement officers from several agencies stood at attention as a color guard marched by, officers fired a rifle salute, helicopters flew overhead and officers unwrapped a U.S. flag that had been draped over the casket. Bermudez presented the folded flag to Brinton's wife, Denise.
Brinton is also survived by four children.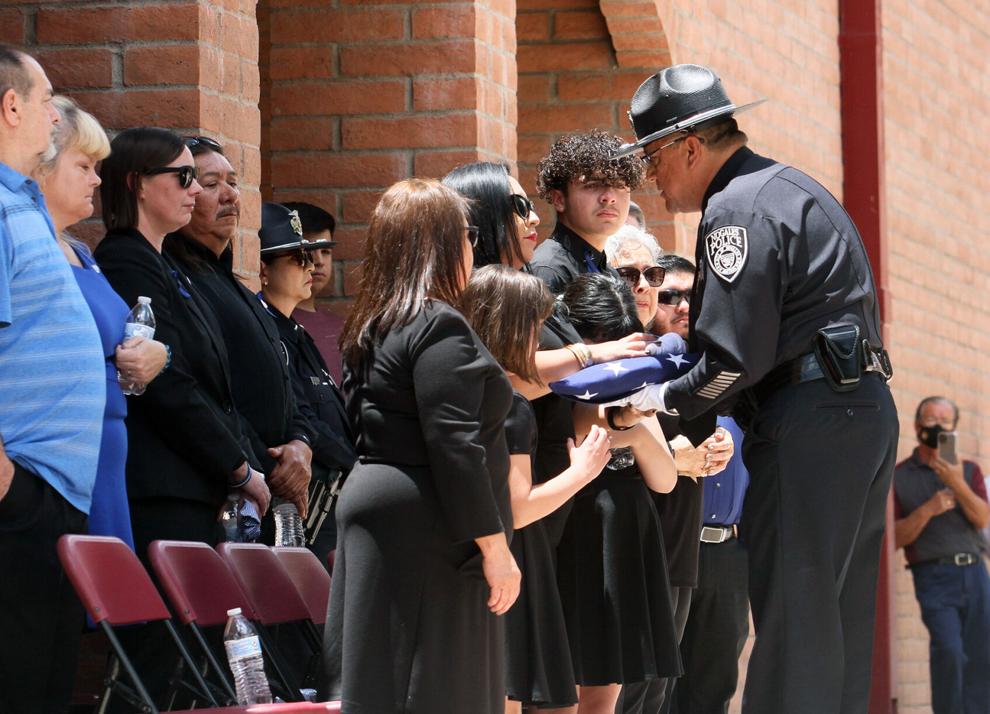 The previous day, Brinton's body had been transferred from Tucson to Nogales, escorted by a motorcade. A visitation held on Tuesday night also drew members of the community and fellow law enforcement officers.
Shortly after noon on Wednesday, the casket left NHS in the back of a white hearse, bearing the logo of Martinez Funeral Chapels, flanked by more than a dozen officers on motorcycles.
Killed by distracted driver
According to information from NPD and the Arizona Department of Public Safety, Brinton was struck at approximately 8:11 p.m. on Thursday, May 20 by a passenger vehicle while he was working an off-duty assignment on Interstate 19, setting traffic cones for a lane closure related to the ongoing State Route 189 construction project. Brinton was airlifted to Banner University Medical Center in Tucson, where he died from his injuries the next day, May 21.
Brinton was also honored with a candlelight vigil held on the evening of May 21 and with a moment of silence at Nogales High School graduation, held the same day. Community members placed flags and signs with Brinton's name and badge number, 218, outside of the Grand Avenue building housing City Hall and the police department.
As of Wednesday, no charges had been brought related to the death, but in his remarks, Bermudez said that Brinton had been struck by a "distracted driver."
Brinton is the second NPD officer to die while in uniform in recent years. In April 2018, Officer Jesus "Chuy" Cordova was shot and killed while responding to a report of a carjacking. Brinton's death came less than a month after the department had honored Cordova in a ceremony marking the three-year anniversary of his death.