For Minerva Orduño Rincón, who grew up in Hermosillo, Sonora and lived in Spain and Michigan before settling in Tempe, Ariz., crafting dishes that blend Mexican and U.S. cuisine feels natural.
In the borderland region, "it's such a hybrid," she said. "It's like you can't separate one from the other."
On a recent Wednesday, Orduño was at the Tumacookery shop in Tubac, teaching a group of 10 how to make a summer meal of ensalada de nopales, pozole verde, and pastel de elote with buttermilk ice cream.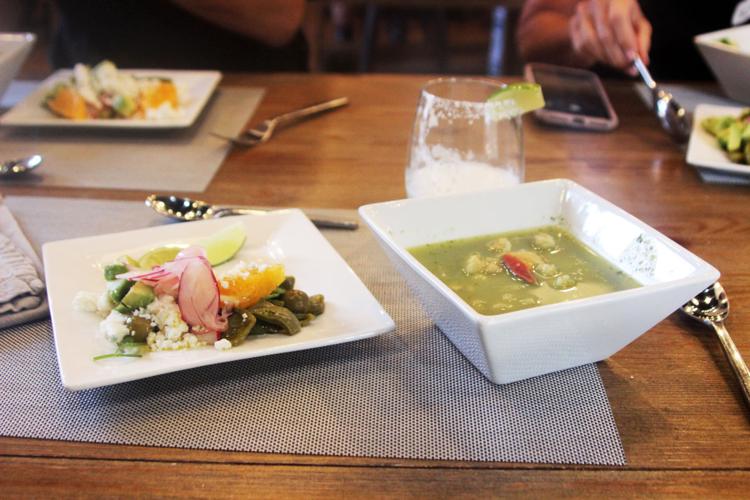 The dessert, she said, exemplifies the hybrid cuisine that is her speciality.
"It's Mexican-style cornbread," Orduño explained, noting that instead of cornmeal, which would be an ingredient in a U.S.-style cornbread, this one is made with freshly ground corn "and a little bit of the corn masa just to give it a bit more body."
By pairing it with a buttermilk ice cream, she said, "I'm doing kind of a nod between the traditional Mexican pan de elote and then the American buttermilk-based cornbread."
The eight men and two women gathered around a central table as Orduño, a former architect who now teaches cooking classes at Tumacookery and Sur La Table in Scottsdale, got started.
"Like in all the cooking shows, we're starting with dessert," she announced.
Her easygoing style of teaching, however, was a far cry from the intensity of TV-show chefs.
She led the participants through the dishes with a mixture of demonstration and participation, instructing them to cream the fresh corn "until it becomes really light, really fluffy-looking!"
They chopped nopal leaves, sliced limes, and cracked eggs. Orduño handled the pots and the stove.
At one point, she poured salt into not-yet-boiling water, and one of the participants gave Orduño a look as she noted that she should have waited until the water boiled.
Orduño laughed, unfazed: "I like when people point out my mistakes!"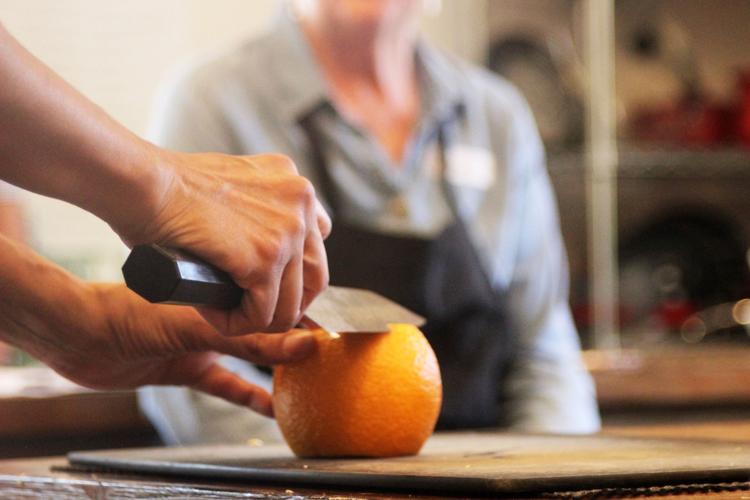 Over approximately two hours, knives slapped cutting boards, a stand mixer whipped up cream, and plates started coming together.
Carmelita, a kitchen assistant, gradually whisked away the prep tools and replaced them with clean serving dishes.
Some of the attendees, like Maxine Sharp, 77, and Julie Arma, both from Tubac, were veterans of Tumacookery's cooking classes.
"Every time I come, I learn something new," Sharp said.
Arma is the unofficial group photographer – she snapped pictures with her iPhone throughout the class and posted a series of photo collages on Tumacookery's Facebook page a few days later.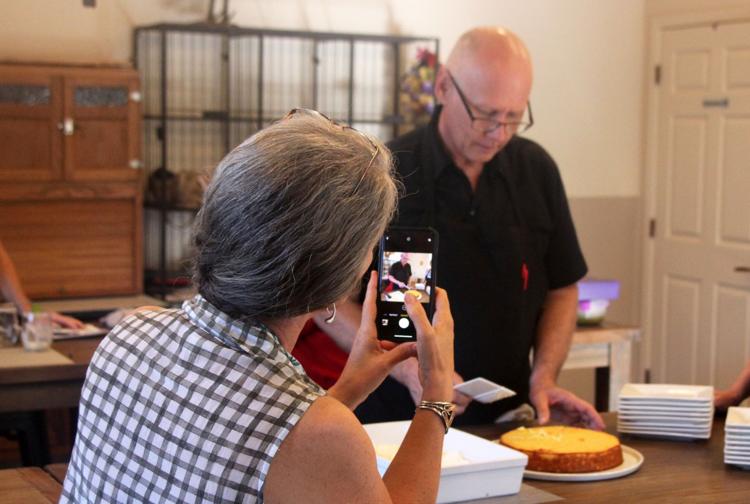 Randy Wade, who owns the shop and commercial kitchen with his wife Karen Rosenquist, said they have been offering classes in the kitchen for about three-and-a-half-years.
In many cooking classes, Wade said, the chefs keep working and cleaning up while participants enjoy the final product.
But, after serving the pozole and cutting the pastel last Wednesday, Wade and Orduño made a point of sitting down to enjoy the meal – and a margarita – with class participants.
Orduño sat down, took a breath, and snapped a photo of her own plate before taking a bite.
She said that she sees food as a vehicle for cultural exploration, but embraces culinary blending over purity.
The goal, she said, is not "just trying to beat Americans with the Mexican stick, or Mexicans with the American stick. It's trying to get everybody to come together through food. I love that, having that opportunity."
---
Pastel de Elote, courtesy of Minerva Orduño Rincón
5 cups corn kernels, from five or six ears
1/2 cup Mexican cream
4 oz. butter, room temperature, plus more for pan
1/2 cup granulated sugar
2 tsp baking powder
1 tsp salt
4 large eggs
1/2 cup harina de maíz (corn flour or maseca), or as needed. The amount needed depends on the amount of milk produced by the corn when processed. Start mixing the batter with 1/2 cup corn flour, adding more as necessary, one tablespoon at a time.
Preheat oven to 350 degrees.
Working with a food processor, grind the corn and Mexican cream together into a thick paste.
Beat the butter, sugar, baking powder and salt with a paddle attachment until light and fluffy, approximately five minutes. Incorporate the eggs, one at a time. Once fully incorporated, add the corn and cream mixture in three batches, alternating with the harina de maíz, mixing each one well before adding more.
Butter a nine-inch springform pan well. Pour in the batter and tap lightly to even out batter.
Bake at 350 degrees for approximately 35 minutes. Test at the center of the cake, feeling for firmness with a small amount of yield and springback.
Cool cake in a cooling rack before unmolding. Serve with honey buttermilk ice cream or on its own.