Still searching for a permanent manager, the Nogales City Council has tapped City Attorney Michael Massee to serve in the position on an acting basis.
The council narrowly approved Massee's appointment at a Wednesday meeting, with four votes in favor, two against and one abstention.
Massee will step in for Deputy City Manager John Kissinger, who's served multiple stints as acting manager. Most recently, he was appointed to the position in May 2021.
Under the Nogales City Charter, however, an acting city manager cannot serve for more than six months. 
Kissinger will now return to his role as deputy manager — a position he began in 2007.
Mayor Arturo Garino emphasized that Massee's new post would be a temporary one, and that a more permanent appointment would be on the horizon. Garino did not identify any specific candidates for the position, though he said that a consultant would continue assisting the city in its hiring process. 
Massee's appointment "is until the consultant can come back to us in January, so we can get through December," Garino said during Wednesday's meeting. "I'm not saying he's going to be there for six months."
The city has been without a permanent manager since May 2020, when the council and former manager Edward Johnson agreed to part ways after a tumultuous four-month relationship.
After failing to find a replacement themselves, the mayor and council hired a California-based consultant to lead the search. The elected officials then interviewed three semifinalists last summer in executive session and narrowed their focus to a single finalist. However, they couldn't come to terms with the candidate and voted Oct. 27 to repost the position at a lower salary range.
Garino confirmed that Massee would receive the same pay that Kissinger collected during his time as acting city manager. Over the summer, the council voted to hoist Kissinger's annual salary from $104,000 to a prorated $135,000 during the period he served as manager. 
Massee was appointed city attorney in late 2019 at a salary of $120,000, which has remained unchanged since then.
Reached on Thursday, Kissinger confirmed that Massee will continue serving as city attorney while he takes on the acting manager role.
As the subject of Massee's appointment was broached, Councilman Jorge Maldonado expressed doubts about the move due to Massee's current status as city attorney.
Maldonado speculated whether conflicts of interest would arise as a result. While a city attorney's role typically involves legal representation, the city manager is tasked with overseeing the city's 13 departments and hundreds of employees. 
"Is Mr. Massee not going to have any issues legally being our attorney for the city, and giving directions to directors in the city?" Maldonado asked. "Is that going to be a conflict?"
"I don't think it will," Garino replied.
"I don't think it's what you would call a conflict," Massee said, adding that such issues could be solved on "a case-by-case basis."
Maldonado attempted to discuss the issue further, but was cut short by Garino.
"You're not giving us a chance to talk?" Maldonado asked.
"No, sir," Garino responded, before calling for a vote.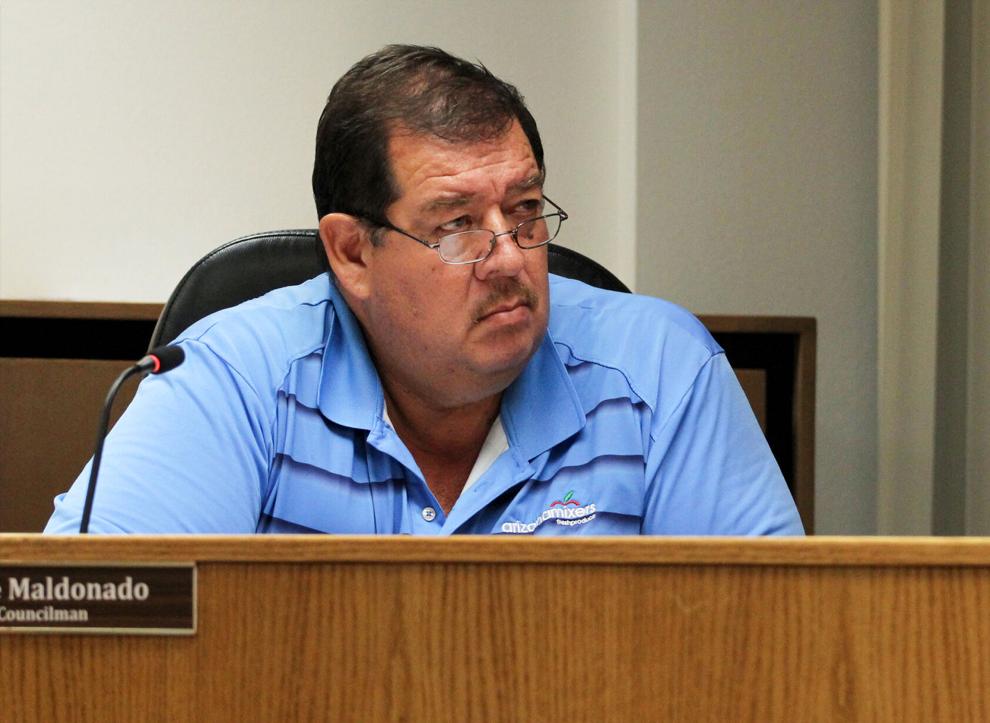 Garino voted in favor of Massee's appointment, along with Vice-Mayor Esther Melendez-Lopez and Councilmembers Saulo Bonilla and Jose "Joe" Diaz. 
Meanwhile, Councilmembers Liza Montiel and Hector Bororquez voted against the appointment. Maldonado abstained from voting altogether.
"I don't think we have had the right to even talk about it," Maldonado said. 
City representatives on Wednesday also discussed an upcoming search for a new city magistrate.
Current Magistrate Vanessa Cartwright is poised to leave the position to serve as judge pro tempore at Santa Cruz County Superior Court.
"I think the people up on the hill at the Superior Court have recognized a really good judge when they see one," Massee said of Cartwright. 
The council, Massee added, will now appoint an interim judge to fill Cartwright's role. The interim judge can serve no longer than six months, and does not have to be a member of the Arizona State Bar, according to the Nogales City Charter. 
Similar to the arrangement of acting city manager, Massee said the interim appointment would allow council to begin its search and interview process for a more permanent magistrate. 
Deirdre Eshleman is poised to serve as the interim judge.
The appointment would be effective beginning Jan. 3, 2021. However, Garino said, Eshleman's already been performing pro bono work within the city court system. 
"She doesn't want to be paid for it," Garino said. "But if she's going to be taking this position as interim, of course we have to come up with some type of payment."
The salary, he added, would likely equate that of Cartwright. Kissinger said the search process for a permanent magistrate is slated to start January of next year. The motion to appoint an interim magistrate quickly passed with a unanimous vote.
"It's nice to know there will be a process in selecting the next judge," Montiel said as council moved on to its next agenda item.