The City of Nogales and Santa Cruz County both saw unexpected jumps in their respective sales-tax collections in June, which reflect earnings from sales made in May.
Juxtaposed against a ghost town backdrop of the once-bustling Morley Avenue, where Mexican shoppers have all but disappeared, and largely empty parking lots outside the national retail stores on Mariposa Road, a mid-pandemic consumer sales boon doesn't seem to make sense.
Nevertheless, the data shows that the city's 2-percent levy generated approximately $836,000 from sales recorded in May, an increase of nearly $259,000 from the same month in 2019. The county, meanwhile, picked up $433,000 with its half-cent tax – an increase of $200,000 from what it collected during the same month in 2019.
"This was unexpected," said County Finance Director Mauricio Chavez. "We anticipated lower revenues and we budgeted down" for the year in the wake of the coronavirus.
So where did all that surprise sales-tax revenue come from? The construction cranes now towering over Mariposa Road at Interstate 19 provide a clue.
According to County Manager Jennifer St. John, the bump can be attributed in part to spending related to the $134-million overhaul of State Route 189 (Mariposa Road), which includes the construction of a massive "flyover" onramp that began in earnest in May.
Lee Grafstrom, a tax policy analyst for the League of Arizona Cities and Towns, said he is not surprised. He said construction is one of the most prolific generators of sales tax revenues for communities, whether it be highway, commercial or residential.
But the "big ticket" sector is highway construction, he said.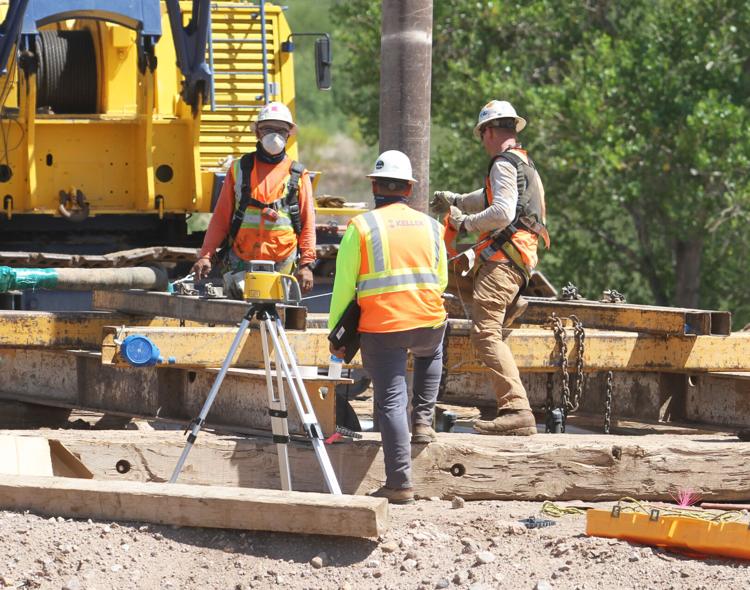 Still, while local governments reap the benefits of construction-related sales, it doesn't necessarily mean that area retailers are profiting as well.
The way state statutes were written in the 1930s, Grafstrom said, contractors who buy material outside of a community are not taxed directly by their vendor under an exempt certificate they are granted. In turn, the contractors calculate the sales tax from the transaction and then allocate whatever portion is due to the community where the project is located. "I've audited a few and let me tell you, these people are well versed on how to make sure taxes are disbursed properly," he said.
A $38.8-million upgrade to the International Outflow Interceptor sewer line from the border to Rio Rico, which is expected to be let out for bids in the fall, will also be a financial boost for both the county and the city governments, St. John said.
The county's sales tax revenue from sales in March and April – the first two months of the pandemic in Santa Cruz County – was down from 2019. At the city, sales-tax revenues were essentially unchanged from April sales after being down by approximately $300,000 on sales made in March.
Then came the May boost for both.
In all, during the March-through-May period, the city's 2-percent levy generated $2.26 million, approximately the same as it did during the same period in 2019. The county, meanwhile, picked up $135,080 more than it did last year.
In addition to the recent boost from construction projects, local residents appear to be doing their part to keep the city's and county's sales tax revenue from bottoming out in the absence of Mexican shoppers, many of whom have been unable to cross the border since travel restrictions went into effect in March
According to Chavez and Acting City Manager John Kissinger, community members are doing more of their shopping locally during the pandemic.
"What this might be telling us is that as consumers we need to refocus and shop Nogales," Kissinger said.
"People are staying put and not traveling to other communities, so they spend their money here," Chavez said. "It can be a tremendous benefit to the community."
Olivia Ainza-Kramer, president of the Nogales-Santa Cruz County Chamber of Commerce, pointed to an infusion of money into the economy from several sources to supplant the spending by shoppers from Mexico, who in the past have been credited with contributing the majority of the city's and county's sales tax revenue.
For example, the start of the pandemic coincided with people receiving their income tax returns. A $1,200 federal government stimulus check that went out to thousands of community members also helped fuel the economy.
The number of officially unemployed people in Santa Cruz Cruz County exceeded 2019 levels during the pandemic months, with increases ranging from 50 percent to more than 100 percent. But while Arizona's unemployment benefits are notoriously poor, they've been augmented by an additional $600 per week from the Coronavirus Aid, Response and Economic Security (CARES) Act.
But if those funds translated into increased local spending by local residents, where did the money go?
Certainly more people strapped on their tool belts and tackled home improvement projects. To name two national stores with outlets in Nogales, Home Depot's shares are up 34 percent over the past three months and Tractor Supply stock also surged 69 percent, according to MarketWatch, an online financial news outlet.
But Ainza-Kramer said people in Nogales and Santa Cruz County are no different than the rest of the nation, where online sales soared. Nationally, web sales are up significantly year over year as coronavirus still keeps many shoppers away from brick and mortar stores. Total U.S. online sales reached $73.2 billion in June year over year, up 76.2 percent compared with $41.5 billion a year earlier, according to Adobe Analytics.
While the June windfall has certainly eased fiscal tensions for the time being, Kissinger, Chavez and Ainza-Kramer cautioned against a false sense of security. The situation is not sustainable without further government stimulus and while a large part of the economy continues to be stalled.
Overall, both local governments ended the 2019-20 fiscal year on a high note.
Through June, the county had collected $3.05 million in sales taxes compared to $2.68 million in the same 12-month period last year, a 12-percent increase. The city meanwhile, collected $10.6 million through June in all sales tax categories, including bed tax. Compared to $9.4 million it collected the previous year, that marked an 11.4 percent increase.