At the Nogales City Cemetery, long plagued by a scarcity of plots and record-keeping problems, another thorny issue is buried just beneath the surface.
The city is aware of "between five and 10" burial plots that have been sold to multiple buyers, according to Public Works Director Alejandro Barcenas.
In some of those cases, a person has already been interred at a site that's also claimed by another person. In others, two people are staking a claim to the same unused site.
"It's really complicated because there's a lot of sentimental value" attached to the burial plots, Barcenas said.
The city is keeping "all options on the table to solve these cases," said Deputy City Manager John Kissinger, who asserted the number of double-selling cases was "possibly two."
Barcenas told the NI that the issue pre-dates his time managing the cemetery, which he said he took over about five years ago.
"Some of them were sold almost at the same time," he said. "Somebody was sold (a plot), let's say in 2001, and then the other person came in in 2003, and they sold the same plot."
The NI reported in 2017 that the city had hired a specialist to update the cemetery's more than 7,000 plot location records, which were often incomplete and, sometimes, inaccurate.
In spite of its problems, the municipal graveyard is a natural choice for many local families looking for a burial ground for their loved ones – or themselves.
The city has gotten creative in squeezing in more plots at the cemetery, including carving out new spaces alongside the narrow road that runs through the cemetery.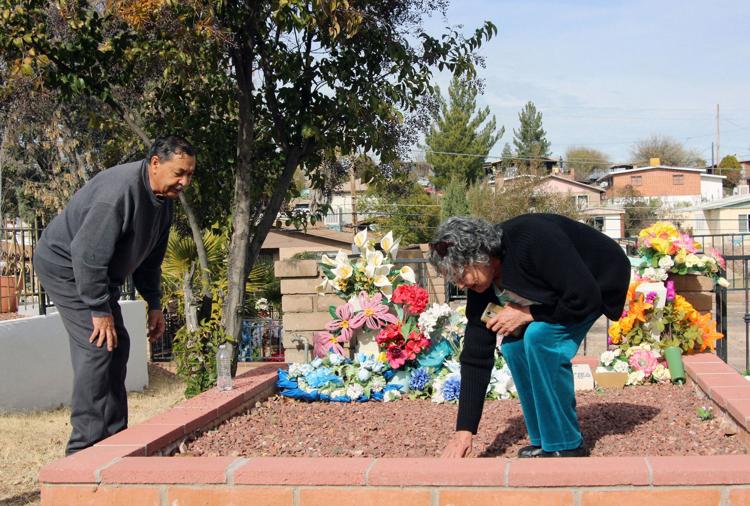 That's where Lolita De la Rosa, 75, and her husband, Hector De la Rosa, 78, purchased a family plot with four spaces several years ago.
"It's a confidence that we have" to know that they'll be buried locally, alongside Lolita's mother and an adult son who passed away last year, she said.
On Jan. 15, the couple were making a short visit to the site, where they've placed a colorful flower display and pull weeds that start to grow through the gravel surface.
But families like the De la Rosas can no longer purchase plots at the city cemetery: in 2012 the city said there were no new spaces available.
That also means that the city can't just give away new spots to the people that have claims on double-sold burial sites.
Now, the city is trying to acquire more burial sites so that it can give a space to everyone who purchased a plot.
One possibility is to buy burial sites from the Knights of Pythias, a non-profit social organization that operates the former Elks Cemetery, which lies just west of the city cemetery.
Kissinger said the city had been in talks with the Knights of Pythias for several months, but wouldn't say how many plots the city is considering buying, or at what price.
But Barcenas said that the Knights of Pythias was selling plots for around $1,000 – 10 times the $100 that the city charges.
And the former Elks Cemetery has had issues of its own. Last year, a local family found that their father's headstone was no longer visible where they thought his grave site was. They later found the stone had become buried under a few inches of grass and dirt.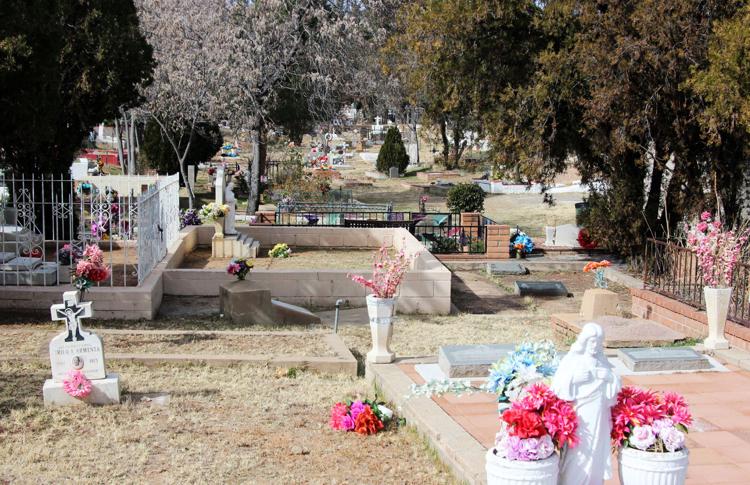 Another option is to buy back unused plots at the city cemetery.
Barcenas said that a few people who moved out of town and no longer wanted their spaces have accepted reimbursement from the city for returning their plot rights. In other cases, families were sold as many as 20 plots – Barcenas said cemetery rules only allow for purchases of up to eight – and most are still unused.
"That's another solution," he said, "is call them up and say, 'Hey, we seem to believe that you're not going to be able to use all 20 that you've got. Why don't you return some of those?'"
Of course, the simplest solution for the double-sold plots would be to buy out one of the parties that purchased it.
"Another option is reimburse the money," Barcenas said. "But most people, they don't want that."