It didn't take long for Community Medical Services' new clinic in Nogales to begin its mission to help local residents fight addiction.
"We dosed our first patient this morning. It was a really good experience," clinic manager Keith Jeffery said late Tuesday morning, just hours after the facility opened its doors to provide medication-assisted treatments for people struggling with opioid addictions.
"This patient was driving from Nogales to Tucson every day just to get their dose. Think about the financial ramifications that that had on her family," Jeffery said.
"If we can help one person not have to drive to all the way to Tucson to be well, then it's worth it," he said, adding that two other individuals had reached out to arrange an appointment at the clinic, whose services range from doctor and counselor consultations to daily dosages of prescribed medications.
Santa Cruz County has long been a conduit for drugs such as heroin and fentanyl that are smuggled across the border from Mexico to fuel a national opioid crisis that claims the lives of more than 130 people a day, according to the U.S. Department of Health and Human Services. But the epidemic is happening here as well.
Nogales Police Chief Roy Bermudez, whose officers began carrying a medication to reverse the effects of an overdose in October 2018, said the department has since then responded to 11 overdose incidents, including one on Thursday morning.
"It's short of calling it an epidemic. We've had some issues that we've never seen before, so the opening of this clinic is bittersweet. On one, we're going to get help available to people with addiction, but it's sad that it's getting to this point," Bermudez said. "We're seeing an increase in usage, that's for sure."
While he wasn't able to provide statistics on opioid addiction in Santa Cruz County, Jeffery added that Community Medical Services, a for-profit company with locations around the country – including more than 15 in Arizona – is aware of more local people who traveled the hour north to Tucson to seek help.
Jeffrey explained that people trying to overcome their drug addictions typically have two ways of doing it – trying to "quit cold turkey" or doing so under the supervision of a doctor.
Two of the main medications that CMS carries, methadone and suboxone, can help patients quit their illicit substance abuse without getting sick or having severe withdrawals, he said.
"There's a misconception – methadone does not get you high. It allows you to not be sick," Jeffrey said. "What it does, in a nutshell, is it buys you time to address your addictions and still have the wherewithal to live your daily life."
He added that it can be difficult to determine the success rate of CMS patients, since it can be a continuous or years-long process to recovery.
"Addiction is multi-layered and people are in different areas of their sobriety. Our success is built on everyday interaction," he said. "As long as a patient is managing their addiction and are able to live their normal life and decrease their illicit substance use, we believe that that is our success."
The guests who popped in to take a look of the clinic and learn about its services during Tuesday's grand opening – including a number of health professionals – walked away with a free kit containing syringes and naloxone, a medication used to reverse the effects of a narcotic overdose.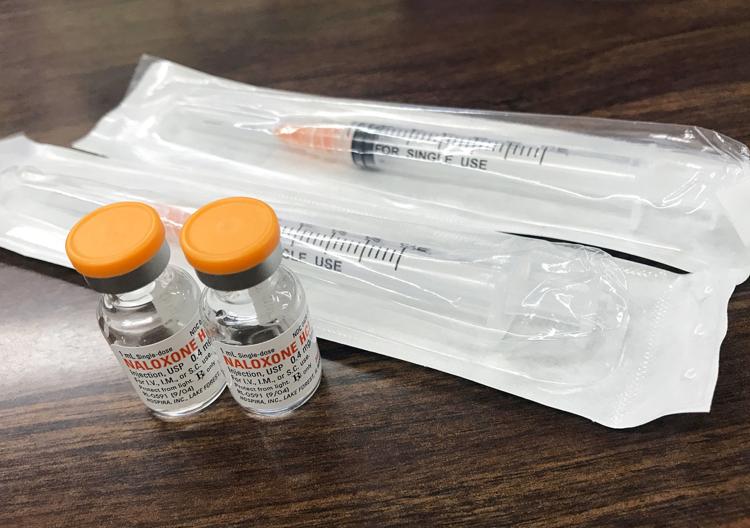 Of the 11 incidents in which NPD officers administered naloxone, also distributed under the brand name Narcan, Bermudez said that they were successful in 10 cases, but responded too late in one.
In addition to the NPD, Sgt. Santiago Gonzales of the Sheriff's Office confirmed that deputies also began carrying Narcan in 2016 and have since used it numerous times on overdose incidents.
"We have also seen an increase of individual and/or family members carrying their personal Narcan," Gonzales wrote in an email.
CMS clinical coordinator Jessica Skinner said the kit distribution is another one of the clinic's approaches at saving lives in the community, since an overdose can happen to any person, regardless of whether they struggle with substance abuse.
"Let's say your grandma is taking pain medication, and she may have forgotten that she already took it earlier so she takes it again," Skinner said. "You can just put that syringe in and that'll bring her back."
Jeffery said that CMS staff members are ready to train anyone who walks into the clinic on how to recognize the signs of an overdose and how to administer the naloxone injection, if needed. He added that the medication is not harmful, even if given to a patient who is not overdosing.
Sheriff Antonio Estrada compared administering naloxone to performing CPR, saying it could definitely save someone in need.
"The more people have access and knowledge about it, it will be very helpful, especially for those who have family members with a drug addiction of some sort. They can very well be saving that person's life," he said.
Bermudez added that while making naloxone available at no cost is a small step in the right direction, he hopes that people look for further help.
"You're admitting that there is a problem, not only personally but in your family," he said. "We need to do some more outreach and seek out professional help by rehabbing the person that's addicted to opioids."
Community Medical Services, located at 274 W. View Point Dr., is open from 4:30 to 11:30 a.m., Monday through Friday, and 6 to 9 a.m. on Saturdays.
For more information, call (520) 924-8900.