Cars and pedestrians were still entering the United States through the DeConcini Port of Entry in downtown Nogales on Monday morning, but traffic had slowed to a trickle on the first weekday after the federal government moved to restrict "non-essential travel" across the U.S.-Mexico border.
The handful of border-crossers who talked to the NI on Monday all said they were entering the country on work visas, or were U.S. citizens or residents.
"They just asked me the usual questions: Where are you coming from? Where are you going? And if I had anything to declare," Gilberto Heredia said.
Heredia has legal U.S. residency and lives in Nogales, Ariz., where he owns an auto repair shop, he said. But he usually crosses the border twice a week to visit his mother and other family members in Mexico.
Wearing a medical face mask as he walked out of the DeConcini port on Monday morning, Heredia said he'd only noticed one difference following the travel restrictions that went into effect over the weekend: "Just fewer people. A lot less people."
The Trump administration announced Friday that the U.S.-Mexico border would close to "non-essential travel" starting at 12:01 a.m. Saturday in an effort to stop the spread of the virus. Speaking at a news conference, Acting Secretary of Homeland Security Chad Wolf offered a limited definition of essential travel that included, but was not limited to, travel for medical or public health purposes, to attend school, or for "lawful cross-border trade."
A CBP rule that was available for download from the National Register offered more specifics, including a nine-point definition of essential travel that begins with: "U.S. citizens and lawful permanent residents returning to the United States."
Taken at face value, that specification appears to cover U.S. citizens and permanent residents who arrive at the ports after traveling to Mexico for any reason. However, the rule also provides a single definition of non-essential travel that reads "individuals traveling for tourism purposes (e.g., sightseeing, recreation, gambling, or attending cultural events)," and does not mention any exemptions.
In addition, other travel purposes that are of critical importance to border communities – namely shopping trips and family visits – were not specifically mentioned in the guidelines. And it was unclear what steps travelers who fall under the guidelines for "essential" would need to do to prove it.
That left many to wait and see how enforcement would shake out at the ports starting Saturday.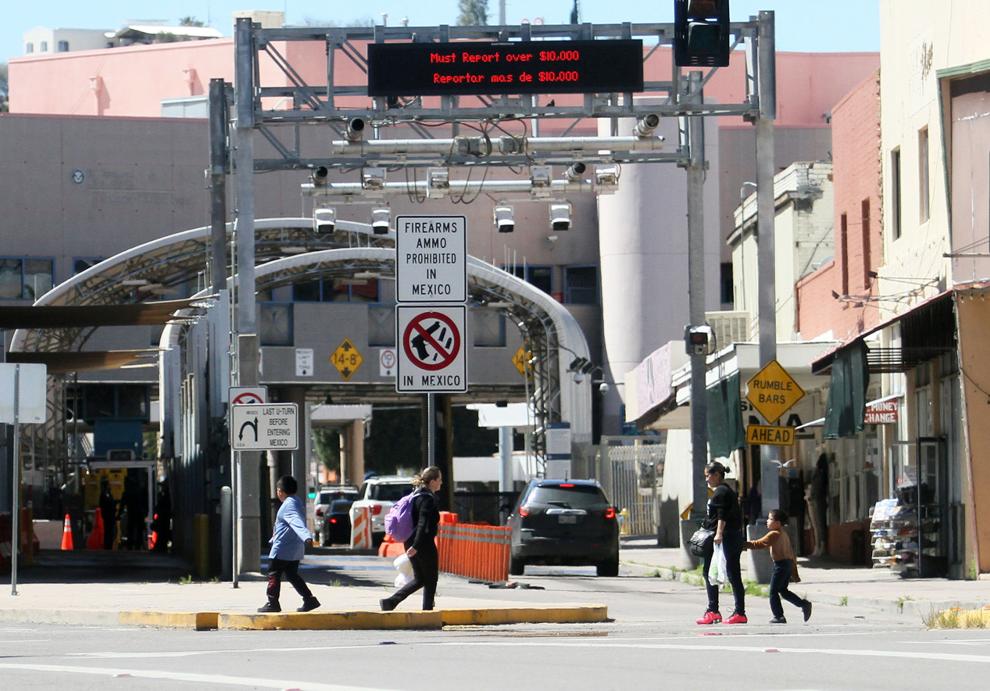 Oscar Campos, a U.S. citizen from Tempe, said he faced no outbound questioning when he crossed into Mexico early Saturday morning through the DeConcini port to purchase a few items.
"Coming back in, they checked our credentials and everything," he said, but the process was nothing out of the ordinary.
The changes primarily seemed to affect non-citizens with U.S. tourist visas.
One Mexican citizen with a border-crossing visa said she faced additional questioning from a CBP officer when she arrived at the port on Saturday morning in hopes of doing some clothes shopping in Nogales, Ariz. Ultimately, she was allowed through, though with strict admonition to limit her trip to two hours.
"They told me it was very restricted," said Antonieta Gonzalez of Nogales, Sonora, as she hustled up Grand Avenue toward the downtown stores, a number of which had already been shuttered due to the coronavirus and its ripple effects.
On Monday, one local man said that port officials let him cross, but said his friend couldn't.
"What they told me is that people with work visas (can cross). With a tourist visa, they wouldn't let them pass," said Enrique Leyva, a U.S. resident who lives in Nogales, Ariz. "I wanted to bring a friend to help me move some furniture and I asked (a CBP officer) now and he told me, 'No, he can't cross.'"
As of Monday morning, Arizona Gov. Doug Ducey had not issued any order for Arizonans to stay home amid the coronavirus outbreak, as governors had done in states including California, New York and Illinois. There was no statewide order in place in the neighboring Mexican state of Sonora, either, meaning there were no official restrictions to prevent people from traveling to and from Arizona's ports of entry with Mexico.
Even so, Arizona officials have encouraged residents to restrict their movements voluntarily, and in Sonora, the state has launched an effort called "Quedate en Casa," or "Stay Home," which included restrictions on businesses and outreach efforts meant to encourage people not to go out.
Whether it was due to the urging of public officials, personal fears about exposure to the virus or Friday's announcement of the border restrictions, the level of traffic at the local ports changed immediately and dramatically Saturday morning.
"It was empty," Edgar Leon, a U.S. citizen from Phoenix, said of the DeConcini port after crossing Saturday morning.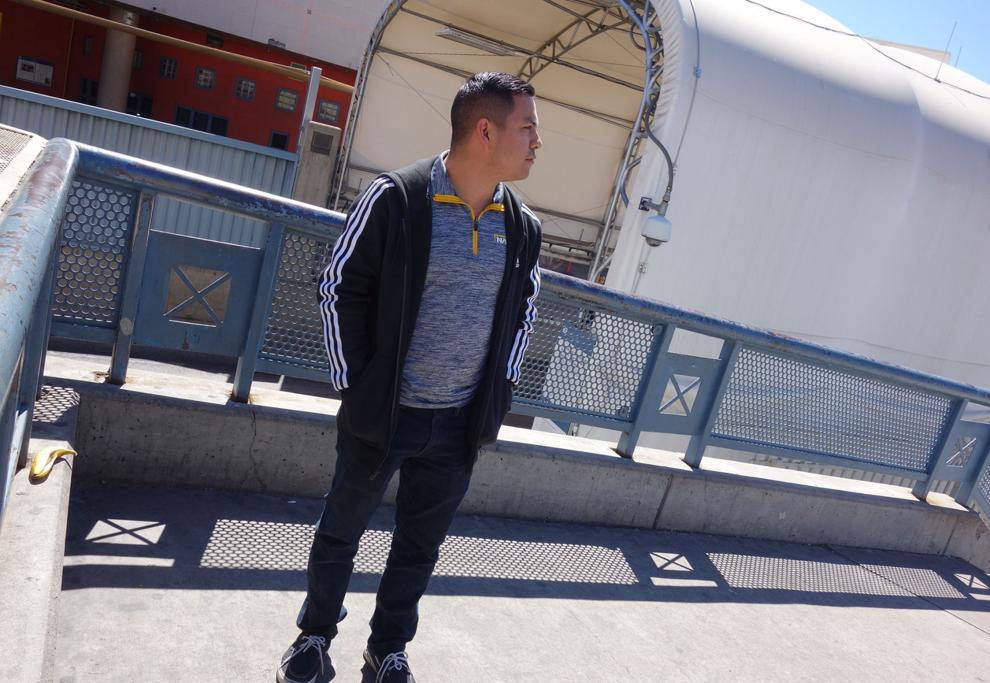 The same appeared to be true on Sunday, when there was little visible traffic at the DeConcini and Morley Avenue ports.
Mexican national Silvia Avechuco, who has typically visited the United States on a daily basis to take her children to school, buy groceries and visit family, on Friday seemed to have accepted the idea that she wouldn't be crossing again for a while. She was OK with it, even though she knew the border restrictions would affect her family.
"It might affect us a bit with our shopping because many things here are less expensive than in Mexico, even with the dollar so high. But one could still adapt and buy things (in Mexico)," Avechuco said.
"But if they don't let us cross the border for some time," she added, "it's really for our own health."
As the workweek started up on Monday morning, travelers said the vetting appeared to become more thorough and lines became longer. According to CBP's Border Wait Times app, delays for vehicle passengers at both the Mariposa and DeConcini ports began increasing, from no delay at 7 a.m. to 35 minutes by 10 a.m. Pedestrian wait times at the two ports remained negligible.
Some cross-border commuters, as well as their employers, had prepared for the possibility that they might have to prove that their travel fell into the "essential" category.
Mario Nuñez, who works at CSL Plasma in Nogales, Ariz., carried a letter from the company confirming that he works there when he crossed through the DeConcini port on Monday morning. He showed it to CBP officers without them prompting him for it, he said, and was allowed through after being asked where he was going and if he was a legal resident.
CBP's willingness to allow citizens to cross as normal – at least so far – was good news for people like Alma Ramirez Rosas, a 27-year-old U.S. citizen who lives in Nogales, Sonora.
"I cross every day to work at a produce warehouse," Ramirez said as she returned to Mexico on Friday.
She said she was feeling a bit nervous that the new restrictions might affect her travels. After all, she noted, she'd have a hard time finding a new job in Sonora since she's not a Mexican citizen.
SIDEBAR: Essential and non-essential travel
A U.S. Customs and Border Protection rule available for download from the National Register says that "essential travel" between the United States and Mexico includes, but is not limited to:
U.S. citizens and lawful permanent residents returning to the United States;
Individuals traveling for medical purposes (e.g., to receive medical treatment in the United States);
Individuals traveling to attend educational institutions;
Individuals traveling to work in the United States (e.g., individuals working in the farming or agriculture industry who must travel between the United States and Mexico in furtherance of such work);
Individuals traveling for emergency response and public health purposes (e.g., government officials or emergency responders entering the United States to support Federal, state, local, tribal, or territorial government efforts to respond to COVID-19 or other emergencies);
Individuals engaged in lawful cross-border trade (e.g., truck drivers supporting the movement of cargo between the United States and Mexico);
Individuals engaged in official government travel or diplomatic travel;
Members of the U.S. Armed Forces, and the spouses and children of members of the U.S. Armed Forces, returning to the United States; and
Individuals engaged in military-related travel or operations.
The following travel does not fall within the definition of "essential travel:"
Individuals traveling for tourism purposes (e.g., sightseeing, recreation, gambling, or attending cultural events).