When a majority of Arizona counties met the state's required COVID-19 benchmarks last week to reopen indoor theaters, fitness centers and bars with dine-in service, Daniel Magaña of Crossfit Tutuli in Nogales said he was disappointed that Santa Cruz County wasn't on the list.
It meant he had to continue conducting his fitness classes outside in the gym's parking lot.
However, it only took one more week of waiting for Magaña to receive good news. Updated statistics from the Arizona Department of Health Services on Thursday morning cleared the way for businesses in those categories to reopen under certain precautionary measures in Santa Cruz County, as well.
"When we were waiting for the new numbers yesterday, I thought, 'If we don't meet the benchmarks, it's going to mean that we're closed for another two weeks,'" Magaña told the NI on Thursday. "So the truth is we're very happy. This is very positive."
On Thursday afternoon, he said, his team was already preparing to ditch the outdoor classes and hold them inside the gym instead.
The county-level benchmarks for indoor movie theaters, fitness centers and bars with dine-in service consist of fewer than 100 positive cases per every 100,000 people; a positive rate of less than 10 percent; and COVID-19 hospitalizations below 10 percent during the most recent two consecutive weeks.
Previously, Santa Cruz County had met two of the standards, but not the one for test positivity. But Thursday's report showed positivity rates of 8.4 and 4.2 percent for Aug. 9-15 and Aug. 16-22, respectively – the two most recent weeks for which data was available.
Meeting those benchmarks also signaled the green light for indoor movie theaters to reopen, though staff at Nogales' only theater, Oasis Cinema, got a few days' head start in their preparations for a Friday reopening after receiving a special permit from the state to resume operations regardless of county statistics.
On Thursday afternoon, manager Tim Carter said staff was making final preparations to open on Friday afternoon with a mixed selection of the latest releases – such as "Tenet" and "The New Mutants" – as well as showings of a few classics for a reduced price of $4.
"We're very excited to open. We've been waiting a long time," Carter said, adding that the newer movies gave him more confidence in the reopening. "I expect a very good outcome… People will be more excited to see new content they've never seen before."
Santa Cruz County is now in the "moderate transmission" category in the state's three-tier system for business reopening, one step better than its previous category of "substantial," but not yet at "minimal," which requires two weeks of test positivity rates below 5 percent.
A "moderate" designation means that indoor theaters, in addition to limiting their capacity to 50 percent, are required to allow seating only in alternate rows. Among other regulations, they must require customers and staff to wear masks at all times, except when eating or drinking, and install six-foot spacing marks and/or signage at concession areas, entrances, ticket booths and any other place where patrons might form lines or congregate.
Gyms and fitness centers, on top of capping their capacity at 25 percent, are supposed to implement temperature checks or symptom screening at the door and require the use of masks for all guests while at the facility. Staff are expected to clean and disinfect equipment between use, and fitness classes should be conducted at reduced size to promote social distancing, among other requirements.
Bars and nightclubs can reopen to 50 percent capacity only if they are converted to restaurant service. Then they must limit parties to no more than 10 people and provide more that six feet of distance between parties at different tables.
What's more, customers have to remain seated at all times, except to go to the bathroom, which means no standing, mingling or dancing. Games such as pool and darts are off limits, as is karaoke. And there are a number of other rules as well.
Bars and nightclubs that have not converted to restaurant service must remain closed until the positivity rate is less than 3 percent. That means popular nightspots like Hilda's Sports Bar in Rio Rico and La Chiquita Sports Bar in Nogales must remain shut unless they're granted special permission from the state.
Amber Rowley, owner of Scotty's on North Grand Avenue in Nogales, said that while she is allowed to open her food-serving bar now that the county has improved its benchmark numbers, she didn't feel comfortable with the conditions that they would have to operate under.
"I'd have to sign an attestation form, which I'm not interested in signing," Rowley said, adding that she could potentially lose her liquor license if any of the conditions specified on the form were violated.
"So, I'm not going to reopen until we've reached the third benchmark of 3 percent for bars," she said.
Still, she worried about how that decision would further affect her finances at the bar, explaining that she had property taxes, mortgage, insurance and other expenses to cover.
Although Magaña, the owner of Crossfit Tutuli, was preparing with his team to reopen for indoor services on Thursday afternoon, like Rowley, he expressed a cautious attitude.
"I think the worst thing we can do is be too confident in believing that things are going back to normal," he said, referring to mistakes he made earlier in the pandemic.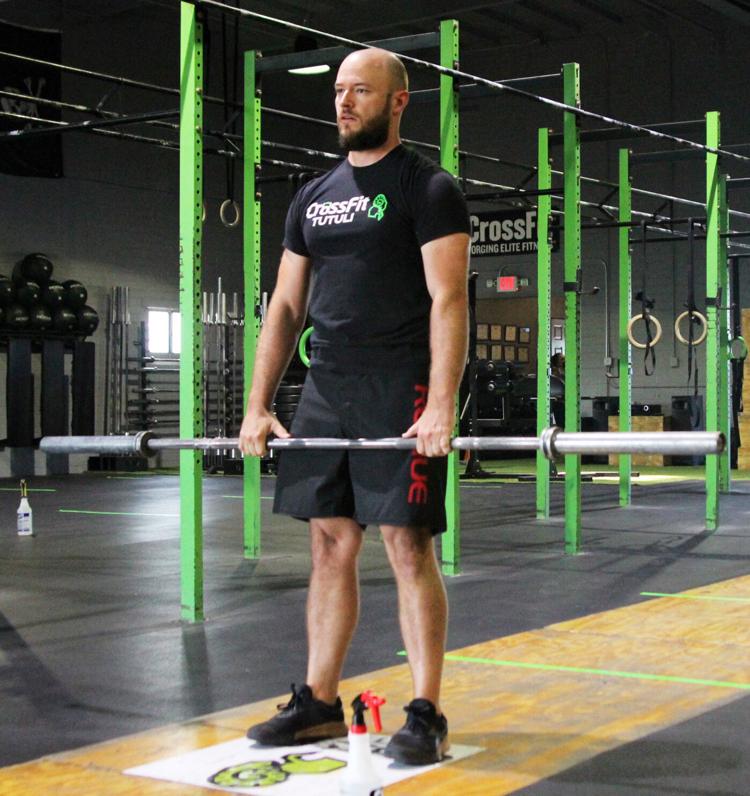 He explained that when Crossfit Tutuli was forced to shut down earlier this year, he began lending out equipment for gym members to use at home. But after he was allowed to reopen for the first time in May, he said, he made the mistake of asking those members to return the equipment, which alienated those who weren't ready to return to the gym – especially when a second state order forced the business to shut down again.
This time, Magaña's team will continue offering in-person classes inside the facility, as well as a live broadcast of the classes for members joining in on social media from their own homes with the borrowed equipment.
"If people aren't convinced about attending our in-person classes, then our responsibility is to ensure a seamless transition," he said.