The Nogales and Santa Cruz County governments declared emergencies and enacted official measures to comply with Arizona Gov. Doug Ducey's restrictions on businesses in counties with confirmed COVID-19 cases.
As a result of a proclamation issued by the county on Friday and an ordinance passed by the city on Saturday, all local bars, movie theaters and gyms are required to close and restaurants can only provide dine-out options.
The ordinance passed by the Nogales mayor and council during a special session Saturday clarifies that on-site dining at food trucks is also prohibited. In addition, it allows an exemption for senior citizens centers, as well as soup kitchens and cafeterias at nursing homes and hospitals, as long as they implement social distancing measures.
The moves came shortly after the first presumptive case of COVID-19 in Santa Cruz County was revealed by a private lab test on Thursday, then confirmed by the Centers for Disease Control on Friday. Ducey announced his restrictions for counties with positive cases during a news conference late Thursday afternoon.
"I've gotten a lot of emails, I've gotten a lot of phone calls. 'Why aren't we closing restaurants? Why are people still hanging out in the bars?'" Mayor Arturo Garino said during Saturday's meeting. "You know, one thing I didn't want to do, since Monday until now, is just jump the gun and do something like this. I needed to wait from the governor's office."
Still, he acknowledged that some cities had enacted restrictive measures prior to Ducey's order.
The Town of Patagonia issued its own proclamation in response to the COVID-19 crisis on Thursday, prior to Ducey's announcement. It asked rather than ordered businesses to take appropriate measures, and also urged local citizens to avoid groups of 10 people or more, practice good hygiene and stay home if sick.
The county, which passed a resolution in 2017 authorizing the chair of the board of supervisors to declare an emergency via proclamation, issued its COVID-19 directive via proclamation signed by Board Chair Bruce Bracker at 5:50 p.m. on Friday. It enacted Ducey's order effective at 8 p.m. that evening.
"We used the sheriffs today to go deliver the emergency proclamation to the outlying restaurants and bars," Bracker told the NI on Saturday. "So everybody knows about it, and right now, we just expect them to adhere to it."
The proclamation, he said, means that the county will follow the governor's orders on COVID-19 both now and in the future, and in regard to individuals as well as businesses.
"If Ducey at some point comes out and says 'shelter in place,' then we do it," Bracker said.
The resolution passed by the Nogales council on Saturday also gives Garino the authority to enact any future orders issued by Ducey without having to convene a meeting of the council.
Asked how vigorously the county would enforce the current restrictions on businesses, Bracker said: "If the sheriff drives by and he sees a bar open or whatever, I think we'll get a phone call and we'll have to figure out how we're going to deal with it."
Still, he said, he didn't think there would be much resistance to the rules, and noted that a number of local businesses had already chosen to close their doors or restrict their service prior to an official order.
"I think people are watching the news," he said.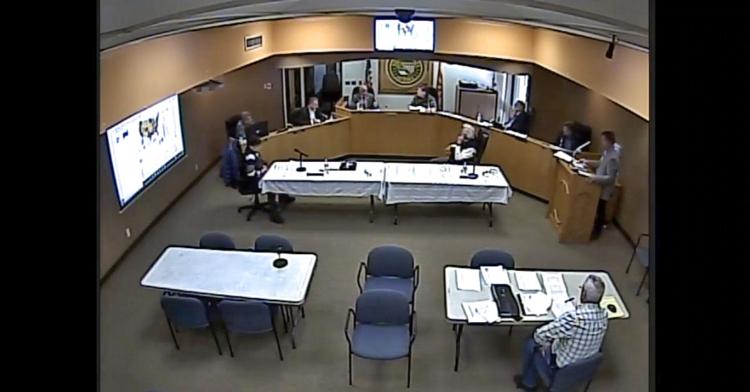 Also during Saturday's special meeting, the Nogales mayor and council passed a resolution declaring a financial emergency in the city as a result of the COVID-19 pandemic.
The resolution notes that Nogales depends on sales taxes as its principal source of local tax revenue, and that due to the federal government's decision to restrict non-essential travel at the U.S.-Mexico border, "Mexican shoppers, who make up a great percentage of local purchasers, are unable to access retail establishments within the city."
It directs the city manager to immediately suspend all non-essential spending, and to propose additional measures by March 27 to protect the city's financial resources.
Patagonia Town Manager Ron Robinson, speaking earlier in the week, said his town is also expecting a big revenue hit from the COVID-19 crisis.
"We're a small municipality and we depend on tax revenue," he said.
Robinson said he's operating under the assumption that the town's income from tax revenue will drop by 40 percent in the wake of the pandemic.
"Where are you going for the money but your reserves?" he said.
The town contacted the area representative of U.S. Sen. Kyrsten Sinema, "letting them know that we're doing what we can and we need Washington's help where they can," Robinson said.
The senator's representative told him that he was not the only town manager to make that request, he said.
"I appreciate all the small businesses that are going to get some help, and individuals," Robinson said. "But (what about) the municipalities that depend on this tax revenue, you know?"