"I'm from the health department and we're here to talk to you about your recent lab results."
That's the ominous phrase that hundreds of Santa Cruz County residents have heard over the phone in recent weeks after testing positive for COVID-19.
The calls have come from a newly formed team of more than a dozen case investigators and contact tracers at the County Health Services Department.
They're nursing aides and health inspectors and college students. All but two were hired by the county in April and May specifically to handle the work of following-up with COVID-19 patients and those they've come into contact with.
Split between an office space in the County Emergency Management Department and a converted courtroom upstairs at the County Complex in Nogales, they're on the front lines of the effort to chase down the COVID-19 outbreak in Santa Cruz County, which has logged dramatic increases in confirmed cases over the past few weeks.
Of more than 3,000 counties in the United States, Santa Cruz ranked 11th on Thursday in average number of daily new cases per 100,000 people over the past seven days, according to analysis by researchers at the Harvard Global Health Institute.
Contact tracing consists of alerting people who have come into contact with a confirmed COVID-19 patient so that they can self-monitor for symptoms and take steps to prevent further transmission.
In a news conference last month, Gov. Doug Ducey said contact tracing is an important part of combatting the pandemic in Arizona: "It's going to help to contain new infections and prevent and slow the transmission of coronavirus in our communities."
"It's basically trying to find people before they get sick," said Fernando Silvas, the county's top epidemiologist and the head of the case investigation and contact tracing team.
Case investigation deals with patients who've already gotten sick – following-up to monitor their situation, encouraging them to isolate from others and asking them to provide names and contact information for people they've come into contact with so that contact tracers can reach out.
Investigators ask straightforward questions, but getting answers isn't always easy.
"Most people, their first instinct is to say they don't go anywhere," Silvas said, adding that building trust with a person, sometimes over the course of several phone calls, can help elicit more information.
"It really comes down to rapport," he said.
As the number of cases in Santa Cruz County began to surge in the weeks after Ducey's stay-at-home order expired on May 15, the county fell behind on follow-ups. Silvas scrambled to hire and train new investigators and tracers and the team's ranks jumped from two in April to seven at the end of May and to 14 by the end of June.
"It was stressful, we were all working hard… late days, constantly on the phone, it was definitely a difficult time," Silvas said.
Now, he said, they're caught up and are planning to divide up work to create three or four dedicated contact tracers and let the rest of the team handle case investigations.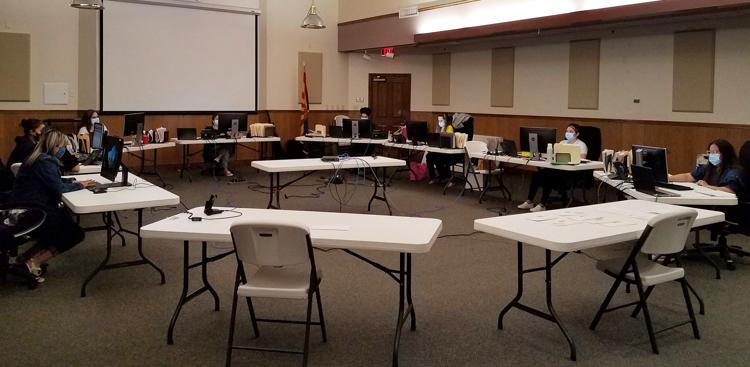 Silvas said the team gets its initial list of local residents who test positive from state health authorities. Then they start a process that will include a minimum of three phone calls with each confirmed COVID-19 patient to seek information on their contacts and follow their case through recovery.
Sometimes, in the course of case follow-up, investigators will call the Mariposa Community Health Clinic to discuss patients with symptoms that might be trending in the wrong direction.
While a push to prioritize contact tracing has come from the state level, there are some unique aspects to the local effort.
Approximately one-third of patients speak in Spanish when the health department calls, Silvas said, adding that all but one of the investigators and tracers are bilingual.
Local investigators reach out to state authorities at the Office of Border Health when a COVID-19 patient says they've had contact with someone in Mexico. The Office of Border Health then contacts health authorities in Sonora, he added.
In a June 17 news release, the Governor's Office said that the state would make 300 National Guard members available for contact tracing and provide $37 million "to enhance contact tracing locally and statewide." Silvas said he wasn't sure if that manpower or money would be directed to Santa Cruz County.
Earlier this week, he said, the county started handing off contact tracing responsibilities to a state team, but said that was only a temporary measure.
In Maricopa County, where COVID-19 cases totaled nearly 55,000 on Thursday, according to state data, county authorities implemented an automated case investigation and contact tracing system to keep up with the rapidly rising numbers. But that system drew criticism for the low response rate to automated surveys and for its failure to follow CDC guidelines that say contact tracing should be carried out by people.
Silvas said Santa Cruz County is preparing to use an automated system if confirmed cases continue to increase, but he's hoping to get the contact tracing function back in local hands soon and have humans handle the job.
"We'll do what we have to do, to make sure people get the message," he said.