The number of new COVID-19 infections in Santa Cruz County is growing rapidly, with the rate of new cases now at its highest level in four months.
Data from the County Health Services Department showed that there had been 3,319 total confirmed infections among county residents as of Monday, an increase of 169 new cases during the previous week.
That was the first time there had been triple-digit weekly growth in the number of new cases since the week ending Monday, July 27. And it was the largest number of new infections counted during a Tuesday-Monday week since 175 cases were added during the seven-day period ending Monday, July 20.
"Like everywhere, it's going up, including throughout the whole state – let alone the United States, and as far as that goes, everywhere," County Health Services Director Jeff Terrell said of the rising rates.
After a brutal early summer, during which the county added 485 new COVID-19 cases during one seven-day stretch in June, the number of new infections dropped steadily during the month of August, reaching just 13 during the week ending Monday, Aug. 31. It remained low during September and October, hitting a weekly low point of 10 new infections on Sept. 14.
But it's been climbing quickly since the start of this month, with 78 new infections recorded during the week leading up to Nov. 2, followed by 91 more added by Nov. 9 and 169 confirmed in the week ending Monday.
As for the potential causes of the local surge, Terrell said that's still under study.
"We've been looking to see if we're finding any patterns, any trends or anything like this, but we haven't determined anything for sure," he said. "We're still trying to analyze some of the data and some of the cases and see if we can trace it back to any one thing. But right now, we do not have that determination."
The increase in cases followed the return to in-person classes at some local schools – most of which have now abandoned the practice – as well as the ramping up of the local winter produce industry. But Terrell reiterated that "we have not linked it to anything."
"We're still trying to pinpoint exactly what's causing this. Is it the Halloween spike? Is it family get-togethers?" he said, noting at another point that the weather is cooling down, so people might be spending more time indoors.
More testing can drive the number of infections up, and there has been an increase in free COVID-19 testing of late in the community, including regular testing at the schools, a produce industry blitz last week, and ongoing testing at the county's Rio Rico building. That's in addition to the tests being given at medical facilities such as the Mariposa Community Health Center and NextCare Urgent Care.
"We've seen some increase in testing, and we'd expect a little bit more positives showing up – those that are asymptomatic," Terrell said.
Still, the county's positive test rate has also been on the rise, from a low of 1.8 percent during the week of Oct. 4-10, to 12.5 percent during the week of Oct. 25-31, the most recent week for which that measure was available.
But while the number of new infections has jumped sharply in Santa Cruz County of late, the number of confirmed cases of local people who have died from the disease has not shown a corresponding surge – at least for now.
As of Monday, there had been 66 deaths of local residents attributed to the coronavirus – an increase of two since mid-October and none during the previous week.
But also as of Monday, 250 people from Santa Cruz County had been hospitalized for COVID-19, which was 17 more than the previous week.
According to the Sonora State Health Department, there had been 2,862 cases of COVID-19 and 274 deaths confirmed in Nogales, Sonora as of Sunday evening. That marked a one-week increase of 72 cases and five deaths.
Those numbers were higher than during the previous three weeks, though not dramatically so.
Still, people crossing into Nogales, Sonora can once again expect to walk through an inflated sanitization tunnel a few feet south of the Mariposa and Dennis DeConcini ports of entry as part of an effort to contain the spread of coronavirus in the border city.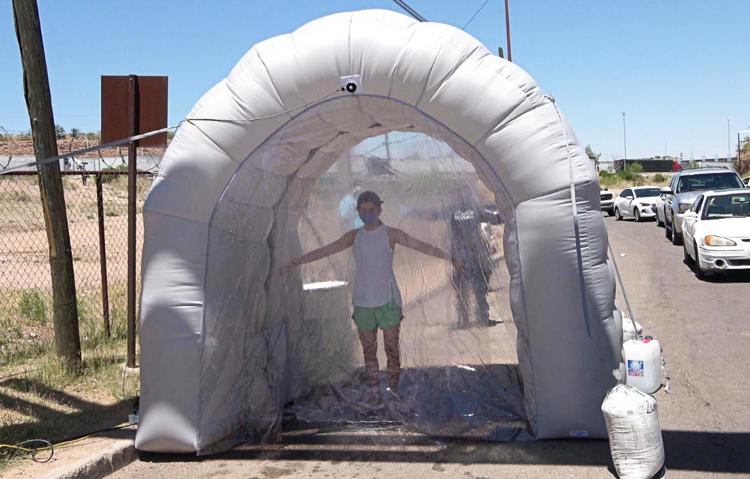 The municipal government of Nogales, Sonora announced last week that it would reinstall seven sanitization tunnels throughout the city, including south of the two ports of entry, and set up three "filters," or checkpoints, to encourage people to stay home if possible.
"We're exhorting the community to follow the preventative measures that have already been made public," Zenen Padilla Juarez, director of the city's health department, said in the Nov. 9 news release. "We don't want a surge in cases in Nogales, so prevention is fundamental."
The sanitization tunnels, which spray cross-border travelers with a disinfectant solution, were first put in place starting in May. They remained through the July 4 holiday weekend and were removed by the end of the month.
The tunnels were received with skepticism from some – including Mexico's federal health secretary – who questioned their effectiveness and suggested they might even be detrimental to public health.