Local authorities on Monday tested out a new method for distributing COVID-19 vaccines to the community: a drive-through clinic.
As part of the pilot effort, approximately 45-to-50 people who had already received a first dose of the Moderna vaccine were given appointments to drive through a course set up at the City of Nogales Recreation Department and receive their second inoculation without leaving their vehicles.
The Santa Cruz County Health Services Department and Mariposa Community Health Center had already been vaccinating people inside the Rec Center's gym. But officials said adding a drive-through component could provide flexibility if and when they have more doses to administer.
"We're preparing in some ways for when we get more vaccines – we need extra space," said Dr. Eladio Pereira, chief medical officer at MCHC.
Jeff Terrell, the county's health services director, said the organizers planned to solicit feedback from the participants in Monday's drive-through clinic to see how it compared to the walk-through experience of their first shot. Officials also planned to consider the time-intensiveness and efficiency of the process in evaluating its usefulness going forward.
"If we were to get a large shipment of vaccines, we may be doing one drive-through site and one walk-through site – we don't know yet," Terrell said.
Marlin Sene, an 82-year-old Nogales resident, was first in line Monday morning for the drive-through vaccination clinic. He was enthusiastic about the new option.
"I would rather have the drive-through, yes," Sene said, as he waited in the driver's seat of his pickup, his dog riding shotgun. "It's faster, it's more efficient, it's a lot safer. Health-wise, I think it's the only way to go."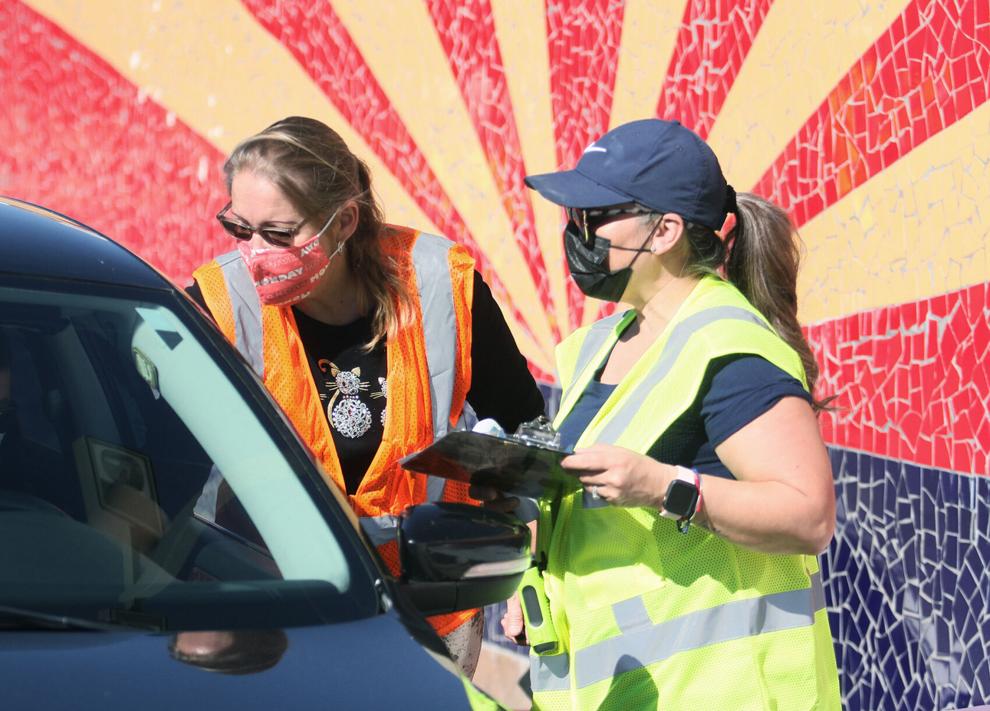 Participants in Monday's test run started at the southern end of the Rec Center by passing through a series of tents where they had their IDs and appointments checked, and were given an initial screening for symptoms. From there, they were directed to one of four vaccination bays in the parking lot behind the center, where they were given their shot and sent to a waiting area in the parking lot of the nearby athletic fields.
Patients who had had some level of reaction to the first shot were told to wait in their vehicles for 30 minutes before leaving. Those who hadn't experienced any effects were told to wait 15 minutes.
Luz Romo, a Nogalian approaching her 70th birthday, said her first shot didn't hurt a bit, and neither did the second, which she received Monday in the passenger seat of a pickup truck from Gracie Cruz, a certified medical assistant from MCHC. Romo credited Cruz for having "la mano santa," or a "gifted hand."
Still, Romo said she felt more nervous this time because she had heard that people can have stronger reactions to the second dose.
"With God's blessing, everything will come out well," she said as she headed off to the waiting area.
As of last Thursday, a total of 7,500 vaccine doses had been allotted to Santa Cruz County by the state government, and local authorities were expecting another 1,800 vaccines this week.
However, they were unexpectedly allocated an additional 1,000 doses this week, though Terrell noted that the county was not guaranteed any extras for the following week.
With extra doses on hand, the county and MCHC are planning to vaccinate people by appointment only on Saturday and Sunday at the Nogales Rec Center, in addition to the usual midweek clinic days.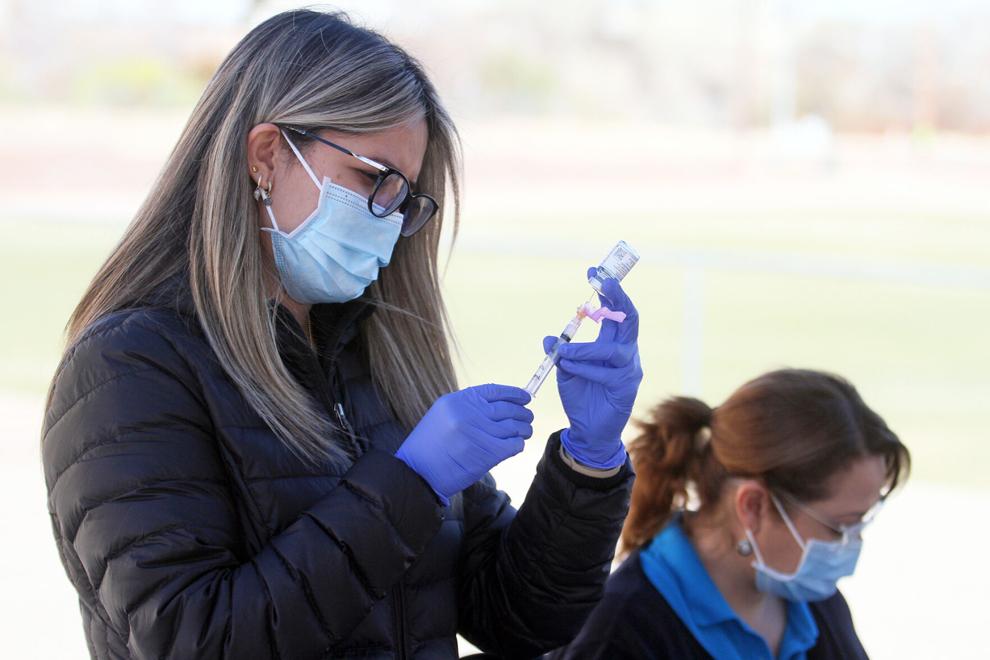 According to data from the Arizona Department of Health Services, 6,027 people in Santa Cruz County had received the first dose of the COVID-19 vaccine and another 856 had received both doses as of Saturday, the most recent day for which tallies were available.
The county is currently in Priority Phase 1B of its vaccine distribution plan and putting emphasis on vaccinating people 75 or older, along with teachers, law enforcement and people working in "essential" services and industries, such as produce distribution. Still, other people in the 1B group, including anyone ages 65-74, can pre-register for a vaccine appointment, since the county is also selectively calling others for appointments as well.