Acting Secretary of Homeland Security Chad Wolf touted the effectiveness of cross-border travel restrictions after visiting the Mariposa Port of Entry in Nogales on Tuesday, saying: "They're working." 
The restrictions against non-essential travel through the nation's ports of entry with Mexico and Canada, first put in place on March 21 to limit the spread of COVID-19, have led to a 65-to-70-percent border-wide drop in pedestrian and vehicle crossings, Wolf said during a news conference Tuesday afternoon in Tucson.
At the same time, he said, U.S. Customs and Border Protection has kept essential cross-border commercial traffic – which in Nogales largely consists of trucks hauling Mexican produce – moving.
"What I heard today is that traffic is continuing to flow — we actually see an increase in traffic from time to time – while we are reducing the non-essential travel," he said.
Wolf also visited the Border Patrol station and took a helicopter tour of the border during his stop in Nogales.
At his subsequent news conference in Tucson, he downplayed concerns that agents hadn't been wearing personal protective equipment, saying that "I don't think that's an issue at all."
"Everyone I saw today has a mask on," Wolf said after a reporter brought up citizen complaints about the inconsistent use of masks and gloves by agents at Border Patrol checkpoints.
Travelers have also complained about the spotty use of personal protective equipment, or PPE, by CBP officers at the ports of entry in Nogales.
As it turns out, CBP quietly began requiring port officers and Border Patrol agents to use protective gear effective last Friday, May 8.
"With limited exceptions, CBP agents and officers are required to wear agency-approved masks when performing job functions that entail a medium risk of exposure to COVID-19," said a statement provided Wednesday by an agency spokesman. "Examples of these include primary passenger processing, inspection duties at immigration checkpoints, and interactions at ports of entry."
CBP had previously provided its agents and officers with PPE, as well as guidelines on how to use it. However, the decision whether to use the equipment was left up to the individual officers.
The new requirements, the statement said, "help minimize the exposure of CBP personnel, the traveling public, and individuals who are in our care and custody to COVID-19."
Wolf tweeted a photo on Tuesday that showed him at the Mariposa Port of Entry alongside two high-ranking CBP officials in Arizona: Michael Humphries, the agency's port director in Nogales, and Guadalupe Ramirez, director of CBP field operations in the Tucson region. None of the three was wearing a mask or gloves.
Another photo posted to Humphries' Twitter feed showed he and Wolf, along with four other people, wearing masks.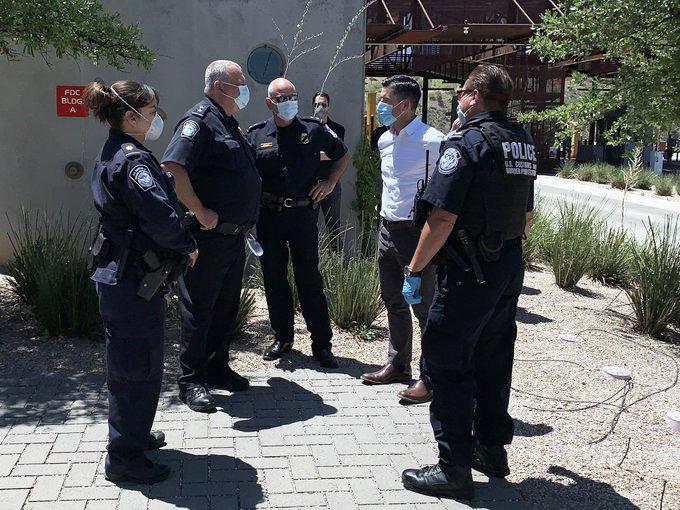 Wolf told reporters that his trip to Arizona was meant as an opportunity to check in with officers and agents.
"They're on the front lines every day, and I wanted to show support for them, for their mission and what they're doing," he said, noting that many Homeland Security employees are unable to telecommute due to the nature of the department's mission.
He also touted a procedural change in which Border Patrol agents are allowed to immediately return asylum-seekers and undocumented border-crossers to Mexico in the name of protecting the health of agents. He said the removals are taking about two hours in 80 percent of cases.
"This authority is designed so that we apprehend them, we can process them quickly, and then we can remove them even quicker so that (agents) are not coming into prolonged contact with these individuals," he said, adding: "These are individuals that come to us with little to no medical history, little to no travel history, and often times with no identity documents. So it's very difficult to do any kind of medical checks on them, to understand where they've been and what they've perhaps been exposed to."
Advocates for asylum-seekers have questioned the legality of the rapid expulsions under international law, and say they put vulnerable people into dangerous environments at Mexico's northern border.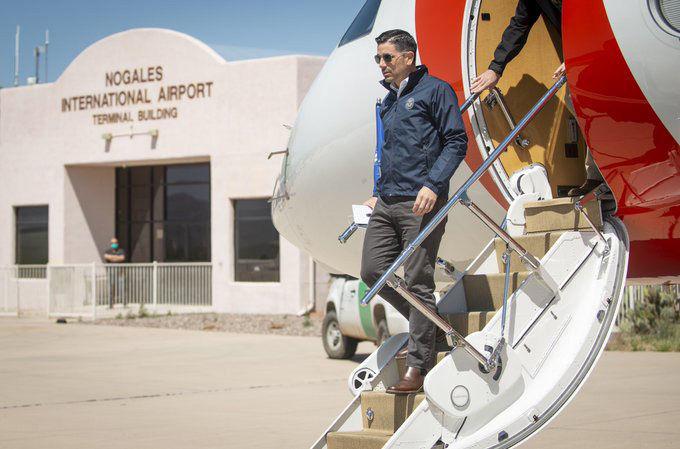 Apprehensions of undocumented border-crossers are reaching "historic lows," with the total reaching a little under 17,000 in April, Wolf said on Tuesday. That's down 90 percent from April 2019 and half the total of March 2020.
Even with undocumented border-crossings in decline and the coronavirus pandemic raging on, the Trump administration has pushed forward with its efforts to build billions of dollars of new walls at the U.S.-Mexico border. Critics say the construction elevates health risks by bringing outside workers into border communities, threatens wildlife and constitutes an unnecessary expenditure.
"While Trump and Republicans resist calls for more money to address the pandemic, there seems to be endless amounts of money to construct the border wall – including a $569 million contract to a Trump donor," U.S. Rep. Raul Grijalva, a Democrat from Tucson who represents Santa Cruz County in Congress, said in a statement issued in response to Wolf's visit.
But Wolf cheered the ongoing construction, saying the new wall will allow the Border Patrol to focus resources on areas that are more difficult to control.
He said 181 miles of new barrier had already been constructed in the Tucson Sector, which includes all but the westernmost portion of the Arizona-Sonora border, with crews likely to reach 200 miles in early June and up to 400 miles later this year.
Plans call for 27 miles of new border wall to be built in Santa Cruz County, mostly to the west of Nogales.
In his statement, Grijalva blasted Wolf's trip to the border as a diversion.
"Instead of focusing on the public health emergency raging across the country, the Trump Administration remains hellbent on constructing the president's useless vanity wall," he said. "This shameful publicity stunt is nothing more than a pathetic attempt to deflect from Trump's failure to adequately address the COVID-19 pandemic and keep Americans safe."