With extra hand sanitizer, signs exhorting patrons to wash their hands and, in one case, waitstaff wearing face masks, local restaurants around Nogales, Ariz. carried on serving customers on Tuesday, despite slowing business and growing fears about the coronavirus pandemic.
"Number one is to not spread the virus… because what I'm most concerned about is the safety of our customers," said Armando Suarez, owner of Tito's Restaurant, where business on March 16 was about half the typical level for a Monday. "And secondly, obviously, the economic instability could cause businesses to close."
Suarez said he has already cut about three hours out of servers' work schedules and is planning to reduce the restaurant's hours from 12 to eight hours daily starting next week. But at least for now, he's not planning to close the doors at Tito's.
Some national chains, including McDonald's, Panda Express and Starbucks, closed off their seating areas and transitioned their Nogales franchises to take out-only service this week after President Trump announced a series of anti-coronavirus recommendations that included avoiding eating out at restaurants.
Leann Richards, who owns several McDonald's franchises including the chain's three locations in Nogales, said the decision to close wasn't an order from upper management.
"As soon as Nogales announced they were closing schools, we closed the playland, because that's just crazy," she said. "You can't close schools and then have kids hanging out in a McDonald's Playland. so we had already closed the playland and then we had a conversation about the rest of it."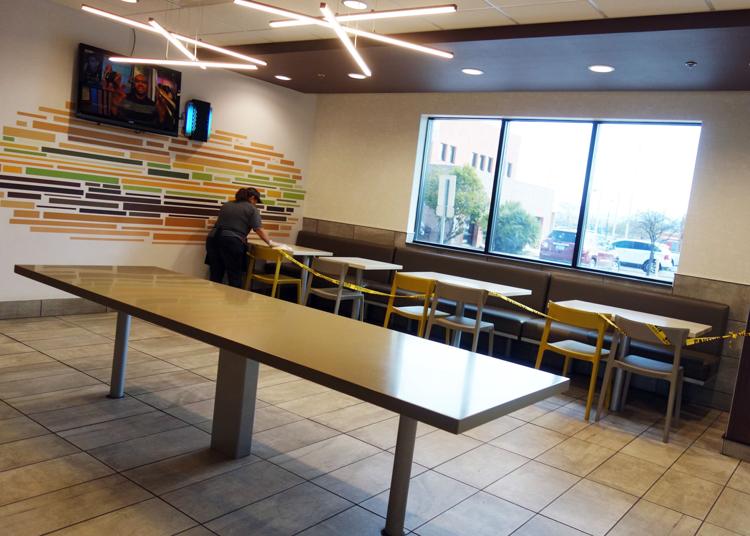 In Arizona, where the number of positive test results reached 20 on Tuesday, the state Department of Health Services posted to its website that it "strongly recommends that dining establishments in areas of known community spread (including Maricopa, Pima and Pinal) discourage dine-in traffic and instead provide curbside pick up or drive-through service."
The mayors of Tucson and Phoenix went a step further, ordering their cities' bars and restaurants to close as part of a pair of state of emergency declarations.
But in Nogales, which along with greater Santa Cruz County has yet to see a positive COVID-19 test result, the managers of several locally owned restaurants said they planned to continue sit-down service unless they're ordered to stop, citing the potentially devastating financial impacts on their small businesses and employees, and emphasizing the preventative measures they've put in place.
At Cocina La Ley on Tuesday, Francisco Saavedra was ringing up orders while wearing a face mask and Lorena Larios, whose family owns the restaurant, was scrubbing down tables with sanitizing spray.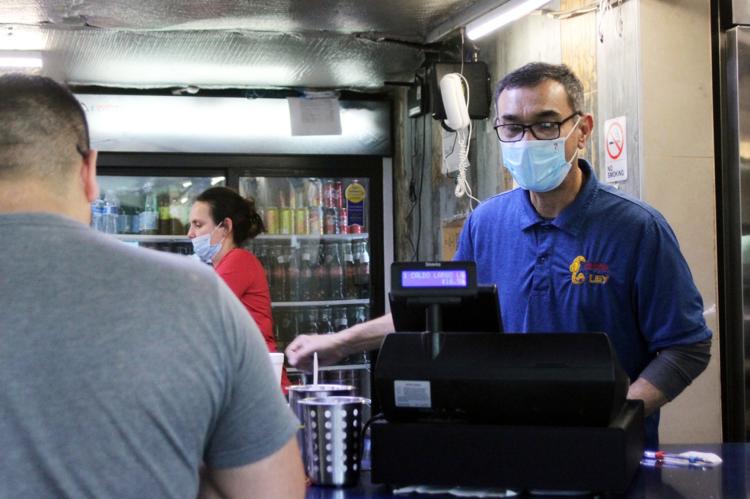 "We are protecting our clients, we are taking extraordinary measures," Larios said, noting that kitchen staff were wearing sanitizing gloves and had started disinfecting the floor daily.
Larios said that La Ley, which had a more than a dozen diners enjoying tacos, soups and seafood cocktails early Tuesday afternoon, wasn't planning to follow the lead of fast food franchises that had preemptively moved to takeout-only.
"Those businesses, they are chains and they are having big problems in other cities, so they are applying a general policy (to) the whole country," Larios said.
"This is not San Francisco," she added, referring to the California city where residents have been ordered to "shelter in place" against the coronavirus.
Javier Mesa, a bartender and shift manager at Tacos y Tarros, said the restaurant had made "no big change" apart from extra precautions including putting out bottles of hand sanitizer and placing signs in English and Spanish at the salsa bar saying: "Keep calm and wash your hands."
"If it got to the point where they tell us we can't have people inside, we can only do carry-out, we would definitely have no problem with that. We would deliver, people would come pick up," Mesa said.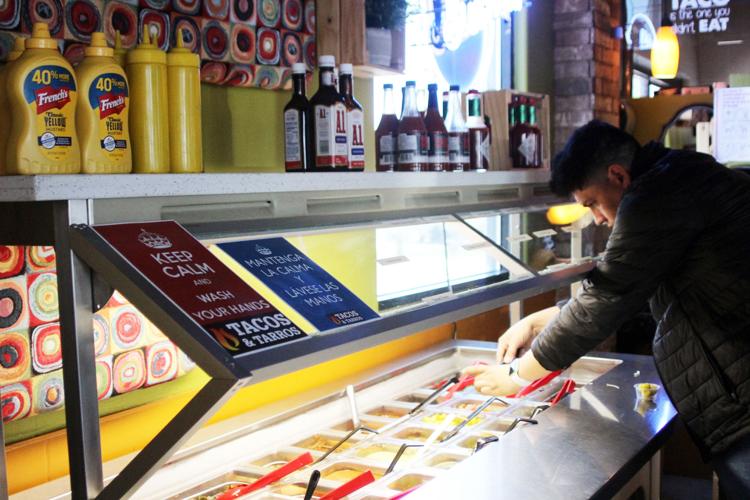 That point might not be far off, as the number of confirmed coronavirus cases around the state grows and pressure mounts for Gov. Doug Ducey to impose statewide restrictions on businesses.
Feeling disoriented
Even as many Nogales restaurants continued to offer sit-down service on Tuesday, many of their customers were opting to stay away.
At the popular Grand Avenue restaurant El Zarape, just three diners were finishing up a meal around the end of lunch time.
Jessica Robles, a shift manager, said the restaurant had gone from filling its tables to around 80 percent of capacity to only 30 or 35 percent this week.
The effect of a sustained drop in business, she said, could be serious: "They're a lot of families that are working here, so it would be a big impact for them, for their families."
For now, Robles added, the staff was feeling "a little disoriented, because nothing like this has happened to us before."
Suarez, the owner of Tito's, said he's taking it one day at a time.
"Yesterday, I got really scared, because yesterday I saw this whole place empty," he said on Tuesday afternoon, as parties of two and four ate lunch at the restaurant.
"There was a lot of uncertainty," he continued. "The employees were sad. I told them, 'You know what? We have to have faith'… We can't panic. I said, 'tranquilos.'"