As county and public health officials prepare to expand COVID-19 vaccinations from the first priority group to the next people in line, they emphasized the need to build partnerships in order to handle the looming challenge of vaccinating the approximately 10,000 local people eligible for the next round of shots.
The County Board of Supervisors, along with leaders at the Mariposa Community Health Center, gathered for an hour-long study session Tuesday afternoon to discuss the mechanics of the task.
"Our goal is to finish the 1A group this week… and then we'll move to 1B (which) includes persons over 75, public safety officers, teachers and the food industry," said Dr. Eladio Pereira, MCHC's chief medical official, reiterating a plan he had outlined to the NI on Monday.
The 1A priority phase includes all healthcare professionals, emergency medical service workers, and the staff and residents of long-term care facilities. Pereira said that they had initially estimated more than 900 vaccines to fulfill that group, but on Tuesday, he said it wouldn't require as many since some had opted not to get it.
Some of those in long-term care facilities had already been vaccinated at MCHC, and on Wednesday, Pereira said, healthcare workers were heading out to the assisted living homes to continue vaccinations for those who could not travel to the clinic.
County Health Services Director Jeff Terrell said they had identified a total of five assisted living homes, including the Bowman Senior Residences in Nogales, and were looking at close to 100 vaccinations at those sites.
As for moving onto the next priority group, Terrell said they were planning to begin with law enforcement officials, which also includes fire personnel who hadn't been vaccinated during the 1A phase.
"Right now we're looking at the public safety first, and then we'll go to the 75 and older… since they have the highest mortality rate," Terrell said.
As of Monday, the county had received a total of 1,700 vaccine doses, a number that hadn't changed by Thursday, Terrell told the NI, adding that they were expecting another 200 doses to arrive on Monday, Jan. 11.
Of the 1,700 doses already on hand, 572 had been administered as of Wednesday – 522 at MCHC and 50 at Holy Cross Hospital, Terrell said.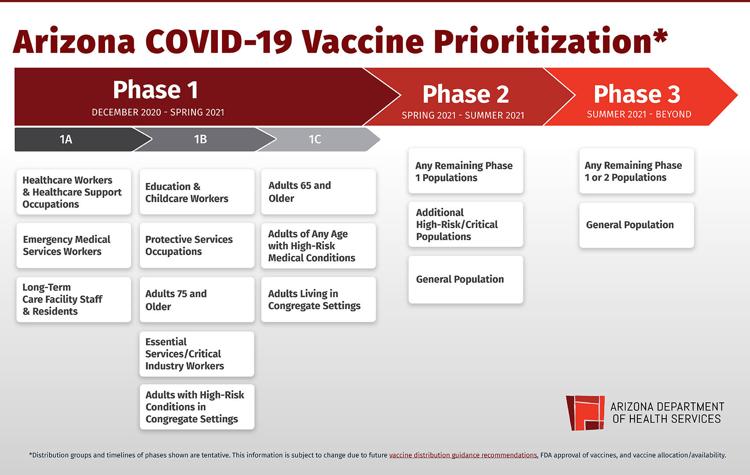 Moving forward, the challenges were to ensure that Santa Cruz County could quickly receive the necessary allocations, and find a way to distribute the vaccines effectively.
"If you're looking at all of 1B… it's approximately 10,000 people," Terrell said. "Is everybody going to get vaccinated? No, but we have to plan for that 10,000 people."
He added that the county is working on finalizing an online registration portal, where people could set up their own appointments to make the process smoother.
And since the vaccination process involves a second, booster shot given several weeks after the first, Terrell said doses would be "stockpiled," meaning there would be separate allotments for those receiving a first dose and others receiving their second.
As the vaccinations expand to other groups, Pereira said that MCHC plans to eventually allocate more of its resources towards that effort, rather than continuing to test large numbers of people. He added that MCHC personnel were prepared to travel throughout the county to reach all residents.
"I think vaccination is what's going to drive our effort in the next few weeks," Pereira said, adding: "We have been handling the vaccination on our own, but we're going to need help. I think our resources, no secret, are stretched to the limit."
Holy Cross Hospital, which has so far received 100 of the county's vaccine allotment, did not participate in Tuesday's virtual meeting to discuss its role in the process. In an email after the meeting, St. John said that's because Holy Cross, the county's only hospital, wasn't asked to join in the briefing.
"Currently, with the low amount of weekly vaccines the county is receiving, Mariposa has been the entity focused on vaccinations… Holy Cross has been focused on patient care that requires hospitalization," St. John wrote.
Speaking during Tuesday's meeting, St. John said county officials were creating incident action plans to help roll out the vaccinations once there are enough doses to exceed MCHC's capacity,
That plan includes PODs, or points of distribution, at which the county will establish vaccination clinics throughout the community with approximately 25 workers stationed at each.
Terrell added that there was a possibility for some PODs to be set up with a drive-through format, but they would have to ensure that there was enough parking for people to wait for 30 minutes after their shot in case of an allergic reaction.
In the chat section of the video call, Tubac Fire Chief Cheryl Horvath said that TFD paramedics are available to help out with vaccinations. And Melisa Lunderville, assistant superintendent of the Santa Cruz Valley Unified School District, said the district could provide additional staff and a facility to help with vaccinations, just as they have been doing for COVID-19 testing.
"Probably, my first call would be to those two school districts," St. John said, adding that the Nogales Unified School District had also previously sent some of its staff to help the county.
"We can definitely ramp up if the need is there," St. John said of the testing and vaccination centers.
Still, Pereira noted that MCHC has ownership of and responsibility for the allotted doses, so there will need to be some way for the health center to issue formal credentials for volunteers involved in the effort.
MCHC pediatrician Dr. Philip Williams noted the anxiety and skepticism about the COVID-19 vaccine among some members of the public, and encouraged community members to reach out to their primary care doctors or the MCHC to have their questions answered.
He added that MCHC had held educational meetings at produce warehouses, as well as at the health center itself, and offered that staff was available to do the same for other businesses.
Both Pereira and Terrell insisted that the prevention, rather than testing, will be key as the county focuses on vaccination efforts.
"This illness is so prevalent nowadays, so widespread, that my position… is that we all should assume we have COVID-19 and we should take the precautions," Pereira said.
Terrell added: "We cannot let our guard down just because we have the vaccine and we're starting the process."
As they prepare to vaccinate people 75 and older, Pereira said MCHC is partnering with agencies that help the elderly to identify who needs the vaccine, particularly when dealing with those who can no longer make their own decisions.
"It's going to be a combination of efforts, from online registration, manual phone calls, etc., particularly for those over 75," Pereira said.
For more information about MCHC's vaccine education efforts, contact Dr. Philip Williams at (317) 627-1825 or pwilliams@mariposachc.net.