As the rapidly growing number of COVID-19 cases around the world strains supplies of protective medical equipment, one local manufacturer is ramping up production.
Alpha Pro Tech, which builds protective face shields in Nogales, Ariz. and Nogales, Sonora, is looking into adding a second work shift at its Arizona location to keep up with demand.
"It's crazy, it's crazy," Beatrice O'Daly, the company's plant manager in Nogales, Ariz., said last week.
The company's products are among the personal protection equipment (PPE) items that have been in short supply as medical professionals tend to patients with COVID-19. The Associated Press reported that hospitals across the country have faced shortages of face masks, which are often worn in combination with face shields.
Manufacturers from other sectors have announced plans to start manufacturing PPE. Ford Motor Company, 3M and General Electric said this week they're making plans to ramp up production of respirators, ventilators and face shields.
"Everybody and their mother wants to make face masks and face shields," said Matt Potzler, Alpha Pro Tech's materials manager in Nogales. The company also produces medical garments at the Nogales location and makes N95 face masks – the tight-fitting respirators that filter out 95 percent of airborne particles – at a facility in Salt Lake City, Utah.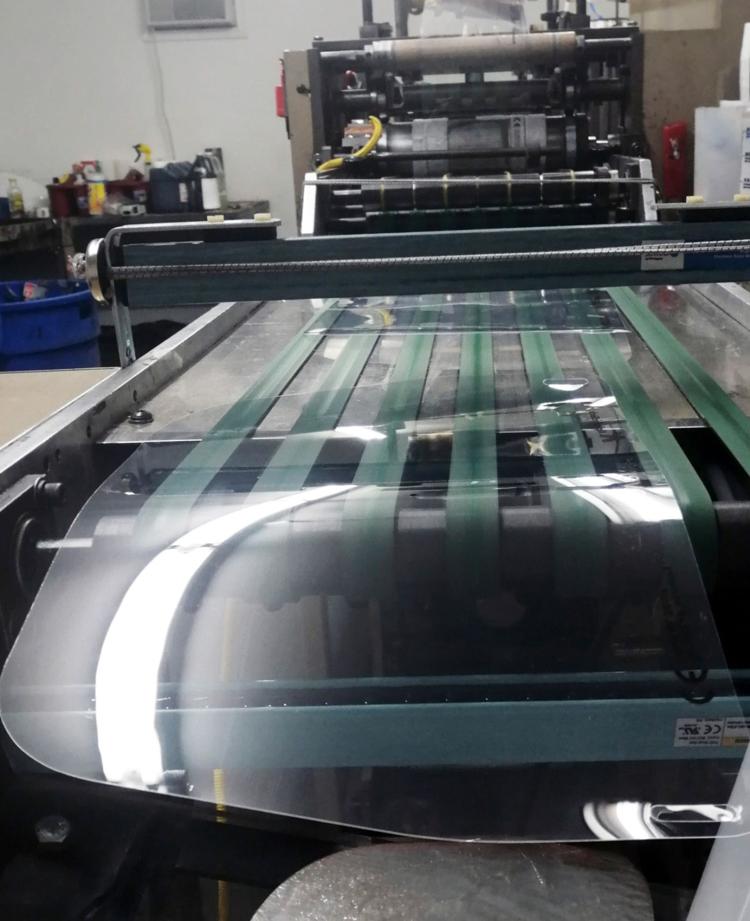 Alpha Pro Tech cuts plastic for the face shields at its Nogales, Ariz. location, then assembles the gear with a foam strip and straps in Nogales, Sonora, O'Daly said. According to Potzler, the face shields produced at the company's Ambos Nogales warehouses are used for "splash" protection, in combination with a face mask and sometimes goggles.
The company's stock has taken a roller coaster ride in recent weeks as investors reacted to news about the coronavirus pandemic and the medical supply shortage it's creating. After hovering between $3 and $4 for most of the past three years, the stock price soared to over $25 in late February, then dropped precipitously in March, but still closed at $8.68 on Wednesday.
O'Daly said the company typically produces 4,000-5,000 cases of face shields per month. By adding a second shift and working weekends, she said, they could bring monthly production up to around 12,000 cases.
"And if required, we can have a third shift," O'Daly said. "But it's hard to ramp up production that quick because we also have shortages on the raw materials so that's what we're working at right now… we can only do so much."
Potzler declined to provide more details this week about any additional work hours at the local facility and whether the company would hire more employees.
But he said that demand for the company's products has been booming.
"We've already had 12-16 months of orders in one month," Potzler said, adding that governments had contacted the company about producing supply stockpiles in the future.
"It just looks like this is going to go on for quite some time," he said.