For 17-year-old Raven Burns, a student at Rio Rico High School, there was never any question whether she would get vaccinated against COVID-19. It was just a matter of when she'd have her chance.
So less than a week after her mother received a call from the County Health Services Department asking if she wanted to book an appointment for her daughter, Burns showed up at the Nogales Recreation Center last Saturday to get her first dose of the Pfizer-made shot.
"I kind of want the pandemic to come to an end and I think the only way that we can really do that is if people get vaccinated," the RRHS junior said. "And, it gives me more freedom if I do get vaccinated because I can worry less of getting COVID myself or possibly giving it to… people in my life who may not have the vaccine."
After months of vaccinating adults who work and live in Santa Cruz County, local health authorities have expanded their coronavirus inoculation efforts to youth ages 16 and 17 after Mariposa Community Health Center received its first allocations of the Pfizer vaccine, the only one approved for use among that age group.
But while the authorities had determined, with the help of local schools, that there were approximately 1,700 to 1,800 eligible 16- and 17-year-olds in the community, participation has so far been low.
"We vaccinated fewer children than we expected," said MCHC chief medical officer Dr. Eladio Pereira, in reference to last Saturday, the first day of a two-day vaccination program targeting eligible teenagers.
Pereira said that approximately 324 people had been administered a shot during Saturday's clinic, but those included adults who came as walk-ins requesting a vaccine – some of whom were parents who came with their kids.
He estimated that 270 of the shots were given to 16- or 17-year-olds.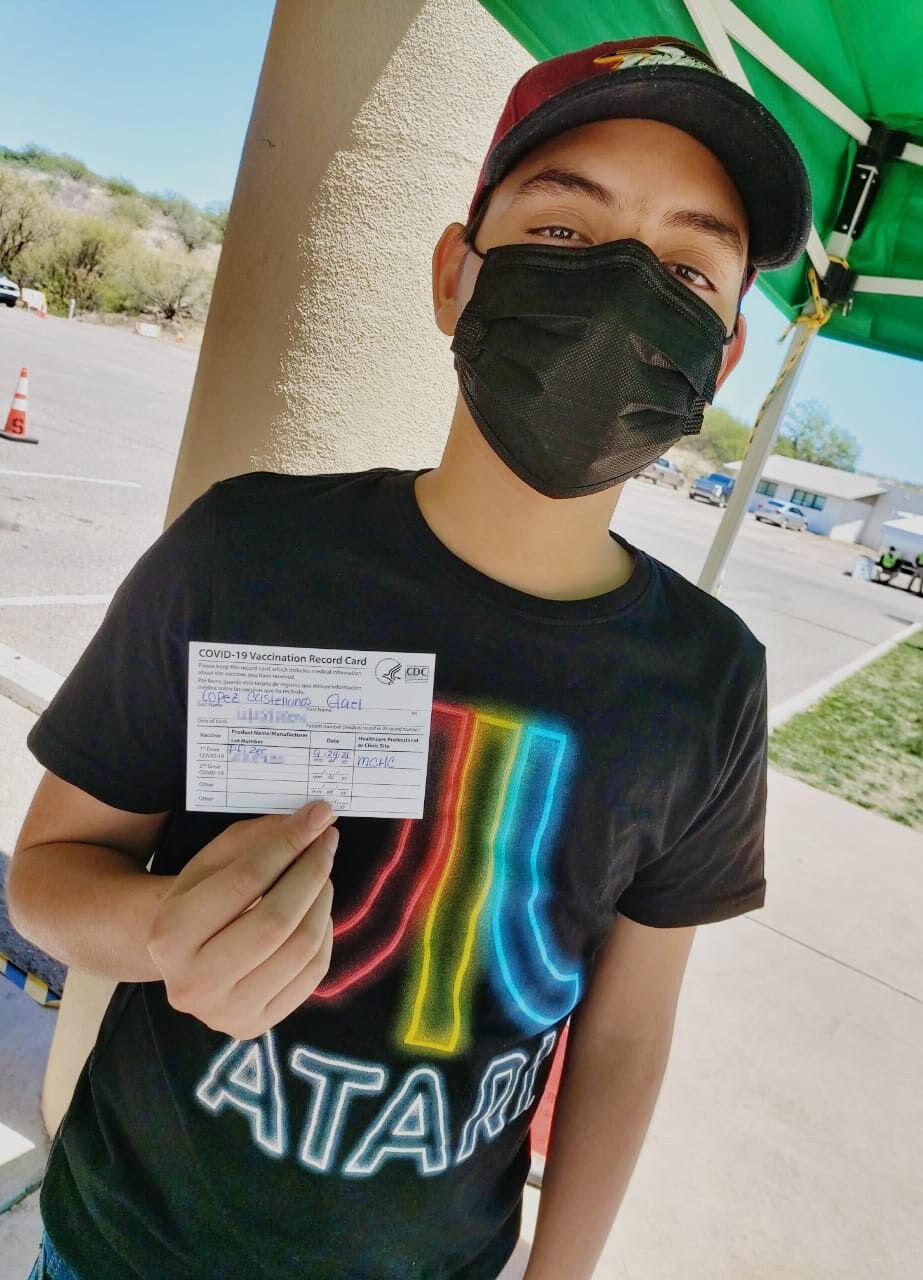 On Monday, the second day of the teen inoculation event, there were fewer than 300 appointments scheduled, suggesting the county was on track to vaccinate only a third or fewer of the target group.
"We did not anticipate that everyone would be vaccinated, but we thought maybe a 70 or 80 percent rate would be about right," Pereira said, adding: "We didn't reach that goal."
Asked why he thought participation was lower than expected, Pereira said: "I think there's still some vaccine hesitancy for children."
Also, he speculated that some people may not have known about it, despite fairly extensive outreach by MCHC and the schools.
Another factor that might be depressing turnout is that some local 16- and 17-year-olds could have already received a Pfizer vaccine at a state inoculation site in Pima or Maricopa county, where the shots have been available to people 16 and older since late March.
Burns, the RRHS student, said there were differing opinions about COVID-19 vaccines among her peers. Some were ready to get vaccinated as soon as appointments opened for their age group, and the new availability of the Pfizer vaccines in Nogales made it easier for those with conflicting schedules who couldn't drive to Tucson to get vaccinated.
But she was also aware of a few people her age who weren't planning on getting inoculated because they were skeptical of the ingredients in the vaccines.
However, noting the possibility of businesses and events requiring a "vaccine passport," or proof of immunization, Burns said she believed more people would get on board with getting inoculated.
In fact, she said, she overheard some of her peers at last Saturday's vaccination clinic saying that their motivation for getting the vaccine was in case immunization cards were to be required to attend certain concerts, such as those by Puerto Rican singer Bad Bunny.
Pereira said that due to the lower-than-expected turnout at the Saturday and Monday vaccine clinics, local authorities would try again to set up a vaccination event targeting youth ages 16 and 17. The dates were still TBA as of Monday.
"We want to make it available to as many people as possible, particularly children, who have no other options," Pereira said.
The Pfizer vaccine, like the Moderna inoculation given to many adults in Santa Cruz County, requires two doses, though the shots are given three weeks apart rather than the four-week period for Moderna.
Parents with questions about having their 16- or 17-year-old child vaccinated can call (520) 375-7626.
Data posted by the Arizona Department of Health Services on Monday showed that in Santa Cruz County, which has a U.S. Census-estimated population of 46,498, a total of 25,340 people had received at least one dose of a COVID-19 vaccine, and 17,712 had been fully vaccinated.